We want to build sustainable and resilient communities that support the well-being of current and future generations. This vision is at the heart of everything we do to improve the economic, social, environmental and cultural well-being of Monmouthshire.
We are striving to deliver high quality services that meet the needs of local people and businesses, to help us achieve this we set objectives and targets, taking account of the things that matter to people. We are also a member of the Public Services Board (PSB) in Monmouthshire where we work with public sector partners to improve well-being in the county.
Most recent Publication:
Corporate Plan Midterm Refresh 2017 – 2022 including Well-being Objectives and Statement
Monmouthshire County Council has updated its Corporate Plan, 'A Monmouthshire that works for everyone'. The Corporate Plan was published in 2018 to set a clear direction for the Council up to 2022. The refreshed plan re-states the council's purpose of 'building sustainable and resilient communities', and reaffirms the five priority goals and programmes of work, twenty-two in total, which the Council is committed to between now and 2022. The mid-term refresh ensures that the aspirations and activity set remain relevant, are deliverable with the resources we have available, and reflect the things that are important to our communities.
The plan sets five priority goals and includes a number of programmes of work, twenty-two in total, which the Council is committed to between now and 2022. The five goals are:
best possible start in life;
thriving and connected communities;
natural and built environment;
lifelong well-being;

future-focused council
This refreshed plan also meets our responsibility to produce a Well-being Statement and Objectives, and set Improvement Objectives, under the Well-being of Future Generations Act and Local Government (Wales) Measure 2009 legislation respectively. We will produce an annual report evaluating the progress we have made on the Corporate Plan by October each year.
Latest Plan:
Corporate Plan Midterm Refresh 2017 – 2022

Corporate Plan Performance Measures
Reviews of Performance
We produce an annual report reviewing our performance in the previous financial year, which includes an evaluation of how well we delivered against the objectives we set. Latest review of performance:
Corporate Plan annual report – 2018/19
Corporate plan annual report – 2018/19 summary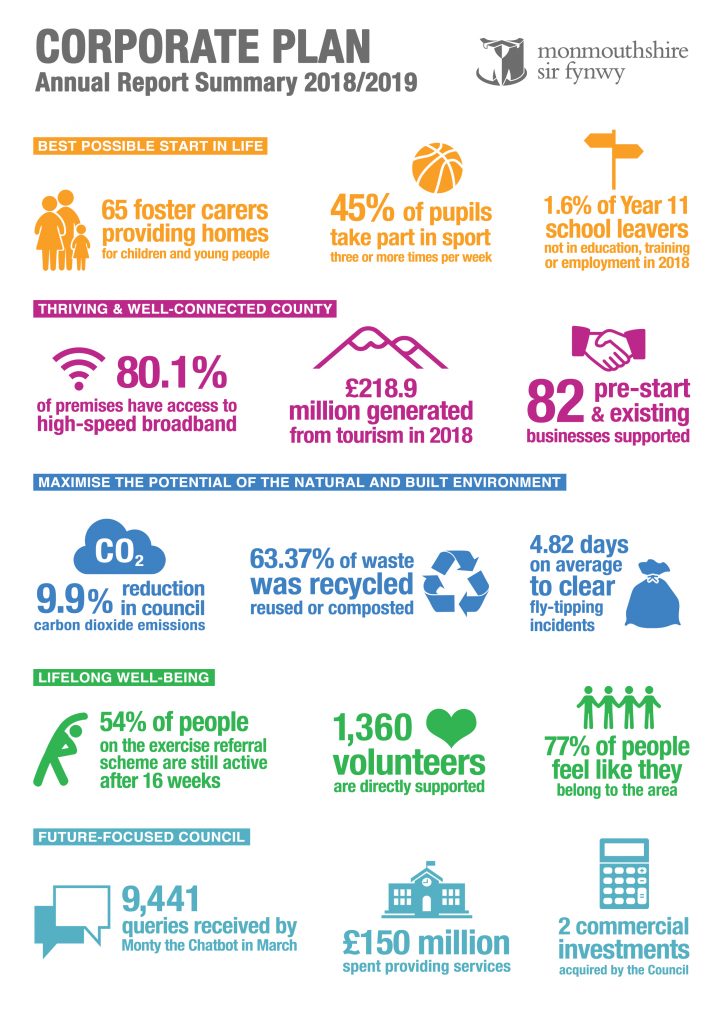 Previous reviews of Performance:
Well-being Objectives and Statement – Annual Report 2017/18
Performance Measures:
The council is responsible for a range of services. We monitor how well we are performing throughout the year as we strive to maintain standards and, where resources allow, deliver improvement. Our select committees scrutinise performance of a range of services throughout the year and our plans contain a large number of measures we use to monitor performance.
You can download a full range of performance data for local councils in Wales from statswales.wales.gov.uk and mylocalcouncil.info/
Audit and Regulation
As well as monitoring our own performance, we are also reviewed every year by the Wales Audit Office. We use their assessments to help us focus on the things we need to improve across the council. They produce an annual improvement report, which reports on how well we are delivering our services, and how we have improved since the previous year. Reports can be read at www.wao.gov.uk
Getting in touch
We're always interested in people's views about how we are doing. If you want to share your views on our performance you can e-mail us using improvement@monmouthshire.gov.uk