We strive to deliver high quality services that meet the needs of local people and businesses. To help us achieve this we set priorities and targets, taking account the things that matter to people.  We regularly monitor our performance using a range of measures.
We have also produced a bulletin on how we performed in 2014/15 on our local priorities and compared to other local authorities in Wales. You can download a full range of performance data for local councils in Wales at https://statswales.wales.gov.uk
The Improvement Plan
The Improvement Plan is a forward looking plan that describes our Key Improvement Objectives and targets for the year ahead. This makes sure that there is a clear alignment between policy, plans and performance.
Improvement Plan Summary 2016 [English]
Improvement Plan Summary 2016 [Welsh]
Improvement Plans from Previous Years
Our annual 'How we Performed' report is a retrospective report that describes what we did to improvements during the previous financial year. This is usually published in October.
How we Performed Summary 2016 (Eng)
How we Performed Summary 2016 (Cym)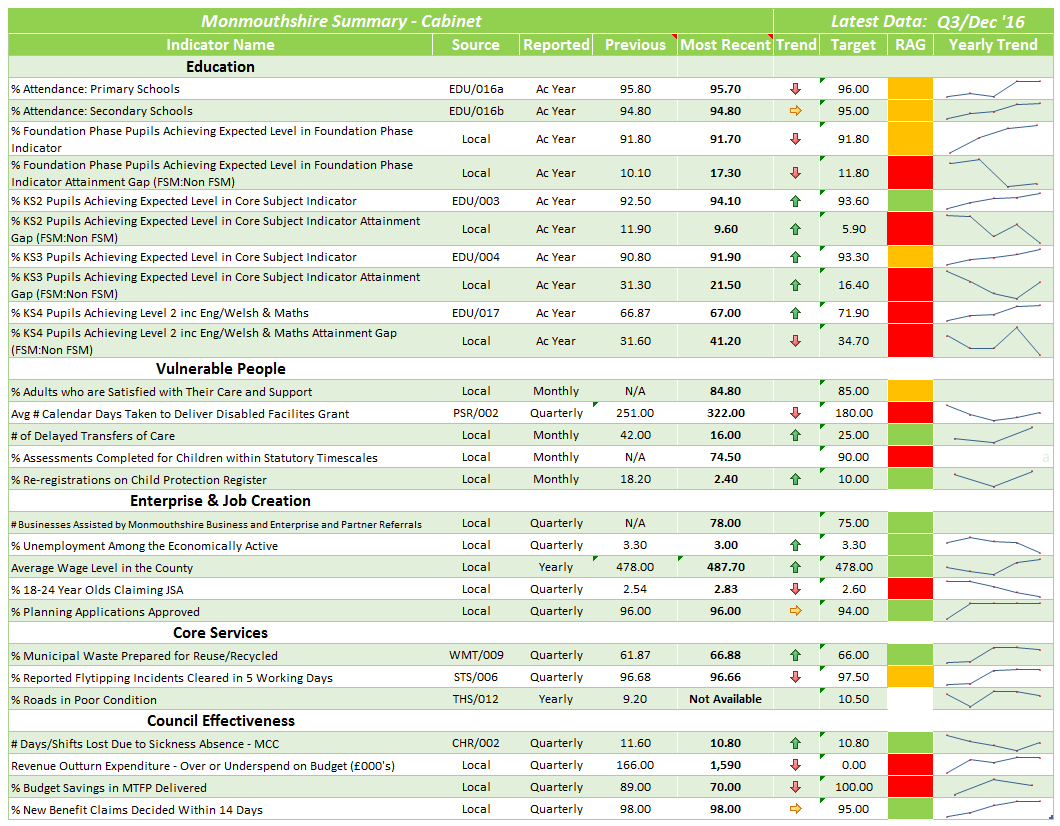 Performance Measures
Our improvement plan contains a large number of measures.  A selection of measures that are monitored regularly by councillors is shown here:
We have also produced a bulletin on how we performed in 2014/15 on our local priorities and compared to other local authorities in Wales. You can download a full range of performance data for local councils in Wales at https://statswales.wales.gov.uk
Audit and Regulation
As well as monitoring our own performance, we are also reviewed every year by the Wales Audit Office. They produce an annual improvement report, which reports on how well we are delivering our services, and how we have improved since the previous year.  Reports can be read at www.wao.gov.uk
Getting in touch
We're always interested in peoples views about how we are doing and what our priorities should be.  If you want to share your views on our performance you can e-mail us using improvement@monmouthshire.gov.uk