What is Our Monmouthshire?
As part of a Gwent-wide initiative, the Gwent Public Services Board (PSB), which includes the five local authorities and public bodies, is seeking your feedback on life in Gwent. In order to ensure that plans and projects target those things that matter most, we would like to hear from you.
The Gwent PSB has drafted a well-being assessment which considers the economic, social, environmental and cultural well-being of the area and local areas within it. It incorporates a detailed analysis of data, statistics, research and policy, which will be combined with views from the community. The assessment is made up of different parts:
We want as many Monmouthshire residents to engage with this as possible so that we can shape the county's future in the best way possible – with your help. Monmouthshire is facing some really big challenges. We have an ageing population, with rising property prices and comparatively low wages that are making it harder for young families to live and work locally. These come on top of issues like increased flooding due to climate change, and inequalities between those on high and low incomes.
How to share your views and feedback
We want you to tell us whether the assessment accurately reflects social, economic, environmental and cultural well-being in  Please look at the information in the link below and share your thoughts by filling in this survey before it closes on 18th February 2022.
Find out more on the Gwent PSB's website
Why is it important?
Our Monmouthshire is about all of us addressing the needs of the future as well as current generations.
In April 2016 a new piece of legislation, The Well-being of Future Generations (Wales) Act was launched. This means we need to begin planning at least ten and ideally up to 25 years into the future. The decisions we make now will have real implications for our children and grandchildren. We need to work together to make sure we get this right. This means that all public services must plan for the long-term and understand what well-being means to our county and the communities within it.
From August to December 2016 we spoke to people in Monmouthshire and asked what's good about your community and what would make it better, now and in the future. These views are helping us to make sure we address some of the really big challenges that Monmouthshire faces in coming years – and now we need to update this to make sure your views and feedback are up-to-date. The Well-being Assessment and Plan need to be completed every five years, so we are updating them now, as we move from a Monmouthshire Public Services Board to a Gwent Public Services Board.
The details below are for Monmouthshire's Well-Assessment which was published in 2017 and Well-being Plan which was published in 2018.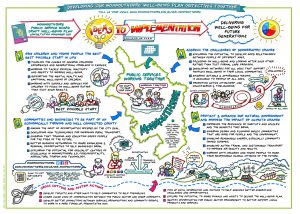 Click on the image above for further information about the Well-being Objectives.
PSB partners are now working on detailed action plans which will set out how they will deliver against the four identified objectives:
Provide children and young people with the best possible start in life
Respond to the challenges associated with demographic change
Protect and enhance the resilience of our natural environment whilst mitigating and adapting to the impact of climate change
Develop opportunities for communities and business to be part of an economically thriving and well-connected county
Find out more in these Well-being plan documents
The latest Well-being Plan annual report
The PSB produces an annual report that describes the progress made to deliver the objectives set out in the well-being plan: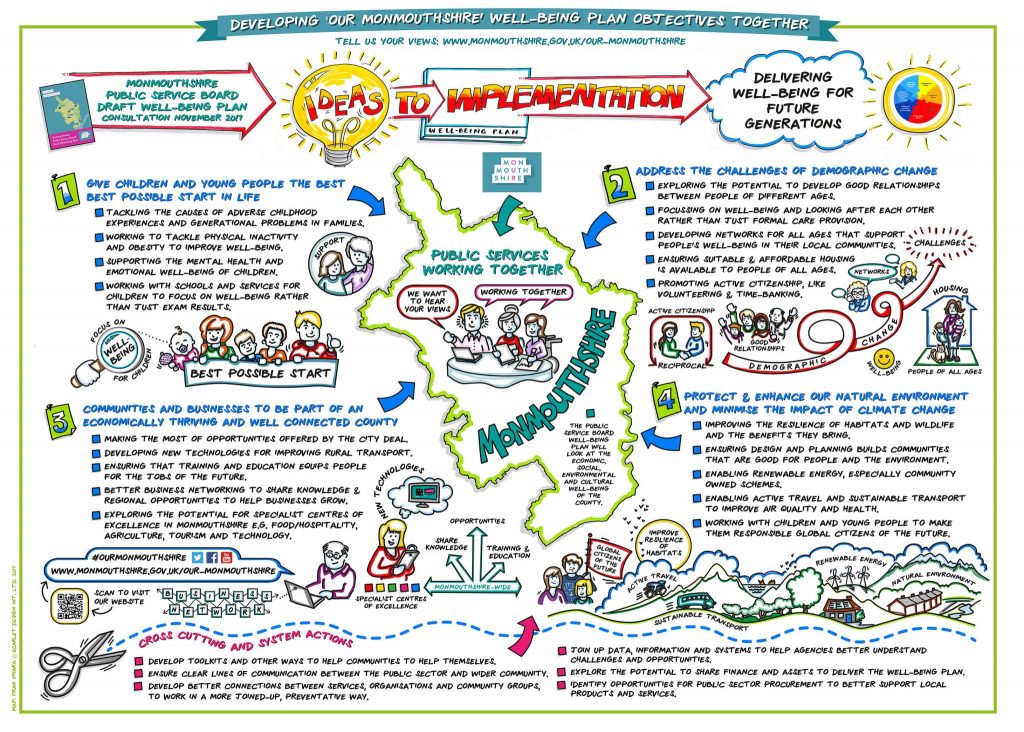 Click on the image above for a summary of the PSB well-being Plan Annual Report 2020 and the links below to see the previous plans.
Well-being Assessment
The PSB has adopted a well-being assessment, developed through extensive community engagement using the Our Monmouthshire process, combined with a detailed analysis of data, statistics, research and policy. The assessment is made up of different sections. It considers the economic, social, environmental and cultural well-being of Monmouthshire as a whole. It also provides profiles of more localised areas loosely clustered around our five largest settlements: Abergavenny, Monmouth, Usk, Chepstow, and Caldicot. There is a section on Future Trends and a conclusions section that draws out some of the main messages that the PSB will need to consider. This assessment has informed the development of the Well-being Plan and Objectives.
The Well-being Assessment will be an ongoing and dynamic document. The continued development and update of the Well-being Assessment will form a fundamental part of future reviews and any revisions of the Well-being Objectives.
Well-being Assessment documents
PLEASE NOTE – Our new community exchange for Monmouthshire is at https://ourmonmouthshire.org/ this is separate to this consultation, and is part of our Covid community response measures