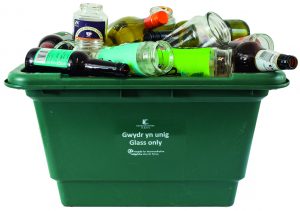 In Monmouthshire your glass bottles and jars can be put in your green recycling box.
Glass recycling boxes will be emptied fortnightly. For the majority of households, the glass boxes will be collected at the same time as your rubbish, as our collection vehicles have a separate compartment for glass.
For some residents living in flats and sheltered housing, a communal bin or smaller container may be provided instead. Residents in rural areas will have their glass collected on smaller vehicles that can easily navigate the country lanes.
For elderly and disabled residents, boxes with handles can be provided for ease of carrying.
Collecting glass separately in boxes improve the quality and value of all recycling in the county.
Monmouthshire's glass goes to a reprocessing plant in Cwmbran where it is sorted and sent on to be recycled into new glass bottles, fibre glass and concrete products.
We can no longer collect purple bags that contain glass.
If you need a glass recycling box please contact us: email – contact@monmouthshire.gov.uk
phone: 01633 644644 or visit your local community hub.
For more information see the frequently asked questions via the link below: