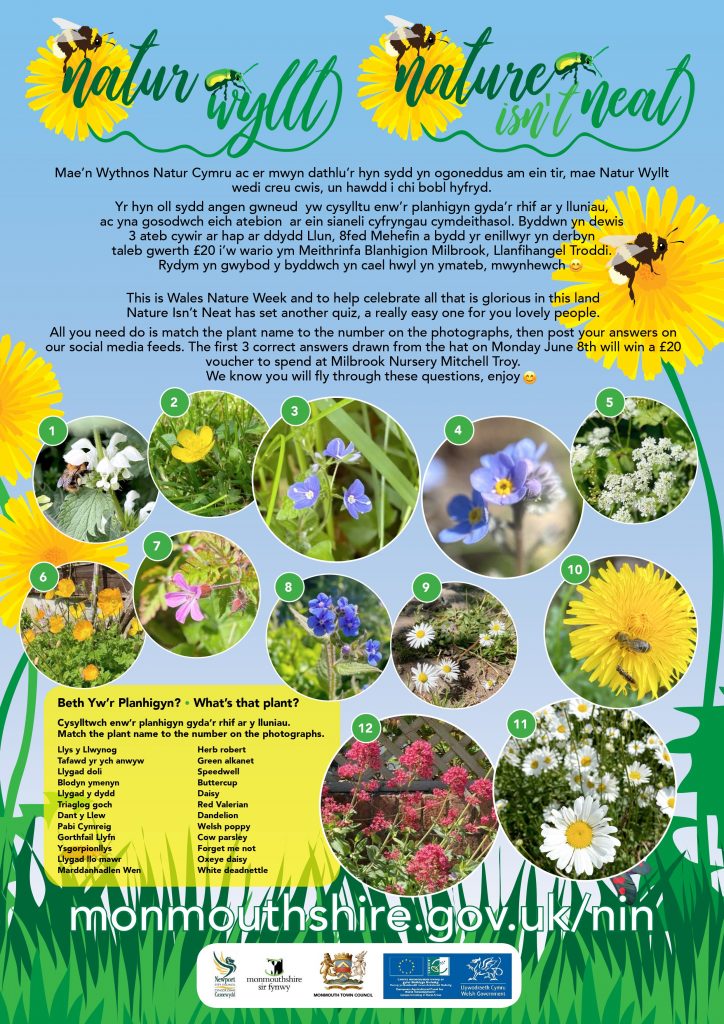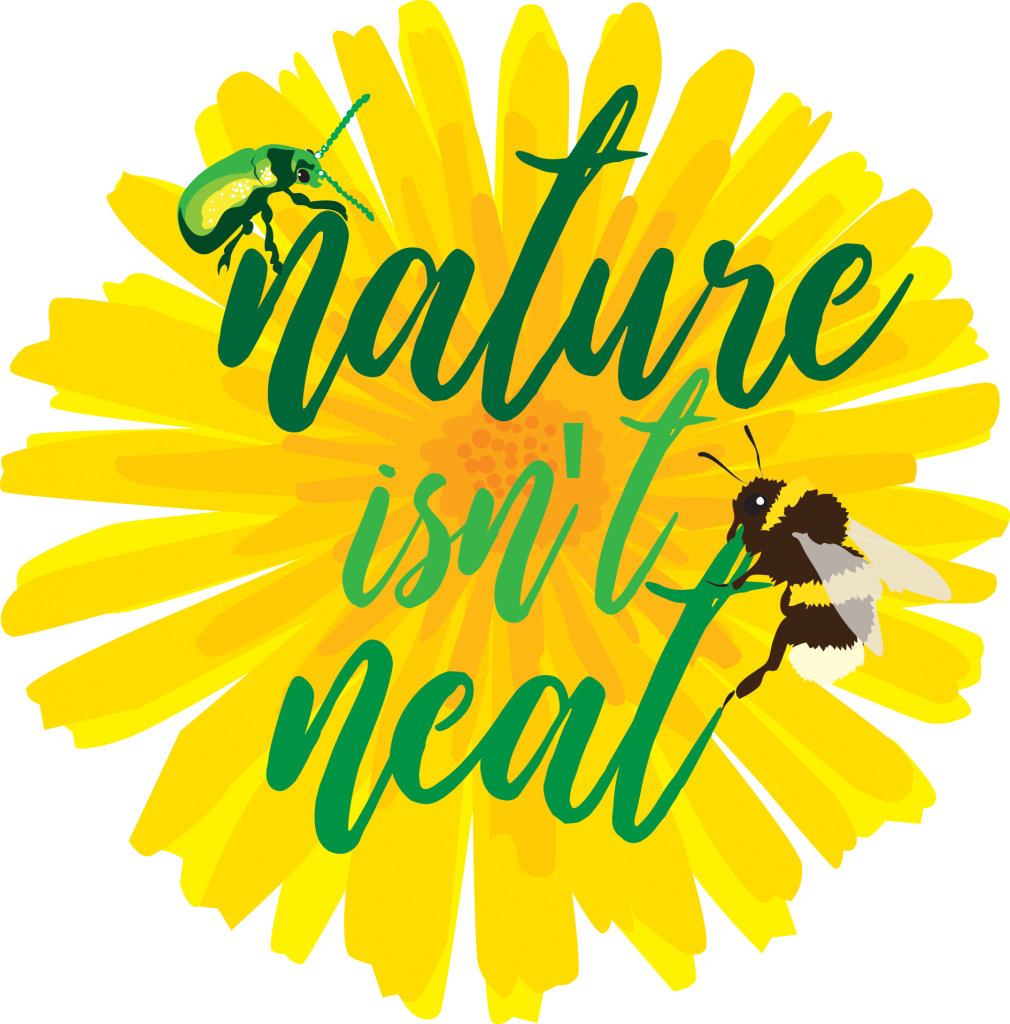 Hello, this is an update on Nature Isn't Neat, letting you know what has been happening and what new resources we have produced.
Working with our partners Monmouth Town Council, Transition Monmouth and Bees for Development, we agreed on key messages for Nature Isn't Neat to focus on.
Key Messages
Pollinators are in decline and they need our help now.
There are many different types of pollinators.
How can we help them?
Time for us all to make some changes.
To deliver these messages we began a social media campaign on Face Book, this web page, @natureisntneat, monthly talks and providing resources. The messages are being delivered to the wider community, in schools and in-house at Monmouthshire County Council's grounds maintenance teams.
Delivering messages to the wider community.
Shire Hall was the venue for six monthly talks with wonderful speakers, Cheryl Cummings, Brigit Strawbridge, Alex Hirtzel, colleagues from Monmouthshire County Council Grounds maintenance team and Bees for Development. The message from the speakers is the same as ours but with years of experience and knowledge to underline the real urgency to start changing the way we think about pollinators, what we grow in our gardens and how we manage public open spaces.
Our partners have worked for many years getting these messages out; the evidence is in their work and by their support and promotion of this project. To help identify partners new and existing projects we produced the Guide to Monmouth Town's Pollinator Projects (bi-lingual) pocket sized map. To help spread the message and help you make changes there is a "Pollinators guide to their favourite seasonal plants" Part 1 and Part 2.
To help identify pollinator friendly plants and pollinators specifically in and around Monmouth Town, there is the Monmouth's pollinators and food plants (bi-lingual) booklet.
Without the knowledge, expertise and enthusiasm of key members of the community groups these resources would not have been possible, thank you so much for giving your time and knowledge. You can download copies and once lock-down has ended, hard copies will be available from Shire Hall, Bees for Development and The Hub.
Delivering messages in schools.
Monmouth Town's primary schools were given the opportunity to participate in an education programme of activities and workshops entitled Why Does Your Garden Grow? Developed by Nature Isn't Neat and delivered by Gwent Wildlife Trust and Alex Hirtzel. Pupils will explore the world of pollinators with school assemblies and outdoor activities from Gwent Wildlife Trust and creative workshops from Alex Hirtzel.
Combining art and science pupils will begin to understand the relationship between flowers and pollinators. Pupils will design and make a flower based on their newly acquired knowledge of flower structure and its function.
Participating school's will have their pupils newly created flowers photographed and transformed into posters ready to be located on areas of change such open spaces and verges.
Head teachers will also benefit from this project. The Welsh Government's Enabling Natural Resources and Well Being fund will enable head teachers discuss how the school grounds can be of benefit to pollinators and connect with the surrounding environment. Planting schemes, accompanied by a brief report and plants to get the schools started are all part of this funding.
As the situation dictates, we are unable to fulfil the work at the schools but we will return to deliver this unique project.
Messages and actions in-house at Monmouthshire County Council.
As part of the Nature Isn't Neat project, a training programme for Mon CC crews who carry out the cutting and mowing of open spaces and verges was developed. Workshops and discussions plus a talk from a local entomologist, helped explain the rationale behind the need for change.
A training manual for the crews is available and clearly shows the benefits to the environment of these changes. To help residents understand why we are doing things differently an explanatory leaflet (bi-lingual) is available just ask one of the crew.
Mowing regimes in Monmouth Town will include a lower frequency of cuts and a raised cutting height under all tree with a 1m radius (no cut) protection zone area around the base of all established trees. Meadow management areas (annual cut and collect later in the season) will be marked out with stakes.
The primary objectives of all these changes are to increase habitats for pollinators, food sources, shelter, hibernation sites giving them the opportunity to reproduce and increase the dwindling populations.
As a local authority Mon CC have a responsibility to manage the environment responsibly as such these changes are not a cost cutting exercise, we are doing things differently, not less. Over time and in response to monitoring and evaluation of the changes, the way we do things will be adapted.
Work schedules that will not change include ensuring visibility sight lines along road junctions; these will always be in place. Mowing along edges of paths, 2m wide cut alongside major paths and 1 m cut along minor paths and litter picking before mowing, all these will remain within the normal working schedules.
There is still more work for us to do, working with communities, back into schools and with the Town Council, we have not finished yet.
We hope you like what you read if you have any comments or suggestions please contact either nin@monmouthshire.gov.uk or groundsandcleansing@monmouthshire.gov.uk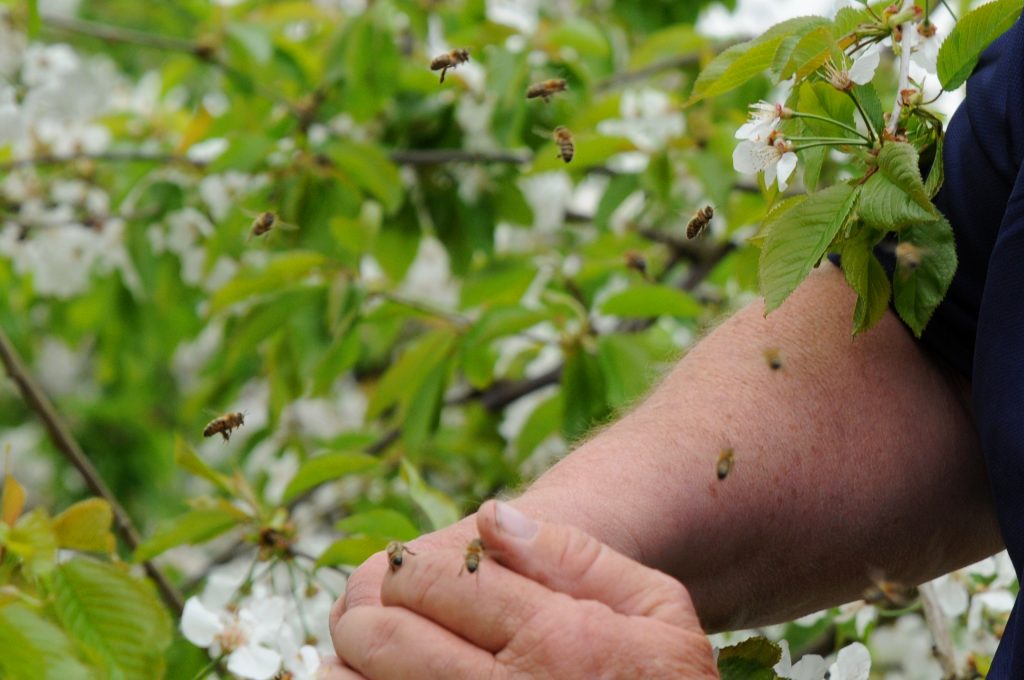 Diary Dates
Nature Isn't Neat held its first of six monthly talks on October 1st. The talks kicked off with landscape gardener Cheryl Cummings Perfect for Pollinators workshop, a really interesting and informative night – thank you Cheryl. Here is the link to the informative and very useful planting lists Cheryl kindly provided us with.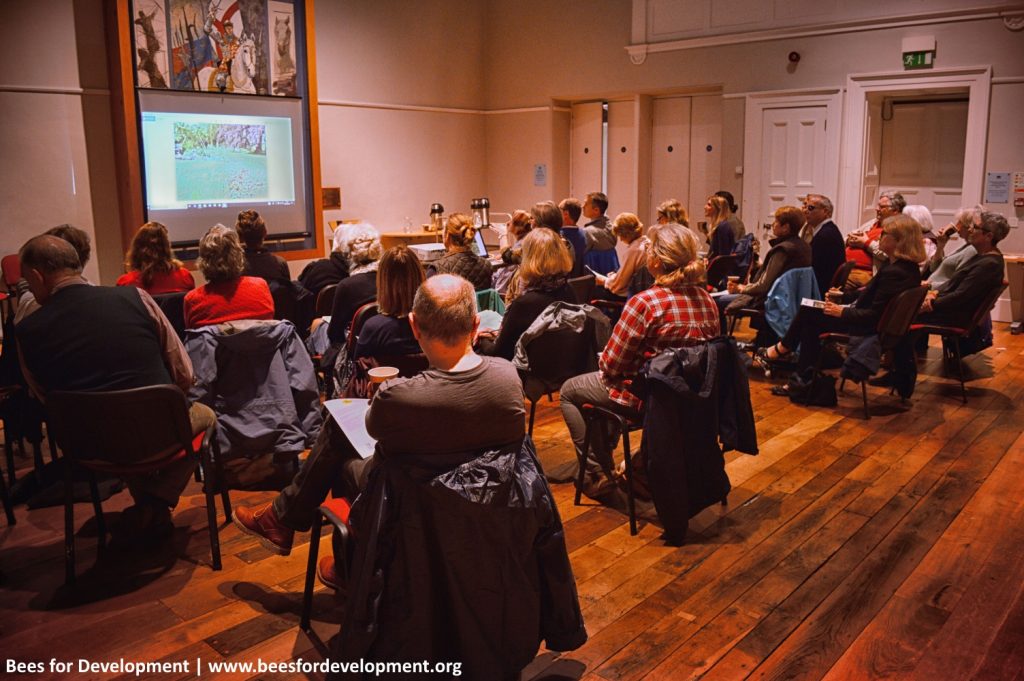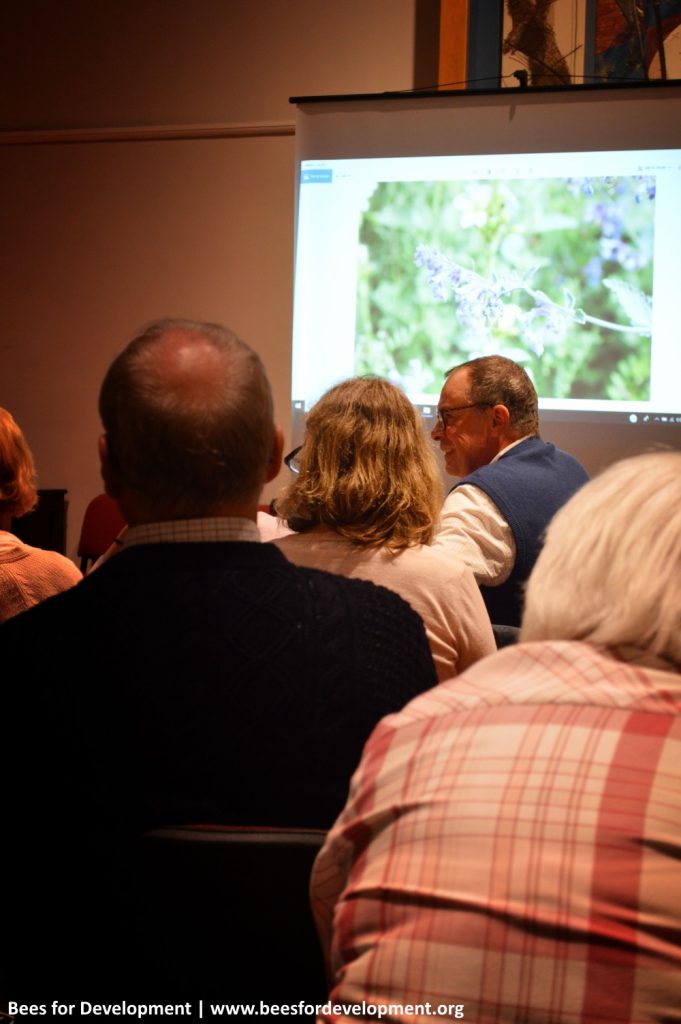 The talks/workshops are about the importance of pollinators and the threats they are facing, the speakers will show us ways to make positive changes to help preserve them. If we understand the importance of pollinators, we will definitely take actions to help preserve habitats and provide food. We need to take these positive steps now there is no time to lose.
Soon it will be winter and when the pollinators emerge in spring, they will be hungry. Will you have cut down their first source of food, dandelions? Please leave dandelions uncut, giving food is the very least we can do and we do not need to do anything just leave things as they are intended to be.
Each of the talks/workshops will be held at the Shire Hall, Monmouth, Agincourt Square NP 25 3EA they commence at 19:00 and finish at 20:30, they are free for anyone to attend just let us know so we can reserve a seat for you. There is one difference to the schedule the film Queen of Trees will be shown at the Savoy Theatre, Church St, NP25 3BU on Sunday February 23rd at 18:00pm
One of Nature Isn't Neat pilot project objectives is to work with the grounds maintenance crews who manage open spaces and verges.
To do this we held a workshop with the crews to discuss what Nature Isn't Neat aimed to do and how their working practices would be changing to improve the management of grassed areas.
We asked for their opinions and suggestions on how grounds management changes could be implemented and for them to suggest areas for change. These colleagues are frequently in direct conversation with residents and they can relay the reasons for change. If we all understand what and why we are making changes then the information will be consistent.
When we talk about change, we mean allowing the grass to grow longer and when possible to collect the cuttings, to stop cutting grass under tree canopies, not to cut so often or as early and to reduce where possible the use of Glyphosate.
These changes have been carried out in approximately 12 sites within Monmouth Town, the sites were identified by members of local community groups, individuals and our own crews.
The changes will allow native species to emerge, for seeds to set in Autumn, for habitats to form, for food to be available for longer, to help reduce flooding through greater absorption into the ground – to allow nature to do its job.
For more details on the changes please refer to the attached booklet, if you have any questions please make contact on nin@monmouthshire.gov.uk.
Nature Isn't Neat Training Manual

Thank you taking part and please send your comments and photos we would love to see them. And please spread the word about this project we need as many people as possible to help start making the changes.