It won't let me register on My Monmouthshire with my email address?
If the error message says 'This email address already exists' this could be that you have already registered with us or the customer services teams have registered you. To reset your password with that email address click the 'Forgot Password' button underneath the login screen.
How can I suggest improvements for My Monmouthshire?
We have a user panel and if anyone would like to join and help with future forms then contact DigitalProgrammeOffice@monmouthshire.gov.uk or fill in the app feedback form.
I've tried copying the link into my bookmarks but it doesn't work, I get a message 'Oops something went wrong'
If you use the following link www.monmouthshire.mycouncilservices.com this will take you to right registration page.
I don't want to have to keep logging in via your website, why can't you have an option for me to stay logged on like other websites
If you download the app on your device via your appropriate store, then it will keep you logged in as long as you keep the app open.
I want to finish a form later but I'm half way through it. Can I do this?
Yes you can:
To save the form to finish later, Web portal = Close (not cancel) the form or Mobile app = click on the Save for later button displayed bottom middle of the page you are on within the form.
To retrieve and continue completing/submit, go to My Account, Draft Report.

What to do if you are experiencing an issue with your stored password when logging onto My Monmouthshire?
My device inserts my stored password as lots of dots in the box (see image below) and when I press the login button I get an error message of 'Invalid Login Credentials'.
This is because of a security feature of the My Monmouthshire app encrypts your password stored on your device, in other words changes the password to lots of different characters so when you use it again it doesn't work.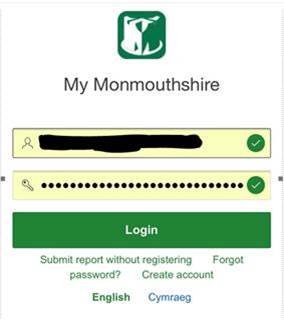 To prevent the password being encrypted:
Go into your device settings and change the encrypted password to your original and correct password, then save the changes.
When logging in to My Monmouthshire in the future, do not select to update your password when the browser offers the option as this will encrypt the password and will not work at next login.