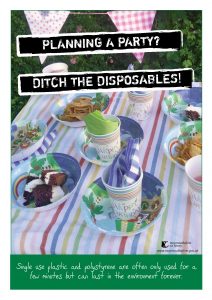 2018 has seen a huge surge of interest in single-use plastics. Not least because of the shocking scenes of plastic contamination in our oceans as shown on the BBC's Blue Planet II series.
Precious fossil fuels are used to make single use plastics like straws and polystyrene trays. These items cost money to buy and then dispose of. The lightweight and durable nature of plastic makes it a useful everyday material but when it is thrown as litter, it blights our landscape, causes injury to wildlife on land and sea and can take hundreds of years to break down.
So as a council, we are taking steps to reduce our own use of unnecessary, single use plastic and polystyrene – and are encouraging others to do the same.
We are re-thinking our use of plastic milk bottles and straws in school, plastic cups in offices and single use plastic bags for collecting recycling out on the street.
There's loads we can all do and these are just a few ideas:
Make a habit of picking up a few pieces of litter when you're out walking, this will encourage others not to drop it in the first place!
Ask your favourite takeaway to serve your food in paper or card instead of plastic and polystyrene. Drop them a postcard which you can collect from one of the community hubs
Let the shop or manufacturer know if you're unhappy with the packaging on your favourite product – Use our postcard
Loads of cafes and pubs will now refill your water bottle for free – just ask!
A 'Wales-wide Refill App' is currently being developed – watch this space to discover more refill stations.
From your local chippy, to the school fete, from a small family party to a large corporate event, we can all play our part in ditching the disposables in favour of re-usable alternatives. Planning a Party – Poster
Other types of litter like balloons and lanterns, often get overlooked but these can also cause harm to wildlife and property. Mass balloon releases have been banned from MCC land for a number of years and we encourage other land owners to do the same.
If you do buy a balloon or a lantern- don't let it go!
When wet wipes (containing plastic) are flushed down the loo- they block drains and cause a huge problem for water companies and marine wildlife. So working with Welsh Water, our advice is
'Only put down the loo – paper, pee and poo!'
Our local litter and Transition Town groups have joined forces in Abergavenny, Usk, Chepstow and Monmouth to help spread the word. Together, we are working with schools and businesses to raise awareness of the damage that single use plastics can cause to our environment and the economy. Chepstow has recently become the first town in Monmouthshire to gain Plastic Free Status with Surfers Against Sewage. www.plasticfree.org.uk
For more information or to get involved:
'Plastic Free Abergavenny Facebook page' or email: plasticfreeabergavenny@gmail.com
'Plastic Free Chepstow Facebook page' or email: plasticfree@transitionchepstow.org.uk
'Plastic Free Monmouth Facebook page' or email: plasticfreemonmouth@gmail.com
Plastic Free Monmouthshire
The County Council voted unanimously in June 2018 to work towards becoming a plastic free county as supported by Surfers Against Sewage. This means we will reduce our single use and unnecessary plastics to an absolute minimum and we will support the many community groups who are working hard to make their places plastic free.
What will we do for the community?
Support local plastic free initiatives and the community groups working on them.
Work with community leaders to pass the Plastic Free Communities motion.
Liaise with community leaders to facilitate and promote the campaign locally.
Encourage schools, businesses, community groups and individuals to get involved.
What the Council must do to achieve plastic free status:
Demonstrate leadership and set up a working group to examine the options available to become a plastic free council.
Perform a complete audit of avoidable single-use plastic items used across council owned buildings and facilities.
Develop a strategy on eliminating avoidable single-use plastics.
Councillor to put forward a motion to propose the county council becomes an avoidable, single-use plastic free council.
Pass the motion by majority vote supporting the Plastic Free Coastlines vision and plastic free communities in the county.
Consider how we can promote the reduction of single-use plastics across the council area and involve collection and waste disposal authorities in this process.
All County Council run schools to be part of the Plastic Free Schools initiative.
70% of major towns in Monmouthshire should have achieved Plastic Free Community status with the rest working towards it for Monmouthshire to reach Plastic Free status.
Greenpeace, Marine Conservation Society, Keep Wales Tidy and others are all trying to tackle the issue of single use plastics:
www.ellenmacarthurfoundation.org
Refill stations for water bottles and deposit return schemes for bottles and cans are among the measures being introduced by Wales, Scotland, UK and European Governments.
Supermarkets and the packaging industry have also pledged to reduce their reliance on plastic packaging. Visit WRAP: www.wrap.org.uk