The Coronavirus pandemic has posed an unprecedented challenge to our way of life and the way we provide services. We are transitioning out of the first wave now and this plan sets our actions to re-build community confidence. This is not our Recovery Plan – that will follow when we are confident that COVID19 is manageable into the medium term.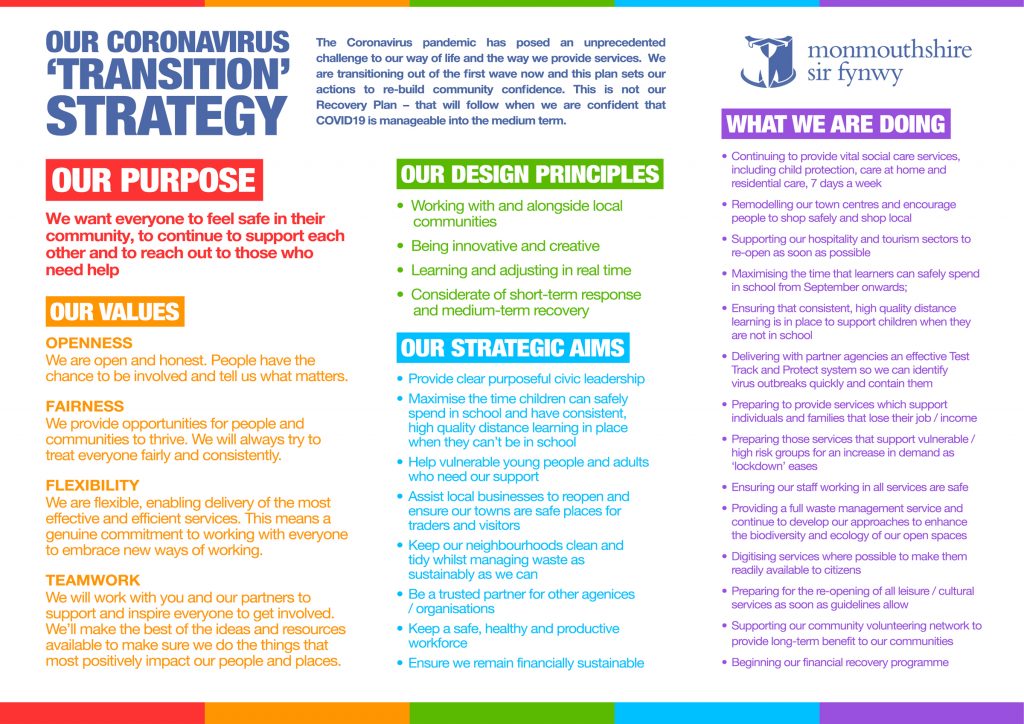 Our Purpose
We want everyone to feel safe in their community, to continue to support each other and to reach out to those who need help.
Our Values
OPENNESS
We are open and honest. People have the chance to be involved and tell us what matters.
FAIRNESS
We provide opportunities for people and communities to thrive. We will always try to treat everyone fairly and consistently.
FLEXIBILITY
We are flexible, enabling delivery of the most effective and efficient services. This means a genuine commitment to working with everyone to embrace new ways of working.
TEAMWORK
We will work with you and our partners to support and inspire everyone to get involved. We'll make the best of the ideas and resources available to make sure we do the things that most positively impact our people and places.
Our Design Principles
Working with and alongside local communities
Being innovative and creative
Learning and adjusting in real time
Considerate of short-term response and medium-term recovery
Our Strategic Aims
• Provide clear purposeful civic leadership
• Maximise the time children can safely spend in school and have consistent, high quality distance learning in place when they can't be in school
• Help vulnerable young people and adults who need our support
• Assist local businesses to reopen and ensure our towns are safe places for traders and visitors
• Keep our neighbourhoods clean and tidy whilst managing waste as sustainably as we can
• Be a trusted partner for other agenices / organisations
• Keep a safe, healthy and productive workforce
• Ensure we remain financially sustainable
What We Are Doing
• Continuing to provide vital social care services, including child protection, care at home and residential care, 7 days a week
• Remodelling our town centres and encourage people to shop safely and shop local
• Supporting our hospitality and tourism sectors to re-open as soon as possible
• Maximising the time that learners can safely spend in school from September onwards;
• Ensuring that consistent, high quality distance learning is in place to support children when they are not in school
• Delivering with partner agencies an effective Test Track and Protect system so we can identify virus outbreaks quickly and contain them
• Preparing to provide services which support individuals and families that lose their job / income
• Preparing those services that support vulnerable / high risk groups for an increase in demand as 'lockdown' eases
• Ensuring our staff working in all services are safe
• Providing a full waste management service and continue to develop our approaches to enhance the biodiversity and ecology of our open spaces
• Digitising services where possible to make them readily available to citizens
• Preparing for the re-opening of all leisure / cultural services as soon as guidelines allow
• Supporting our community volunteering network to provide long-term benefit to our communities
• Beginning our financial recovery programme
What We Have Done