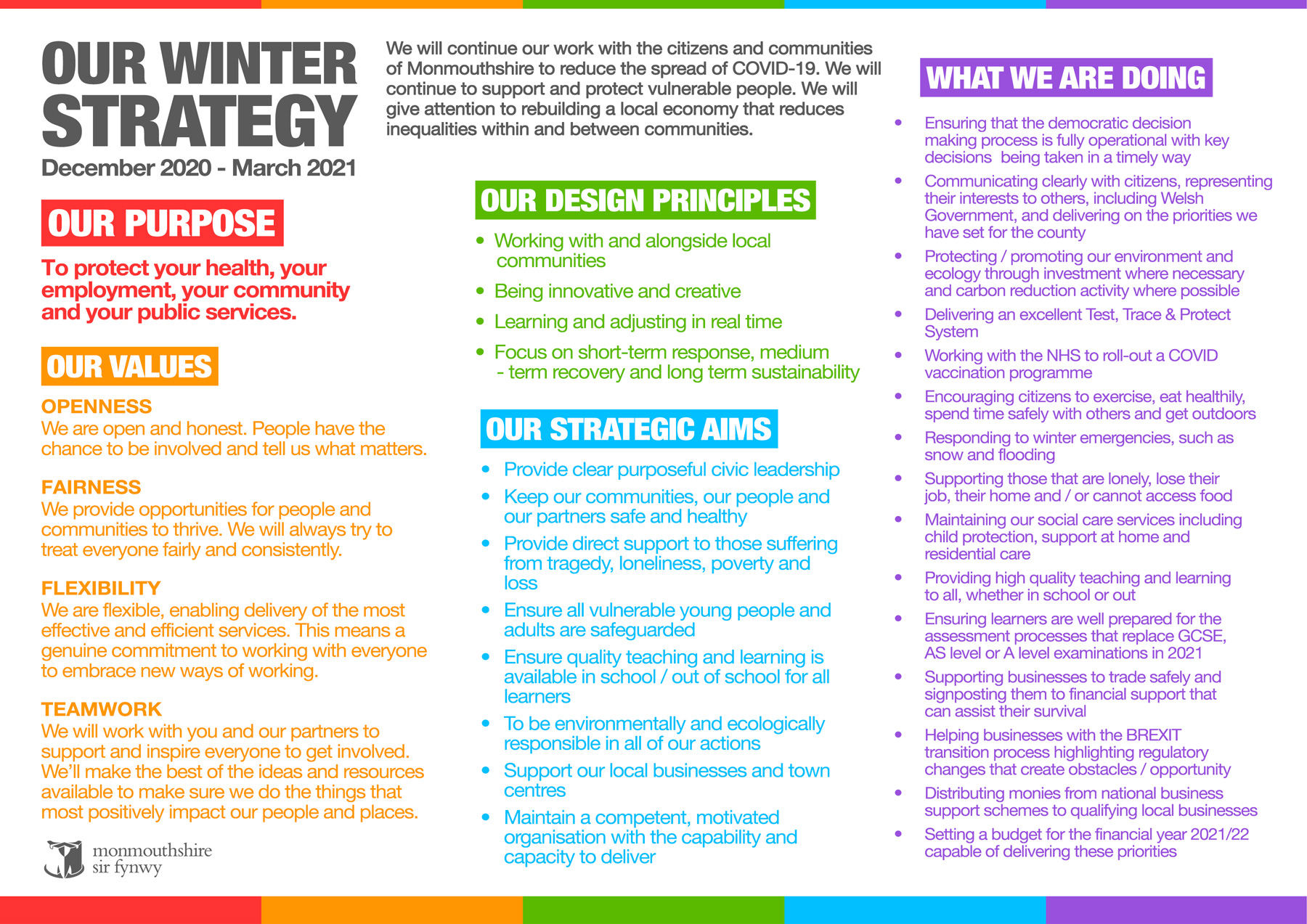 Our Winter Coronavirus Strategy
December 2020 – March 2021
We will continue our work with the citizens and communities of Monmouthshire to reduce the spread of COVID-19. We will continue to support and protect vulnerable people. We will give attention to rebuilding a local economy that reduces inequalities within and between communities..
Our Purpose
To protect your health, your employment, your community and your public services.
Our Values
Openness We are open and honest. People have the chance to be involved and tell us what matters. Fairness We provide opportunities for people and communities to thrive. We will always try to treat everyone fairly and consistently. FLEXIBILITY We are flexible, enabling delivery of the most effective and efficient services. This means a genuine commitment to working with everyone to embrace new ways of working. TEAMWORK We will work with you and our partners to support and inspire everyone to get involved. We'll make the best of the ideas and resources available to make sure we do the things that most positively impact our people and places.
Our Design Principles
• Working with and alongside local communities
• Being innovative and creative
• Learning and adjusting in real time
• Focus on short-term response, medium-term recovery and long term sustainability
Our Strategic Aims
• Provide clear purposeful civic leadership
• Keep our communities, our people and our partners safe and healthy
• Provide direct support to those suffering from tragedy, loneliness, poverty and loss
• Ensure all vulnerable young people and adults are safeguarded
• Ensure quality teaching and learning is available in school / out of school for all learners
• To be environmentally and ecologically responsible in all of our actions • Support our local businesses and town centres • Maintain a competent, motivated organisation with the capability and capacity to deliver
What are we doing
• Ensuring that the democratic decision making process is fully operational with key decisions being taken in a timely way
• Communicating clearly with citizens, representing their interests to others, including Welsh Government, and delivering on the priorities we have set for the county
• Protecting / promoting our environment and ecology through investment where necessary and carbon reduction activity where possible
• Delivering an excellent Test, Trace & Protect System
• Working with the NHS to roll-out a COVID vaccination programme
• Encouraging citizens to exercise, eat healthily, spend time safely with others and get outdoors
• Responding to winter emergencies, such as snow and flooding
• Supporting those that are lonely, lose their job, their home and / or cannot access food
• Maintaining our social care services including child protection, support at home and residential care
• Providing high quality teaching and learning to all, whether in school or out
• Ensuring learners are well prepared for the assessment processes that replace GCSE, AS level or A level examinations in 2021
• Supporting businesses to trade safely and signposting them to financial support that can assist their survival
• Helping businesses with the BREXIT transition process highlighting regulatory changes that create obstacles / opportunity
• Distributing monies from national business support schemes to qualifying local businesses
• Setting a budget for the financial year 2021/22 capable of delivering these priorities