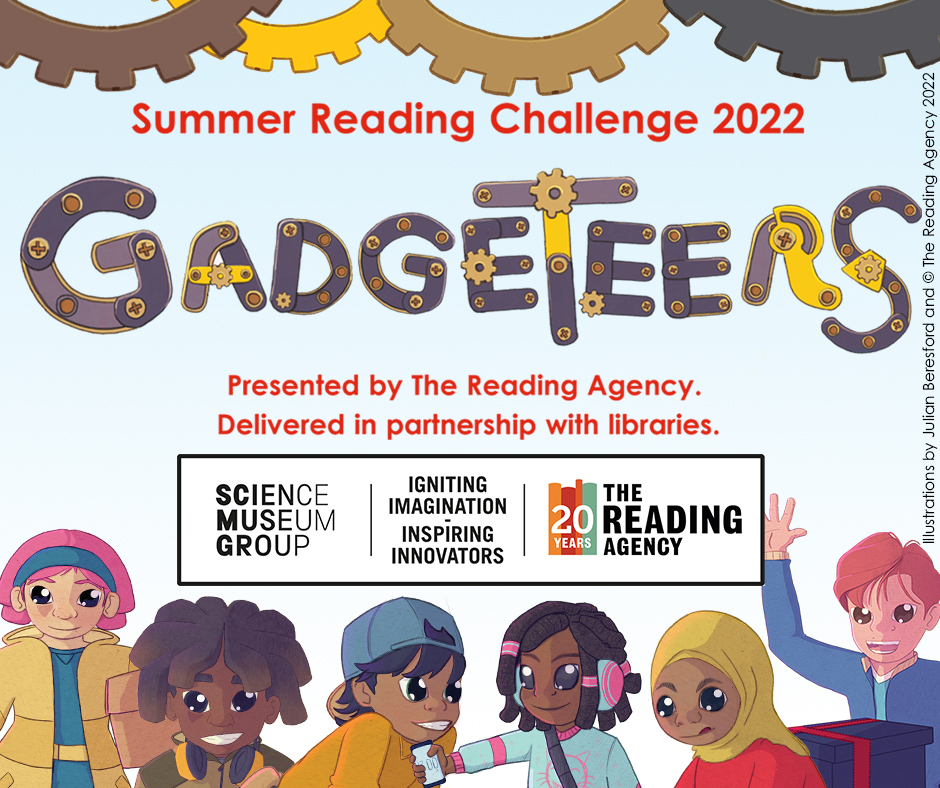 Introducing Gadgeteers,
Summer Reading Challenge
2022
Science is all around you!
This year's Summer Reading Challenge, Gadgeteers, is all about science and innovation, amazing books and lovely rewards.
The Gadgeteers are planning an EPIC summer party! Through reading books and collecting stickers, Challenge participants will help the Gadgeteers use their special skills to get everything ready.
Gadgeteers, Summer Reading Challenge 2022 starts on Saturday 9th July and finishes on Saturday 17th September.
It's FUN! It's FREE! It's LOCAL
The Summer Reading Challenge is for all children aged 4 – 11. It is free and easy to take part:
Children sign up at their local library, receive a Gadgeteers poster and their first set of stickers
Children borrow and read at least four library books of their own choice during the summer, collecting more special stickers to become Gadgeteers
Children who complete the Summer Reading Challenge receive a certificate, medal and Gadgeteer kit bag!
The Summer Reading Challenge website hosts digital rewards, author videos, games and more for children to enjoy all summer: summerreadingchallenge.org.uk/
With plenty of brilliant books to enjoy, the Challenge is the perfect summer activity to build young readers' skills and confidence during the long break from school.
For more information, please contact your local Community Hub https://www.monmouthshire.gov.uk/community-hubs-and-libraries/community-hubs-opening-hours/
The Summer Reading Challenge is produced by The Reading Agency and delivered in partnership with libraries. This year the Reading Agency have teamed up with the Science Museum Group to create "Gadgeteers", inspiring children to use their curiosity and creativity to discover the science behind the everyday, and celebrate the role of the imagination in both reading and the sciences.