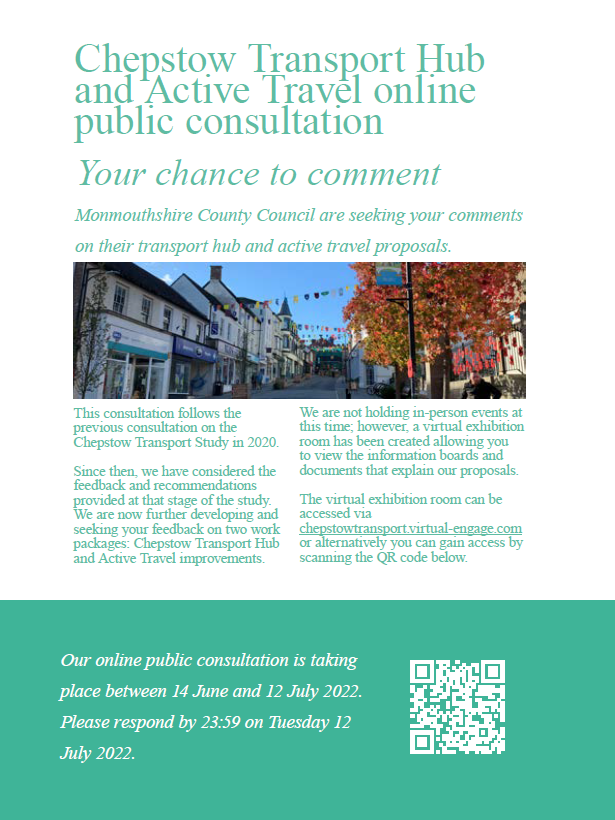 On Tuesday 14th June 2022, Monmouthshire County Council launched a consultation on the future of transport in Chepstow, focusing on a Transport Hub.
This follows on from our previous consultation on the Chepstow Transport Study in 2020. Since then, we've looked at and listened to the feedback you provided and have further developed some proposals as part of a 'Chepstow Transport Hub.'
The Transport Hub can be split into several different elements, and explores travel methods such as the bus network, demand responsive transport such as taxis, electric vehicle infrastructure and park and ride facilities.
In partnership with our consultants Arup, we've developed a virtual exhibition environment. Similar to our consultation in 2020, we won't be holding any in-person events, but our project team is available to answer any questions you may have.
The consultation is running for four weeks, and we ask that you please provide your feedback to us by 11.59pm on 12 July 2022. You can provide feedback through:
Requesting a printed copy of the survey to complete and post to us using our freepost address (details below)
Writing to us Freepost CHEPSTOW TRANSPORT STUDY
Please take the time to visit our virtual exhibition and provide your feedback on our proposals. Your feedback is essential in developing the future of sustainable transport in and around Chepstow.
You can access our consultation room via this link chepstowtransport.virtual-engage.com
If you would like to formally request hard copies, the number you can ring is 0117 240 1529, alternatively you can request hard copies by emailing chepstowtransportstudy@arup.com