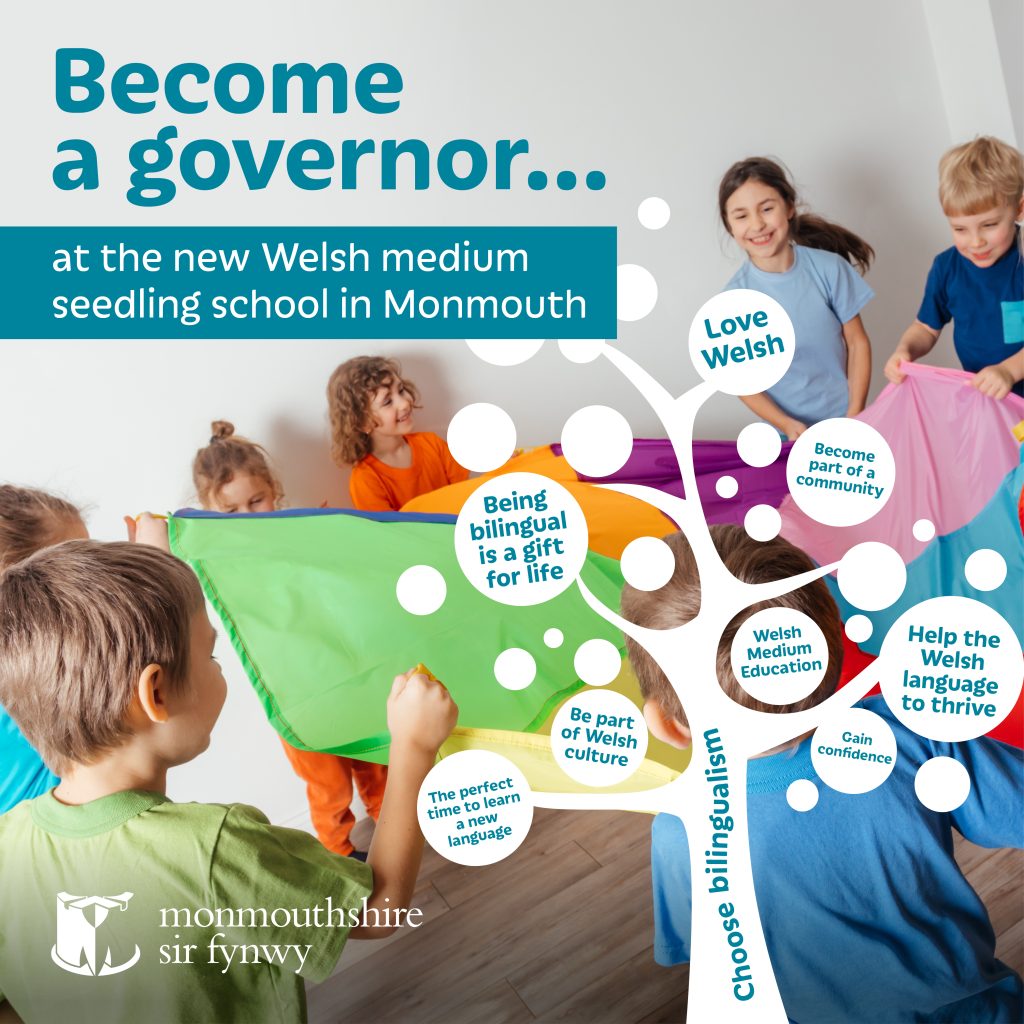 Monmouthshire County Council is currently looking for applicants for volunteers to sit on the temporary governing body for the new Welsh medium seedling school which is opening in September 2024.
Creating Welsh medium provision in Monmouth is central to our contribution to the Welsh Government strategy of creating one million Welsh speakers by 2050. It will also achieve the targets set out in our current Welsh Education Strategic Plan 22-32 and support our wider strategy to grow the demand for Welsh medium education across the county.
Cllr Martyn Groucutt, Cabinet Member for Education, said: "We are committed to promoting Welsh language and culture in Monmouthshire. As a school governor you will have the opportunity to be part of this exciting new school in Monmouth. You do not need to be a Welsh speaker but do need to be committed to Welsh Medium education and passionate about Welsh language and culture. It could be one of the most rewarding things you have ever done, ensuring all children and young people have the best start in life here in Monmouthshire."
Schools benefit enormously from the strategic input of their governors, who help to oversee many aspects of the school and contribute to the governing body of the school in raising standards of achievement for all pupils.
Becoming a governor requires drive and commitment but it comes with many rewards, including the chance to make a real difference to children and young people as they develop to be the best they can be. It also provides the chance to utilise skills you already possess and to learn new skills at the same time.
You don't have to have a child in the school to apply, but you should have an interest in education and be committed to ensuring the best possible outcomes for children and young people. Welsh language skills are desirable but not essential for this role. Governors should also be able to bring skills that are beneficial to the school, such as business experience, IT knowledge, human resources or creative skills.
If you would like to find out more about becoming a Local Authority governor on the temporary governing body for the new seedling school in Monmouth, please email wendybarnard3@monmouthshire.gov.uk or SharonRandall-Smith@monmouthshire.gov.uk or phone 07973 884461. For more information and an application form visit www.monmouthshire.gov.uk/becoming-a-school-governor/
We are also inviting expressions of interest from local parents and community members to join the temporary governing body. If you are interested, please email wendybarnard3@monmouthshire.gov.uk or SharonRandall-Smith@monmouthshire.gov.uk outlining your skills and experience.
Applications for Local Authority governors for the temporary governing body in the new seedling school close on 6th November and expressions of interest from parents and community members will close on 10th November.
Tags:
Monmouthshire
,
School
,
welsh language