If you have ever thought of growing your own produce, either for you and your family, or for a community group, then there's an event coming up that could be for you. Chepstow CAN (Community Action Network) is holding a free Community Growing workshop on Tuesday 10th October.
The event runs from 9.30am until 3pm and is being held at Bulwark Community Centre. Organised by Monmouthshire County Council's Be Community team and GAVO (Gwent Association of Voluntary Organisations), the event is supported by the UK Government's Levelling Up Fund.
The workshop is aimed at anyone, or any community groups, that is interested in sustainable food production or is already growing their own produce. There will be free training available on making organic compost and its many uses, 'no-dig' gardening and improving the health of soil, and even a chance to make your own sauerkraut (you can take some home afterwards too).
Angharad Underwood from the Preservation Society is the guest speaker for the session. Angharad is a multi-award-winning producer of jam. She runs courses across Wales and started a kids' Cookalong Clwb, teaching primary school children to cook with their families. She'll be sharing her know-how with everyone that joins the workshop on Tuesday 10th October.
Cllr. Catrin Maby, Cabinet Member for Climate Change and the Environment, said: "The Chepstow Community Action Network empowers and supports community projects, benefitting people and the environment alike. By learning how to grow our own food, we can help reduce the environmental impact of transporting food. And home-grown food is healthy and delicious.
"Reserve your free ticket now so you can head to Bulwark Community Centre on Tuesday 10th October between 9.30am and 3pm for the free Community Growing workshop. It will be a wonderful opportunity to ask questions, learn from sustainable food experts and make new friends."
The workshop is free but booking is essential. Secure your place by visiting Chepstow Community Action Network – Community Growing! Tickets, Tue 10 Oct 2023 at 09:30 | Eventbrite
All attendees will automatically secure a place at Chepstow CAN's seed swap. If you would like to know more about community growing, email bethanwarrington@gavo.org.uk or call 07376 023546.
If you would like to be a part of the Community Action Network and Be Community visit the website: https://www.monmouthshire.gov.uk/2022/12/community-action-networks/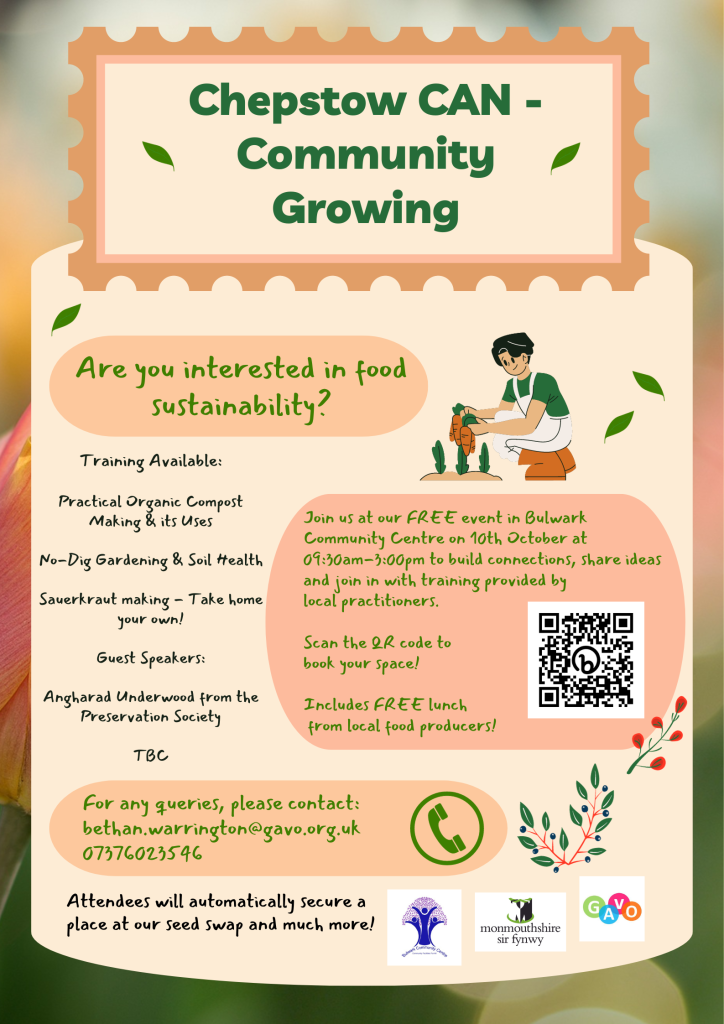 Tags:
climate emergency
,
Monmouthshire