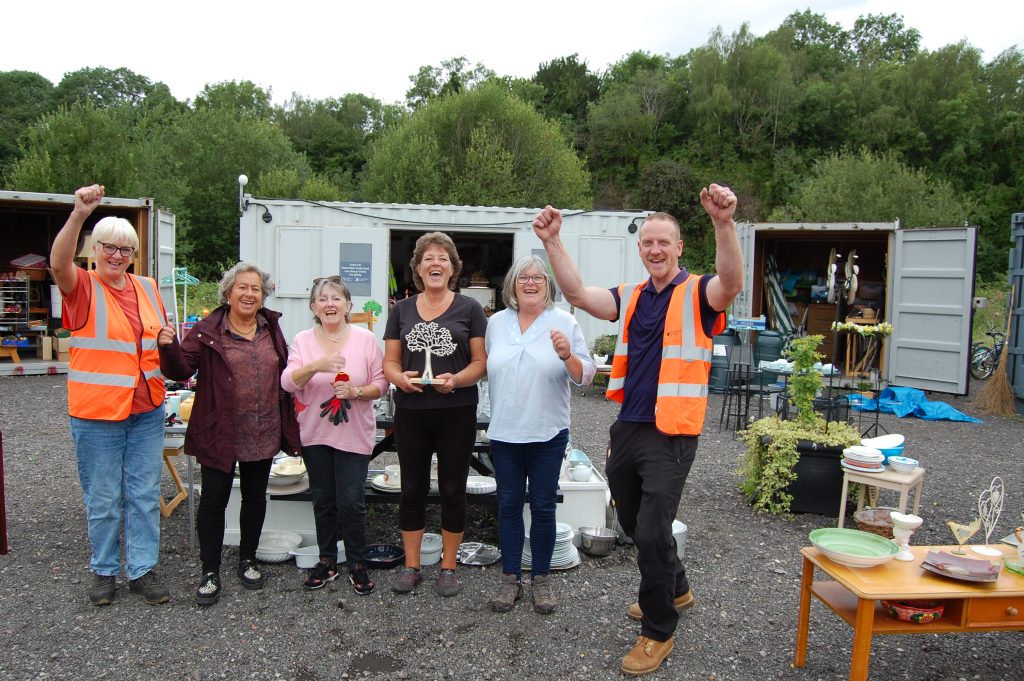 Photo: Cllr Catrin Maby (second from left) with award-winning volunteers at the Reuse Shop
Volunteers working at Monmouthshire County Council's Reuse shops have scooped a Community Hero Thank You Award. The award, hosted by the Forest of Dean & Wye Valley Review in conjunction with Lydney Town Council, aims to recognise and say thank you to all those who give their time freely and make a difference in their communities.
Around 150 people attended the celebratory evening event, which included music and entertainment. Thanks were given by Review editor Liz Davies and Mayor of Lydney, Natasha Saunders, to all nominees and those who had taken the time to nominate and vote as well as the local businesses who so generously sponsored the awards.
The Reuse Shops rely on a team of wonderful volunteers to help sell preloved items saved from landfill, reducing waste and raising money for tree planting in the county. Based at Five Lanes (Caerwent) and Llanfoist Recycling Centres in Monmouthshire, the Reuse Shops are very popular with residents thanks to the wide range of items available – everything from bicycles to teddy bears, plant pots to pottery figures, glass to garden tools, and much more – and the friendly team that work at both shops.
Cllr. Catrin Maby, Monmouthshire County Council's Cabinet Member for Climate Change and the Environment said: "I am delighted that the volunteers at our Reuse Shops have received this well-deserved recognition. We would not be able to run these shops without their hard work. Every item sold by them reduces waste and pays for more trees to be planted, so benefits our environment. I would like to thank the Forest of Dean & Wye Valley Review and everyone who voted for our volunteers for this wonderful award."
Volunteer, Laura Wilkinson accepted the Community Environment Award on behalf of all the reuse shop volunteers based at Five Lanes and Llanfoist. Laura said: "It was a lovely surprise for the volunteers to be nominated and then go on to win this award. We enjoy being part of the team that transforms unwanted stuff from the skips into lovely saleable items. Its great to make a difference every week and the awards evening was a night to remember!"
Five Lanes Reuse Shop open every Wednesday and Thursday from 10.00am to 3.00pm (NP26 5PD) and the Llanfoist Reuse Shop opens every Tuesday from 10.00am to 3.00pm (NP7 9AQ). For more information visit www.monmouthshire.gov.uk/recycling-and-waste/reuse-shop/ or email recyclingandwaste@monmouthshire.gov.uk