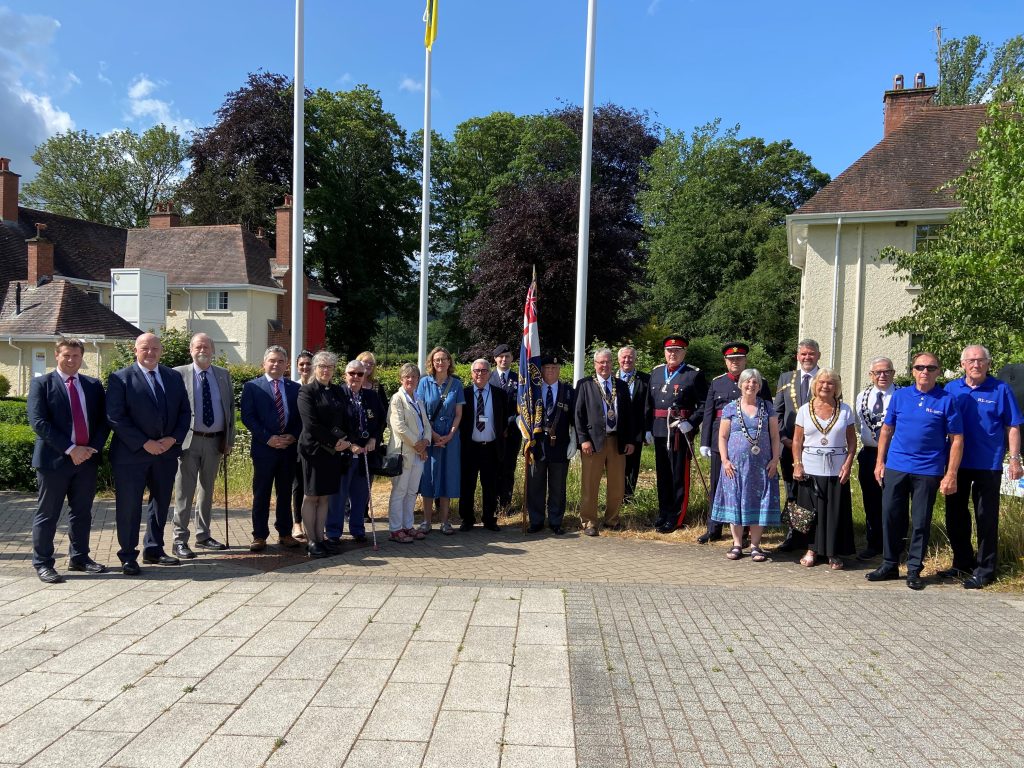 The Armed Forces flag was raised outside County Hall in Usk on Monday 19th June at 10am to mark the start of Armed Forces Week. The flag will fly in Monmouthshire for a week to honour the contribution, commitment and sacrifice of our military personnel, past and present.
Ceremonies are being held to mark the lead up to national Armed Forces Day on Saturday 24th June. The day is an annual opportunity for the nation to show support for the Armed Forces community.
Cllr. Peter Strong, Armed Forces Champion led the ceremony with the Chair of Monmouthshire County Council, Cllr. Meirion Howells, Deputy Lord Lieutenant, Peter Selby DL, the High Sheriff Simon Gibson, in company of representatives of the Royal British Legion, the RAF, South Wales Fire Service, Royal Naval Association, Monmouth Branch, the Mayors of Monmouth, Usk and Abergavenny, fellow councillors, colleagues and the Council's Chaplain, Revd Sally Ingle-Gillis.
Cllr. Howells said:

"It is a great honour to be one of the many civic heads across the UK that are at this time raising their flag for the Armed Forces. I hope that everyone who sees the flag flying here at County Hall this week stops to think of the thousands of men and women of the Armed Forces who are at this time and moment risking their lives to protect both our freedom and the freedom of other peoples to live a decent, peaceful and free life."
Cllr. Peter Strong said:

"I am taking this as an opportunity to thank all our service personnel and emergency service workers, and their families. The day will celebrate the work of service people as they serve around the world, protecting freedoms. Although this day may strictly be for the Armed Forces, let me also draw attention for the work of the emergency services; ambulance, paramedics, fire, police, and others. On behalf of the people of Monmouthshire and all those connected with Monmouthshire County Council, we say thank you very much."
Armed Forces Week comes after Monmouthshire Veterans' Support Hub was introduced in March 2022, with the aim of delivering high quality, person-centred support to veterans from the military and ex-military community. The Hub aims to empower veterans, and those in transition, from military to civilian life, integrating into local communities.
The sessions are held in the heart of Abergavenny which is easily accessible by car, train and bus routes. If you are a veteran of the armed forces, Monmouthshire Veterans' Support Hub in Abergavenny can provide you with advice, guidance, and support on topics such as housing, benefits, debt and health and wellbeing.
Equally, if you are anxious about the future, or struggling to adjust, just talking to other veterans may help you through your journey. Every Monday from 10am – noon, you can join other Veterans in Monmouthshire at the St John's Ambulance hut at Bailey Park, Fairfield Car Park, Abergavenny NP7 5SG
To see what services and support the Council provides for Armed Forces personnel, click this link: www.monmouthshire.gov.uk/armed-forces/