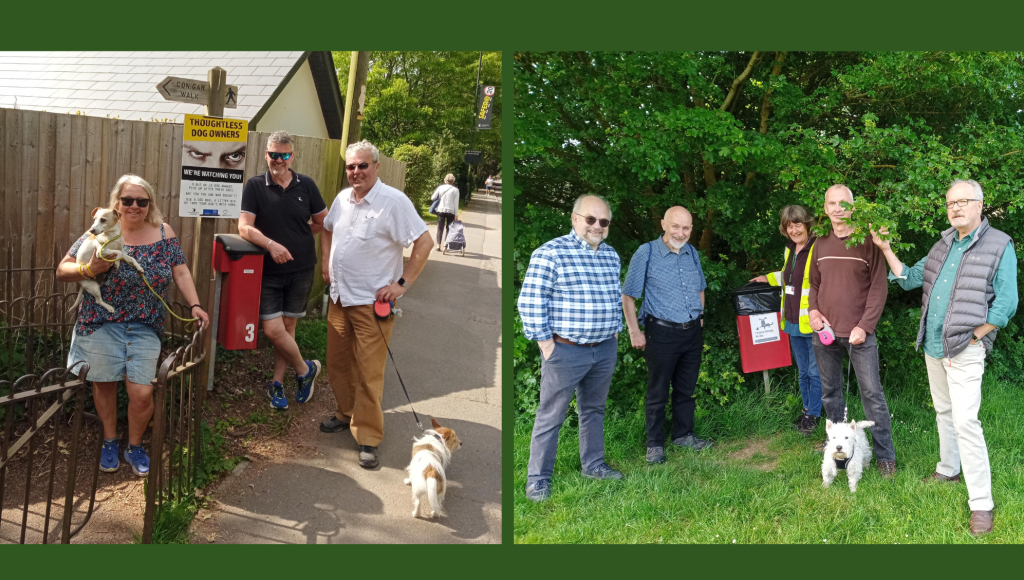 Events were held in Chepstow and Usk on Dog Fouling Action Day to encourage everyone to 'do the right thing' when it comes to dog fouling.
In Chepstow, town councillors accompanied by Monmouthshire County Council's officers visited areas where regular complaints of dog fouling are received, to speak to dog owners about their responsibilities. The town council owns 36 dog waste bins, and are in the process of adding all the dog bin locations onto the Pooper Snooper app. The app. is publicly available and shows the location of the nearest dog bin. It can also be used to plot dog fouling incidents so that hotspot problem areas can be identified. A new dog bin will soon be installed at Restway Wall, Chepstow.
In Usk, new signs have been installed by Monmouthshire County Council Chair, Cllr. Meirion Howells and Usk town councillors to remind people to clean up after their pets. Key areas such as the riverside walk along the Usk and the sports field are prone to dog fouling, these routes will be surveyed and patrolled regularly for several weeks to see if these signs have helped raise awareness. Usk Town Council have mapped each of their 8 dog bins on the Pooper Snooper app. to help residents and visitors find them more easily.
Anyone caught not cleaning up after their pet can be fined up to £75. Local people are encouraged to report any dog fouling incidents, particularly where the dog walker can be identified.
Find out more: https://www.monmouthshire.gov.uk/recycling-and-waste/dogfouling/ . 
A county-wide public consultation will be starting in a couple of weeks about a draft public spaces protection order, aimed to address concerns by introducing additional dog controls in public spaces. This will include potential proposals such as the need for dog owners to pick up after their dog in any public space, carry dog poo bags and will propose a number of sites where dogs will not be permitted e.g. play areas, marked sports pitches, together with a number of areas where a dog will need to be on a lead.
Cllr Paul Griffiths, Deputy Leader said:

"I would like to thank all of the responsible dog owners in Monmouthshire who 'do the right thing'. Everyone needs to play their part in keeping Monmouthshire's stunning outdoors safe and beautiful. And remember, it is totally acceptable to place bagged dog waste in litter bins if you're not close to a dog waste bin when you are out and about." 
Monmouthshire County Council Chair, Cllr Meirion Howells added:

"As a dog owner myself I know they bring huge benefits to our lives in terms of exercise, companionship and unconditional love, but there is a proportion of dog owners who unfortunately do not meet their responsibility to clean up after them. It is so very important to keep our public spaces clean for all to use."