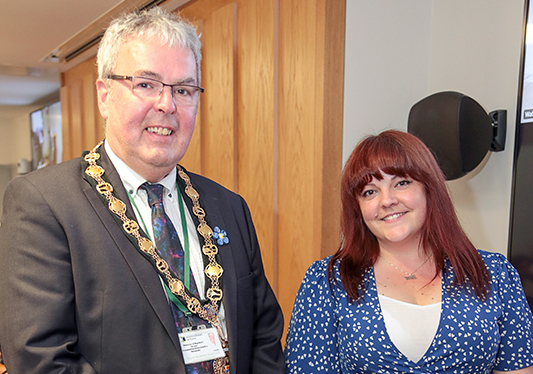 Monmouthshire County Council has chosen a new Chair to serve for the next twelve months. County Councillor Meirion Howells was elected at the council's annual general meeting on May 18th following nomination by Councillor Ian Chandler, which was seconded by Council Leader Mary Ann Brocklesby.
Councillor Meirion Howells was born in small Welsh-speaking village in Carmarthenshire. The family moved to London when he was eight to run a B&B in Victoria, London. It was here his parents instilled in him the value of community involvement, through being actively involved in all aspects of the London-Welsh community and the Clapham Junction Chapel that they attended.
His consort for the year is his wife Sarah, and on occasion, his mother Mrs Iris Howells. He has lived in Usk since 2004 and has five children, three having been born in Monmouthshire. Meirion and his wife run a busy osteopathic practice in Usk and have been heavily involved in community events since moving here from London. Meirion has been a Town Councillor for the past five years, represents Llanbadoc and Usk ward as county councillor, is a governor at Usk Primary School and sits on a number of council committees and volunteers for various local groups. In between supporting his children with busy weekly sporting and musical commitments, Meirion enjoys singing with the local Usk Singing Club.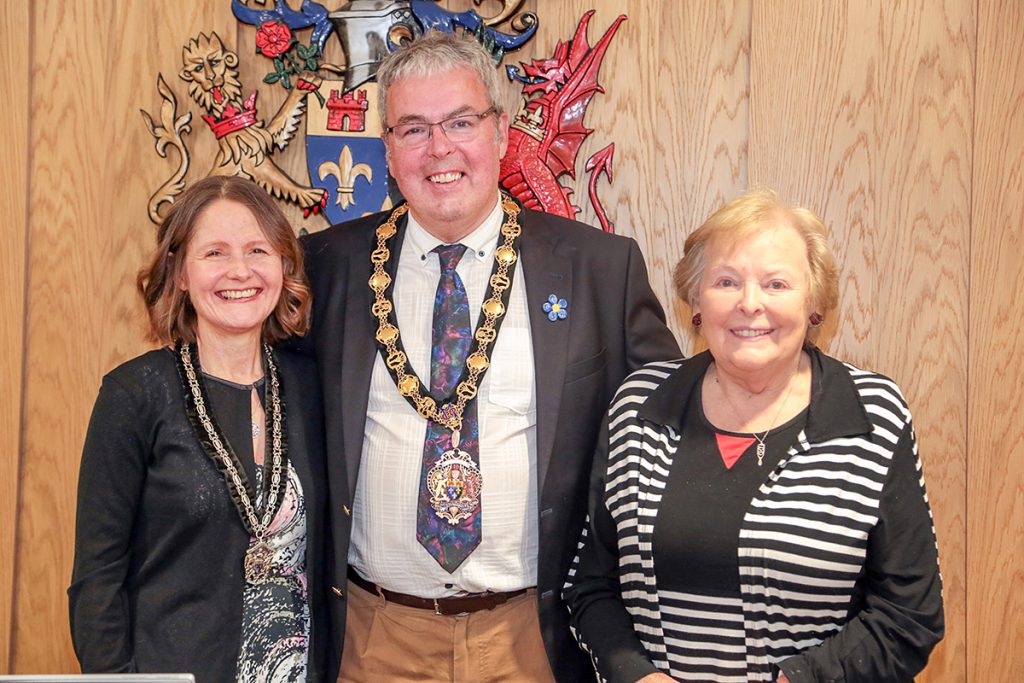 Cllr. Howells said: "This is a great honour and privilege to be elected as Chair of Monmouthshire County Council and one that I will fulfil with dedication and pride. As an independent member I will endeavour to conduct my role as Chair of the Council with impartiality and fairness. My wife and I look forward, with excitement, to the year ahead representing Monmouthshire at civic events and functions."
Cllr. Mary Ann Brocklesby thanked outgoing chair Cllr. Wright, saying: "On behalf of the whole council our thanks are profound. It was a new council, new administration and you brought that newness in a joyful and refreshing way. You exuded pride in our county. You've demonstrated to us that 'not knowing what to do' is a strength if you reach out, ask for help, learn and carry on – you have done it in style. Thank you so much."
The outgoing Chair, Councillor Laura Wright said: "I want to start by saying thank you for electing me. I hope I have served the council to the best of my abilities. Reading the King's Proclamation will be a memory that will last forever. I have experienced various ceremonies and the Royal Garden Party. The one of the most personally meaningful things for me was the 'happy to chat' bench in Chepstow to help end loneliness. Loneliness impacts on people's health and well-being. My chosen charity has been Monmouthshire Mind and I would like thank everyone for their generosity in supporting this wonderful charity.
"We can all play a part and simple acts of kindness cannot be overstated. One of the most noticeable things at Monmouthshire County Council has been the culture of kindness and mutual support and advice. I would like to thanks Councillor Ann Webb for her experience and fantastic sense of humour. All members from all groups have shown nothing but kindness. Acting as chair has been a privilege – I cannot thank you enough. I have enjoyed it immensely. Thank you for everyone's good grace. I wish the next chair the very best of luck and I hope they enjoy this role as much as I have – thank you."
Councillor Su McConnel who represents the Croesonen ward was elected as Vice-Chair of the council.
Tags:
cabinet
,
chair
,
council
,
Laura Wright
,
Meirion Howells
,
Monmouthshire