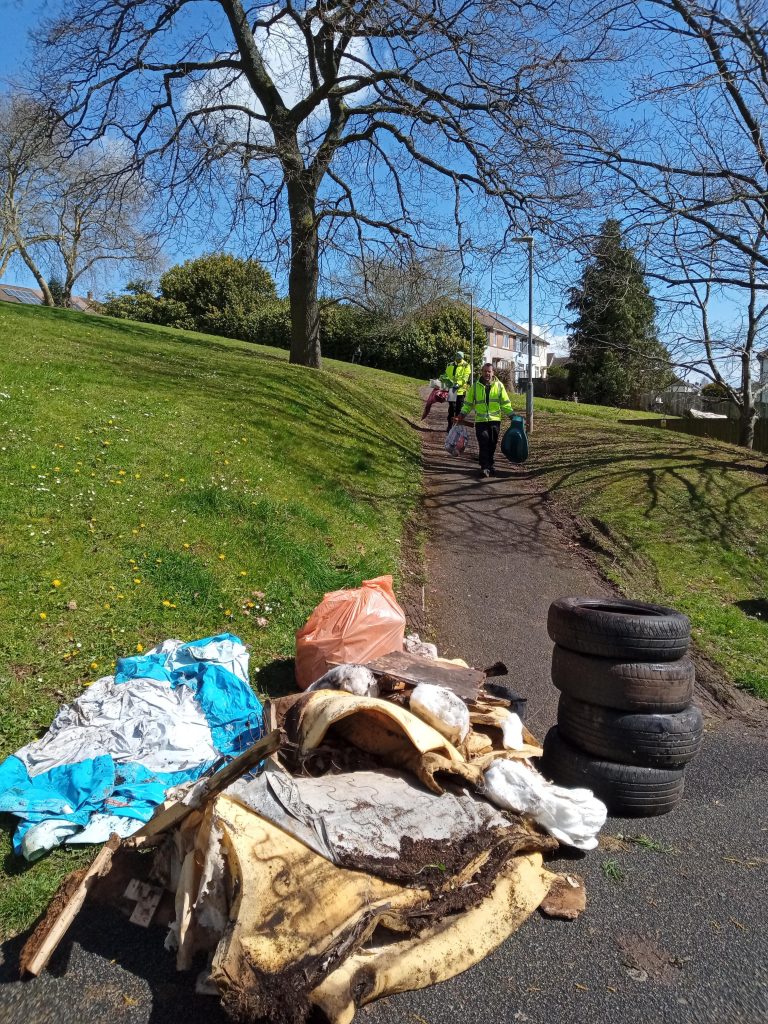 Last week, teams from Monmouthshire County Council, Keep Wales Tidy (KWT) and Melin Homes held a spring clean on the green at Hillside in Abergavenny.
The Reuse shop from Llanfoist recycling and waste centre hosted a pop-up shop, selling salvaged items with the profits going to tree planting. New reusable recycling bags were also delivered to each house and colleagues were on hand to offer advice on the best items to recycle.
The joint event was arranged as part of Keep Wales Tidy's national fly tipping campaign Not Up My Street, which aims to encourage householders to dispose of their rubbish and large items of furniture, electrical goods and garden toys responsibly.
During the day, KWT and council staff collected more than a dozen sacks of litter, three purple bags of cans and plastic bottles and one box of glass bottles for recycling.
A large amount of fly tipping was also removed from the hedgerow which included four car tyres, a roll of carpet, a pile of children's plastic toys, a sofa, an old bed frame, a tin of paint and a pair of wellington boots.
The Hillside estate benefits from beautiful views with mature trees and healthy hedgerows which are precious habitat for nesting birds and small mammals.
Fly tipping costs the public a staggering £72 every minute and local authorities can issue fixed penalty fines of between £150 and £400 for fly tipping.
Please remember to take large household items to Llanfoist recycling centre, or one of Monmouthshire's other recycling centres. To make a booking to drop-off at a recycling centre go to www.monmouthshire.gov.uk/recycling-and-waste/household-waste-recycling-centres/ or telephone 01633 644644.
Homemakers Community Recycling also collect bulky items of furniture. Call 01873 857618 for more information.
Tags:
climate emergency
,
community
,
fly-tipping
,
keep wales tidy
,
litter
,
Monmouthshire