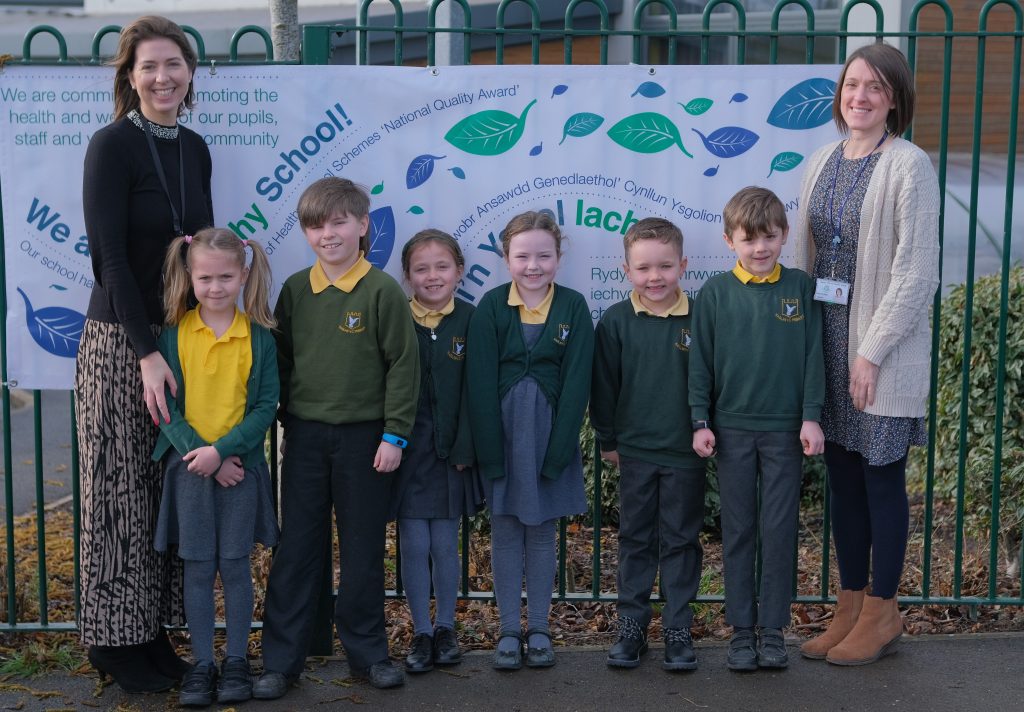 Pupils and teaching staff at Raglan CiW Primary School are celebrating after being recognised as a 'Healthy School'. The national quality award acknowledges the work the whole school has undertaken to promote and protect the physical, emotional and social health and wellbeing of pupils.
Raglan's Head Teacher Sue Marles, with teachers Laura Griffiths (also the school's health and wellbeing lead), Sarah Jenkins (Eco-lead) and Katie Brocklehurst have worked hard with Sally Amos, Healthy Schools Practitioner at Monmouthshire County Council, to achieve this well-deserved recognition, becoming part of the Welsh Network of Healthy Schools. The award was celebrated at a special assembly, which was also attended by Raglan's Ward Member, Cllr. Penny Jones, who's also a former Governor and supporter of the school.
The Welsh Network of Healthy Schools Scheme (WNHSS) National Quality Award is a recognised accreditation developed by Welsh Government and Public Health Wales. This award recognises schools that demonstrate a whole school approach to promoting health and wellbeing and is assessed by an independent assessor.
Head Teacher, Sue Marles said: "I am very proud of what we have achieved as an organisation. This award recognises the highest standards and innovative work of learners and staff when permeating health and wellbeing throughout all aspects of school life. Over time pupils have contributed towards whole school improvement leading initiatives such as 'A Kilometre a Day', 'Playground Ambassadors', 'Fruit and Veg Tuck Shop' informing their peers of how we can become Healthy Confident Individuals. They have also recognised and celebrating World Mental Health Day bringing the school community together to encourage talk partners. Our school's motto is 'a place where we love to learn and learn to love' and 'Nurture, Inspire, Believe and Achieve', which have been drawn up in consultation with children, staff, parents and governors sums up completely the very caring philosophy and that wellbeing is at the heart of everything that the school plans and delivers."
There were many examples showing the holistic nature of health and wellbeing within the school, an approach that repeatedly and positively emphasises to the pupils the importance of protecting and promoting their own and others' health and wellbeing.
The feedback from the assessors who attended the school as part of the accreditation process was very positive: "The learners at Raglan school were truly a pleasure to work with. They were able to confidently articulate themselves and completely stole the show on the day of the NQA visit. An absolute credit to the school and their families."
For more information about Raglan CiW Primary School visit www.raglanciwvcprimary.co.uk/
Tags:
Healthy Schools
,
Monmouthshire
,
Raglan
,
School
,
wellbeing