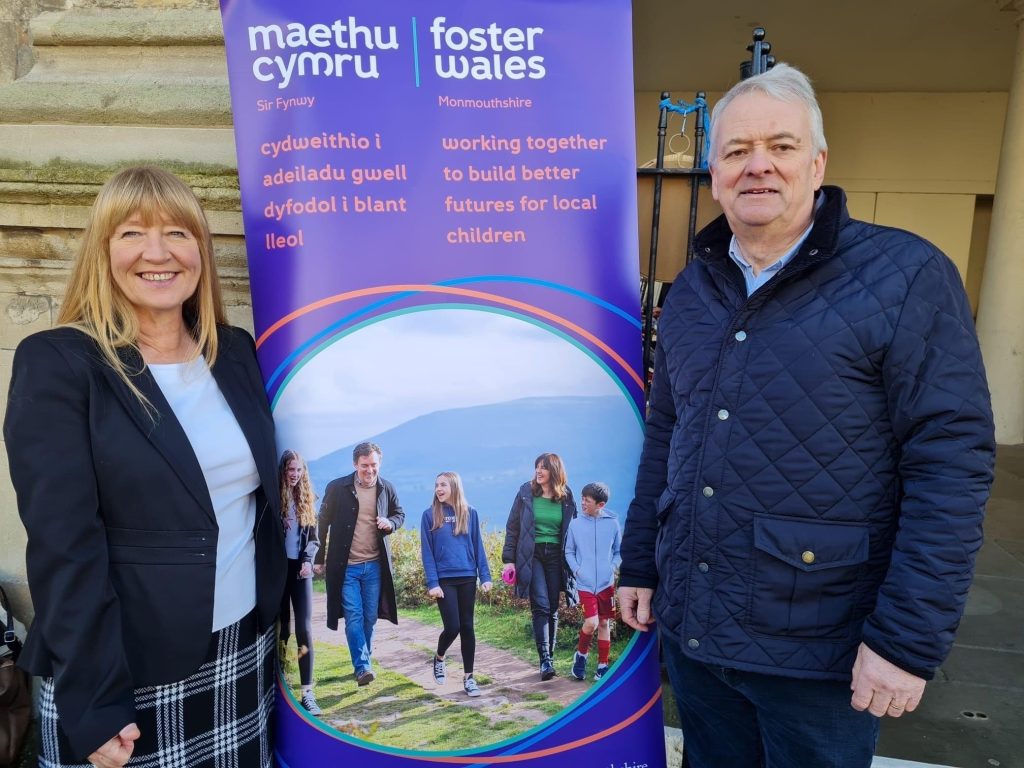 Monmouthshire County Council has been holding face-to-face fostering awareness events over the past few weeks. So far the Foster Wales' Monmouthshire team has visited Shire Hall in Monmouth, Abergavenny Hub and Caldicot Hub. The drop-in sessions have been organised to encourage residents to pop in and find out more information about fostering in Monmouthshire and learning about the support available for foster carers.
There's still one drop-in session left this month – at Chepstow Hub on Monday 27th March between 10am and 2pm. At the hub, Monmouthshire County Council's not-for-profit fostering team for Foster Wales will be taking the opportunity to speak with residents about how they could help provide a stable and supportive home for vulnerable children in the county. The team aims to raise awareness and boost the numbers of foster carers in the county, which are desperately needed.
Despite many people in Wales considering becoming a foster carer, encouragement is being given to take the next step. Monmouthshire needs to enlist new foster carers each year to keep up with the numbers of children needing care.
Here are a few of the children currently looking for a fresh start and a supportive home:
Ioan is ten and a loving big brother to his six-year-old little sister, Gwenna (not their real names). Ioan is an inquisitive and imaginative child who loves nature and being outdoors. He likes watching nature documentaries and learning about the natural world. He also loves reading, playing Minecraft (he is particularly good at building complex houses which he is very proud of) and is a big fan of Marvel superheroes especially Spiderman and Ironman. His current foster carer says Ioan is a clever, happy and healthy little boy who loves to feel part of things and feels very hurt when he gets left out. Gwenna loves her big brother very much. Gwenna's foster carer describe her as a happy child who is smart, funny and loving. Gwenna enjoys playing outside and being in nature like her brother. One of her favourite things to do is to snuggle up on the sofa with her foster carer and eat popcorn and watch films. At the moment Gwenna is worried because she doesn't understand everything that has happened or what is going to happen next.
Ioan and Gwenna love their mum very much and will need foster carers who can help them understand what is going on in their lives. They are living with short term foster carers and they need a family who can care for them both long term. Could you be that person to provide them with the love and care they need to help them to feel safe and know that they are cared about as well as cared for?
Dylan (not his real name) is one of five brothers and sisters. Like lots of 11-year-old boys he enjoys playing with Lego, gaming, playing chess and spending time with his auntie Rachel's dog. He has a great sense of humour and enjoys cooking and trying new foods and will try most things. Dylan isn't keen on music and like all children, he doesn't like being told what to do, but he does like school and he responds really well to the nurturing and supportive boundaries that school has put in place to help him learn.
Last year his mum died suddenly, and Dylan never got the chance to say goodbye. The family Dylan grew up in was very socially isolated, he was never taken out to do things and the children rarely left the family home except to go to school. Dylan in particular didn't get the love and nurture that he needed, and he hasn't had the opportunities most children have to make friends, develop outside interests and to feel that he matters or is good at things.
Dylan desperately needs a loving home in Monmouthshire where he can grow up able to spend time with his brothers and sisters and where he feels that he matters and can start to heal from his early experiences. He needs someone who can be patient, firm and gentle with him so he can learn that the world can be safe and where he can thrive.
If you think you could help local children like Dylan, Ioan and Gwenna, come and meet the fostering team, between 10am and 2pm at: Chepstow Hub on Monday 27th March.
Cllr. Tudor Thomas, Cabinet Member for Safeguarding, Social Care and Accessible Health said: "We are grateful to those who can spare the time to chat to the fostering team. Every foster carer makes a real difference to the lives of children in Monmouthshire. I would ask anyone who feels they could be a role model and could make a positive impact on a child or young person's life to take the next step and find out more information about fostering in Monmouthshire."
Cllr Angela Sandles, Cabinet Member for Engagement, who is also a foster carer herself, said: "Thanks to everyone who has come along to the events so far, it's been wonderful to see everyone. If you haven't attended a session yet, and you're interested in finding out more information about how you could foster a child, please pop along to Chepstow Hub on Monday 27th March. There are too many children who desperately need a loving, stable environment so if you feel you could make a difference please come and speak to a member of our fostering team. There's no pressure, so just come and have a conversation and find out if fostering is for you."
For more information about becoming a foster carer, please head to the Foster Wales website.