A new plan for Monnow Street in Monmouth has been unveiled as a consultation launches for residents to share their views on the proposed ideas.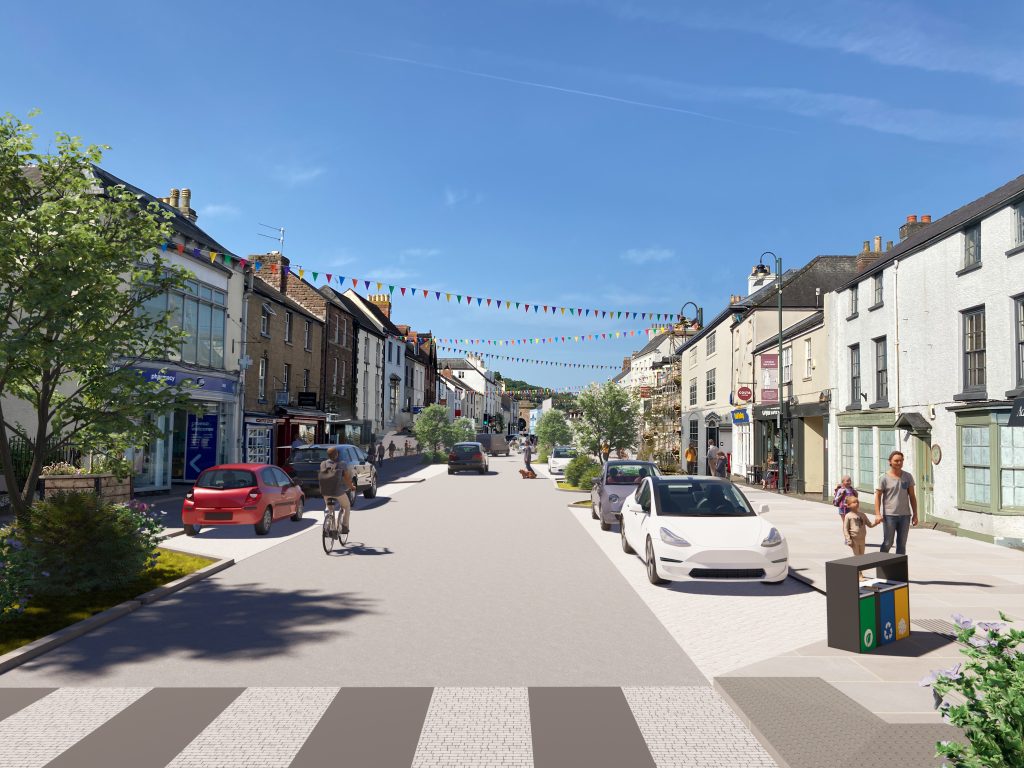 The Monnow Street project builds on earlier design and consultation carried out in 2020 and 2022.
The scheme aims to create a pleasant and safe environment for people on foot or cycle, encouraging people to visit and spend more time in Monnow Street, while maintaining two-way vehicle traffic and on-street parking.
Key measures proposed in the design include creating more space for pedestrians and for businesses to spill out onto the street, making it easier to move around and cross the road, and providing better loading facilities for businesses, as well as on-street parking. The scheme will also address the current problems with drainage and uneven footways. When built, it is intended that the new scheme will replace the temporary measures introduced for Covid.
Previous consultations in late 2020 and early 2022 identified a number of key priorities, all of which have informed the current proposals. Roberts Limbrick Architects and Urban Designers are supporting Monmouthshire County Council with the next stage of design development.
People will be able to view and comment on the latest design proposals, either in person or via the Monmouthshire County Council website. The designs have focused on five key principles, which are;
A Place for People
A Place for Crossing
A Place for Loading
A Place for Planting
A Place for Parking
Monmouthshire County Council's Cabinet Member for a Sustainable Economy Cllr Paul Griffiths, said: "We have listened to local people on the first phase of this project and we have worked with architects to refine ideas and incorporate feedback. This next stage of consultation is equally important to ensure we deliver improvements best suited to what residents, businesses and visitors want and need. The new designs provide an exciting proposition for what Monnow Street, the heart of Monmouth, could look like in the future. Please make sure you share your views with us."
A number of face-to-face engagement opportunities will be available to residents. People can come and meet MCC Officers, cabinet members and the design team in the High Street at 22 Agincourt Square, Monmouth (Formerly Ruby Tuesday's) on Saturday 11th February between 10am – 5pm and on Wednesday 15th February between 10am – 8pm.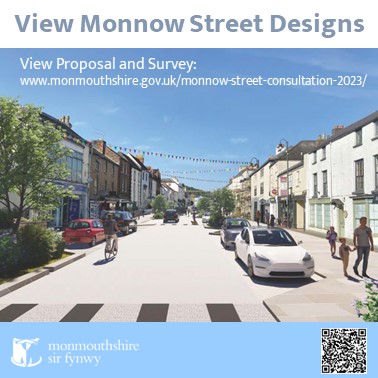 Alternatively, people can visit the Monmouth Community Hub during opening hours between Friday 17th February and Saturday 4th March, where the exhibition boards will be on display. There will be a website with designs and a link to a survey for people to complete, the survey will be open from Saturday 11th February until midnight on Sunday 5th March 2023. Paper copies of the survey and post boxes will also be available in Monmouth Leisure Centre, Monmouth Shire Hall, and Monmouth Community Hub. Full designs and the survey can be found at https://www.monmouthshire.gov.uk/monnow-street-consultation-2023/
Once the survey responses and feedback have been received, designs will be then finalised and Monmouthshire County Council will use the proposals to secure funding to build the scheme.