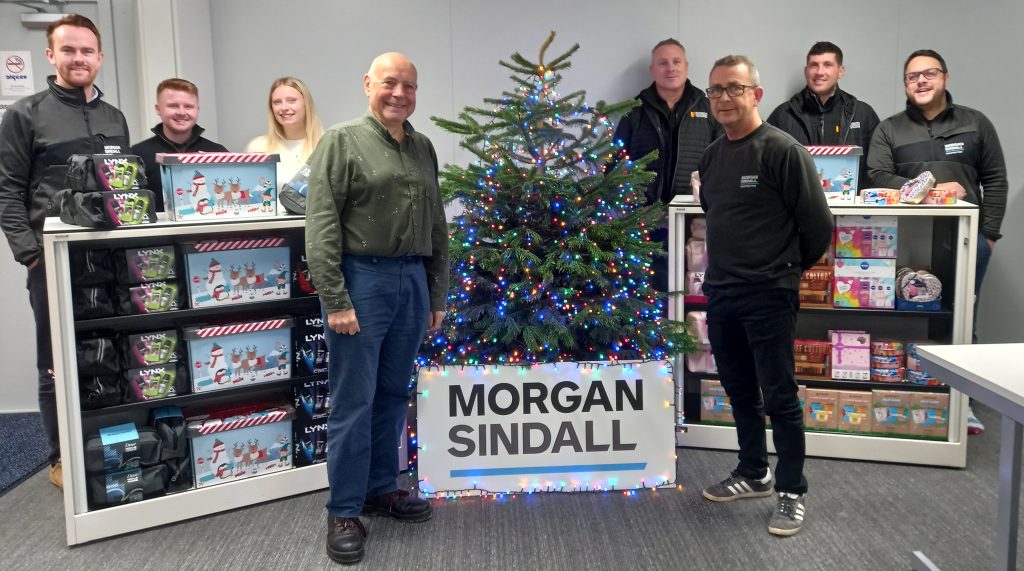 In the first fortnight of Monmouthshire County Council's Christmas Wishes appeal, presents and donations of money have been coming in from generous residents and businesses, including the construction firms working on the new through-school in Abergavenny, across the county. The annual appeal delivers some Christmas joy to vulnerable children and young people who might otherwise not receive gifts over the festive period. This year's appeal is running until 18th December and despite the challenges so many people are facing due to the Cost of Living Crisis, the community have been digging deep to help.
Cllr. Groucutt, Cabinet Member for Education, said: "I want to sincerely thank every single person who has donated a gift for this appeal, whether it be a donation of cash online of any amount, or an actual gift item. Every single donation will make a difference to the most vulnerable children and young people right here in Monmouthshire. The fact we have had such a good response so far, in what is a challenging year for so many people is a testament to the kindness and community spirit of the people of Monmouthshire."
Today, representatives of the firms working on the new through-school in Abergavenny gathered on site to hand over a generous donation of gifts for local young people to Cllr. Martyn Groucutt. The presents will be donated to vulnerable children and young people as part of the Christmas Wishes appeal being run by Monmouthshire County Council.
The large donation of gifts received by Cllr. Groucutt were handed over by Gary Corbett, on behalf of construction company Morgan Sindall, along with representatives of Integrated Fencing, Morgan's of Usk and Cass Scaffolding, who also sponsored the donation.
Cllr. Martyn Groucutt, Cabinet Member for Education, said: "I am very pleased to accept this donation on behalf of Monmouthshire County Council for this year's Christmas Wishes appeal. The building of Abergavenny's new 3-19 through-school really is a community project in every respect, and this donation by the firms working on the site is really reflective of this.
"Morgan Sindall and their team of contractors have really hit the ground running on progressing work on the new school.The temporary bus bay, overflow car park and parent drop-off, all-weather sports and social area have all been completed. The ground works team have made excellent progress too, despite a very wet autumn, preparing the site for foundations to be laid in the new year."
Steve Langford, Project Manager for Morgan Sindall said: "We look forward to the spring when the structure begins to emerge from the ground and the enormous amount of work to date can be seen by others.
"We were more than delighted to be able to contribute to the Christmas Wishes local appeal and really hope that it will help bring a smile to more children's faces at Christmas."
The Christmas Wishes appeal runs until 18th December. If you would like to find out more visit Help make Christmas Wishes come true for Monmouthshire's vulnerable children and young people – Monmouthshire. Gifts may be dropped off at County Hall, Usk, and at any Community Hub, or donations can be made online at www.monmouthshire.gov.uk/christmas-wishes/ and click on SERVICES to select 'Christmas Wishes' or ring 01633 644644 option 5 for help.
Tags:
Charity
,
christmas wishes
,
community
,
Martyn Groucutt
,
news
,
through school