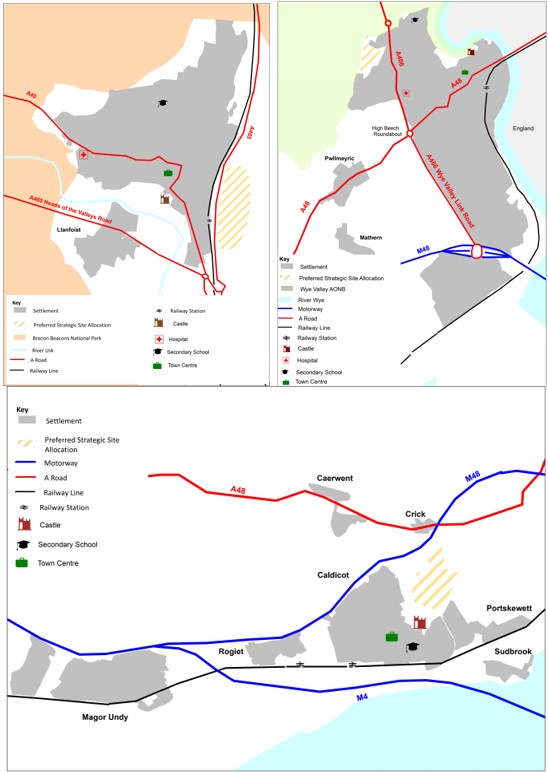 Monmouthshire County Council has taken another step forward in developing its proposals for a Replacement Local Development Plan. The Council recently agreed to produce a new growth strategy and has now published those proposals for consideration by the Place Scrutiny Committee on 10th November 2022. 
The new strategy aims to make provision for up to 2,200 new homes by 2033 in addition to the 3,700 homes already in the pipeline or completed since 2018. On new site allocations, approximately a third of the new homes will be social housing for rent and another 17% will be affordable housing available at less than market price. The Plan will also make provision for 6,240 jobs and will be accompanied by an Infrastructure Plan, updated Local Transport Plan and an Economic Development Strategy.
The Council has appraised all the sites which have been offered for development and the new strategy proposes three strategic sites for future housing. These sites will be:
Abergavenny East – 500 homes together with employment, retail, leisure, education and community uses
Caldicot East – 925 homes together with employment, retail and leisure uses
Bayfield Chepstow – 145 homes
Cllr. Paul Griffiths, Deputy Leader of Monmouthshire County Council, said: "These sites have been selected because they will add to the sustainability of existing settlements. Residents of these new homes will be well connected to existing town centres, schools and transport facilities. It is my ambition that the homes that are built on these sites will be zero carbon and built to the highest possible standards of design and construction. The Council will work with the Design Commission for Wales, housing developers, and everyone else who can work with us in making these developments the very best places to live – homes that are affordable, well connected to local facilities and making a positive contribution to our environment. The next two years will be an exciting and creative journey as we ensure that the very best homes are built here in Monmouthshire – homes that will lead the way for every other development in the United Kingdom."
The new Preferred Strategy will be reported to Council on 1st December 2022 to seek agreement to commence public consultation. If agreed, this will run from 5th December 2022 to 30th January 2023.
For more information about the proposals visit www.monmouthshire.gov.uk/planning-policy/local-development-plan-revision/
Tags:
abergavenny
,
cabinet
,
caldicot
,
Chepstow
,
Development
,
Local Development Plan
,
Local Transport Plan
,
Monmouthshire
,
RLDP