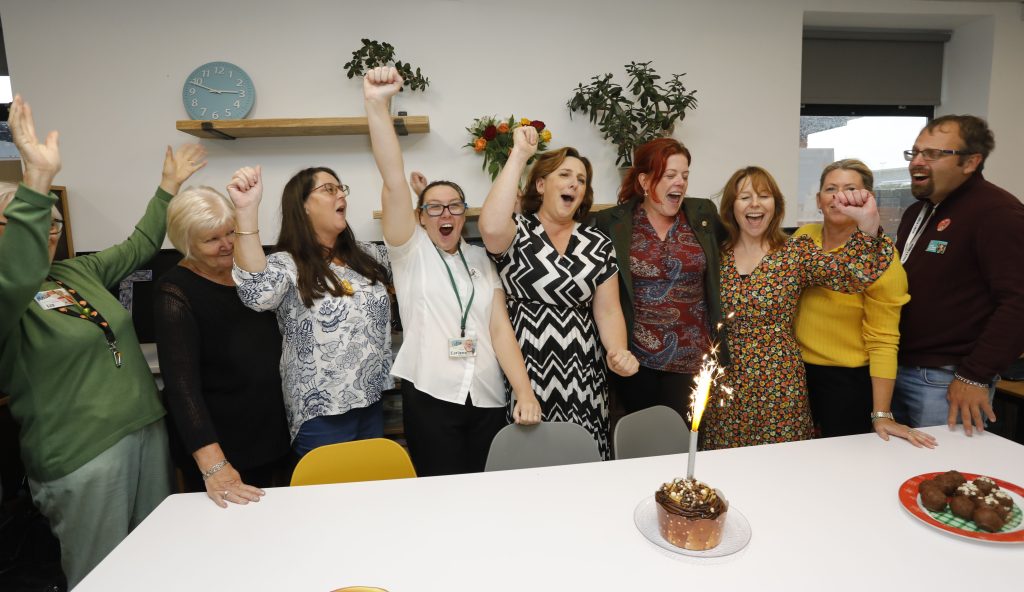 Caldicot's TogetherWORKS celebrated its first birthday on Friday (21st October). This safe, friendly, community space welcomes groups such as Bore Coffee, Disability and Dementia Art and Craft, Stitched Together, Armchair Aerobics, Makers Space and Parents Breastfeeding Support to name a few.
Guests were encouraged to share new ideas for the continuation of TogetherWORKS and enjoyed live music from Ben the Hat and Cam Martin.
Over the last year, TogetherWORKS has been a space for local people to share, reuse, repair, refurbish and recycle existing materials and products. Its Library of Things allows residents to borrow items and tools, or donate things they no longer need. The Repair Café is a place where local people can bring their broken household items to be repaired for free by volunteers.
Another great feature of TogetherWORKS is the Community Fridge, which is designed to cut down on food waste by giving away free food from supermarkets and other food outlets that is past its sell by date, but is still fresh and within its use by date.
Papi's Bistro in Caldicot provided pizza, with Julian Bladen property consultants supplying doughnuts for the guests. RSPCA Newport gave out free pet food whilst Five Lanes reuse shop bought reused items rescued from the re-cycle centres. Guests had opportunities to talk with Cyfannol, MHA, iConnect, Stitched Together, Mind Monmouthshire, GAVO (Gwent Association of Voluntary Organisations), Caldicot Community Garden, Ready Steady Go, Bridges and Citizens Advice Bureau – all local organisations which offer massive amounts of support in many different ways.
Monmouthshire County Council's Leader, Cllr. Mary Ann Brocklesby said: "Places like TogetherWORKS are at the heart of the community, bringing people together and offering a place of comfort, a place to feel welcomed and connected to others. I was especially delighted to see the women's quilting group whose Covid quilt has such a special place in the Caldicott community. Within just one year they have achieved so much, I am excited to see what the future brings as it grows and develops."
You can follow TogetherWORKS on social media to keep up to date with events and local groups here: https://bit.ly/3TCvuvW