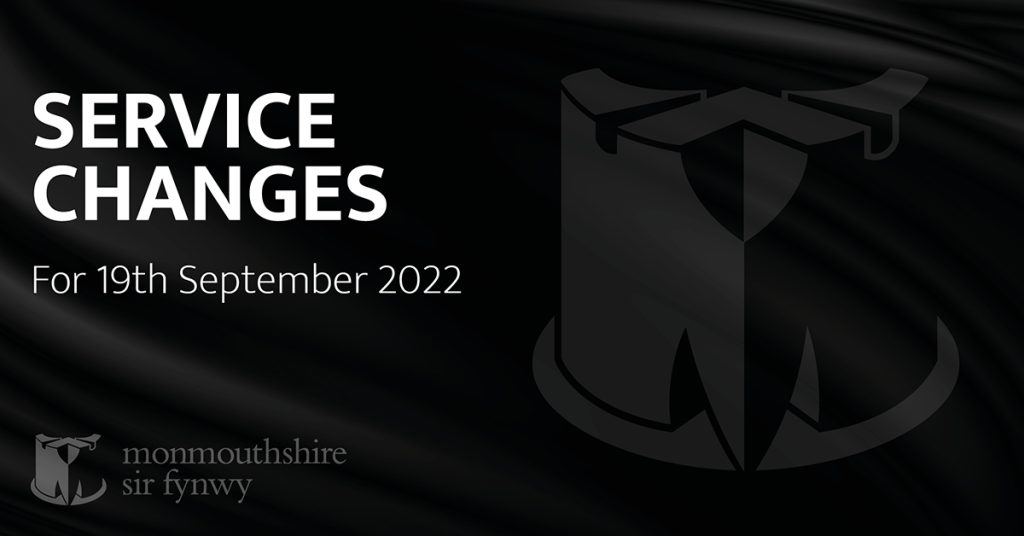 Residents of Monmouthshire are advised that there will be some changes to council services on the 19th September 2022 the State Funeral of Queen Elizabeth II:
There will be no recycling and waste collections. Week commencing 19th September 2022 household waste and recycling collections will be a day later throughout the week. Please see https://maps.monmouthshire.gov.uk/ for details.
All household waste recycling centres and transfer station operations will also be closed.
All Community Hubs and Libraries in Monmouthshire will be closed, including Usk Post Office.
All schools will be closed.
Abergavenny Leisure Centre closed.
Monmouth Leisure Centre closed.
Caldicot Leisure Centre closed.
Chepstow Leisure Centre closed.
Shire Hall Monmouth closed.
Old Station Tintern closed.
Caldicot Castle and Country Park closed.
Abergavenny Castle and Museum closed.
Chepstow Museum closed.
Chepstow Tourist Information Centre closed.
Gilwern Outdoor Adventure Centre closed.
Youth Centres: The Cabin Abergavenny, The Attik Monmouth, The Zone Caldicot, Thornwell Pavilion Chepstow, closed.
Main Switch board & Contact Centre closed.