Monmouthshire County Council have issued a reminder of the approaching closing date – Friday 2nd September, at 5pm – for applications for the £500 Support Payment for Unpaid Carers. The one-off payment is available to all eligible unpaid carers in Wales who were in receipt of Carers' Allowance on 31st March 2022.
The payments are being made in recognition of the increased financial pressures many unpaid carers have experienced during the pandemic, and to help with some of the additional costs they have incurred.
Monmouthshire County Council's Cabinet Member for Social Care, Cllr. Tudor Thomas said: "We are trying to reach as many unpaid carers as possible with this payment and would encourage anyone who thinks they may be able to claim to get in touch as soon as possible. The closing date for the applications is fast approaching and we don't want anyone to miss out. The £500 payments, supported by Welsh Government, are being targeted towards those individuals who care for someone at least 35 hours a week and are on low incomes. I would ask anyone who knows of someone who cares for a family member or friend, in an unpaid capacity, to pass on this information."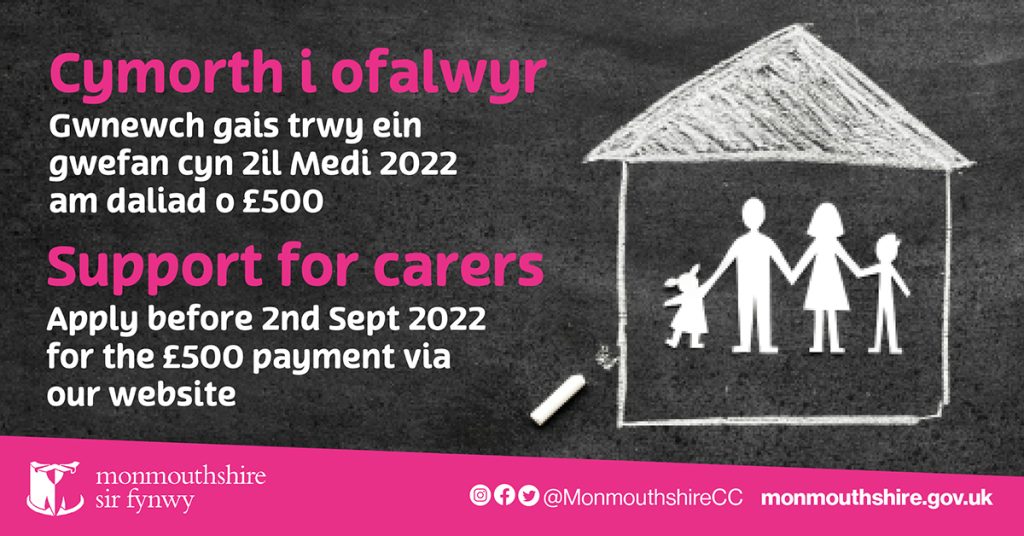 If you believe you may qualify for this support you should register through the Council's website www.monmouthshire.gov.uk/unpaid-carers-payment/ before 5pm on Friday 2nd September 2022. Please note you should submit an application within the Council area you live, not the area where the recipient of the care lives, if it is different.
If you have previously received this payment please do not reapply. Full details about the payments and eligibility can be found via the website link above.
Tags:
#carer
,
#carersgrant
,
#grant
,
#supportpayment
,
#suppport for carers
,
Monmouthshire
,
news