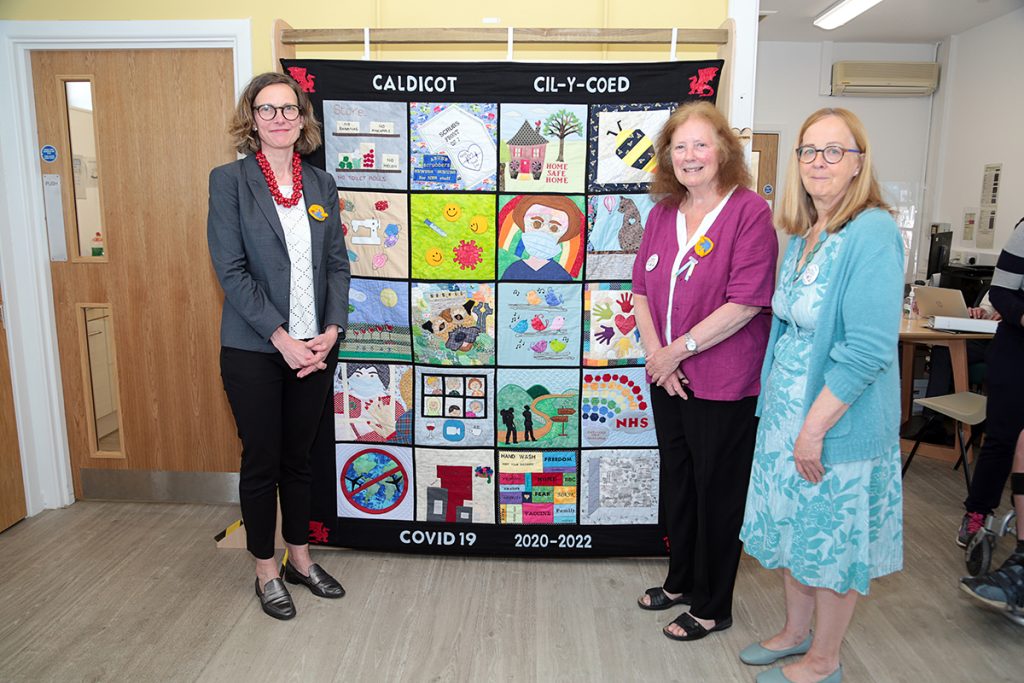 As part of Loneliness Awareness Week, the Deputy Minister for Social Services, Julie Morgan MS arrived at TogetherWorks in Caldicot today (Thursday 16th June) to learn about the impact one particular project has had in tackling isolation and loneliness.
The Stitched Together group, which meets at TogetherWorks, successfully applied for Welsh Government funding under the You Decide scheme. In December of 2021, Monmouthshire County Council and partners were awarded funding through Welsh Government to implement a three-year participatory programme called You Decide Monmouthshire. It was aimed at combating loneliness and social isolation while developing strong, vibrant communities throughout Monmouthshire. Community groups were invited to apply for funding for projects that would help build thriving, inclusive communities with a focus on addressing loneliness and isolation.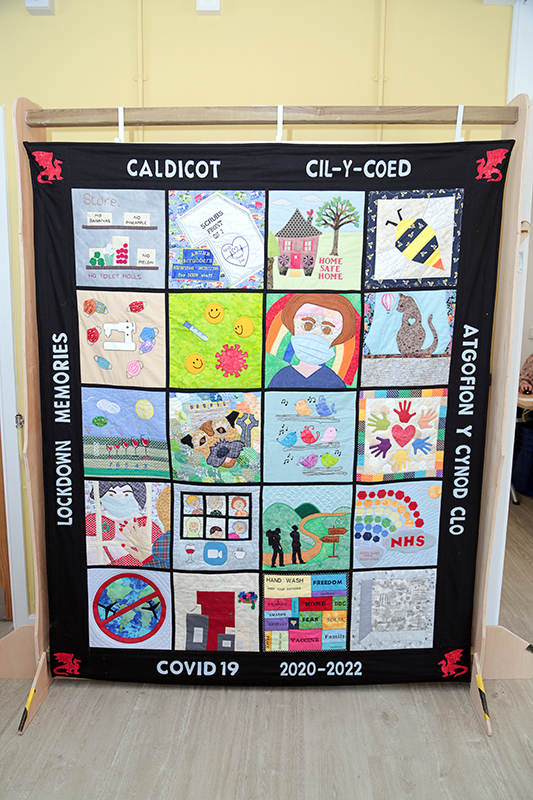 Stitched Together has been led by Jackie Strong and has brought together talented and enthusiastic residents (both non-sewers and skilled stitchers alike) who answered the call to help capture experiences of lockdown in a quilt that will become an important piece of social history, a work of art. Each patch of the quilt tells a powerful story about experiences during the pandemic and depicts events that have mattered most to them. For example, an image of two people separated by a window tells of lockdown separation from loved ones in care homes, another tells of volunteers turning old bedding into scrubs for the NHS, the introduction of a vaccine, and many more.
Monmouthshire County Council's Cabinet Member for Equalities and Engagement, Cllr. Catherine Fookes said: "The symbolism of the quilt made by Stitched Together is powerful – it shows that bringing people together can lead to reduced isolation. The You Decide funding Monmouthshire projects have received has really had a positive impact. I congratulate all those who have contributed to the quilt, it is a moving testament to the experiences of so many.
"I would encourage community groups to get involved in the 2022-2023 You Decide Monmouthshire scheme. We would love to receive ideas from community groups who seek funding for inclusive projects aimed at bringing people together. It is open for applications from right across Monmouthshire. These community groups offer so much to our county, it is significant what can be achieved when people come together like this."
Deputy Minister for Social Services, Julie Morgan said: "It was fantastic to meet the Stitched Together sewing and quilting group and see first-hand how our Loneliness Fund is helping to support communities to come together after a very challenging two years.
"Loneliness can be experienced by anyone, and that lonely feeling will strike a chord with many of us. It is important that groups like this are supported so they can continue to reduce isolation in communities and encourage people to talk about their experiences of loneliness. I look forward to seeing the quilts if they are exhibited at the Senedd."
Jackie Strong of the Stitched Together group said: "I am very pleased to have been part of creating the Caldicot Covid memories quilt. We came together during lockdown and thought about how to make sure that our experiences during Covid were not forgotten. Each of the blocks represents our individual experiences during lockdown. Being part of the Stitched Together group has beneficial in various ways – have shared expertise and knowledge, but much more than that we have all benefitted from the support we were able to offer each other. We hope to use the You Decide funding to purchase additional sewing machines to allow us to continue to support others."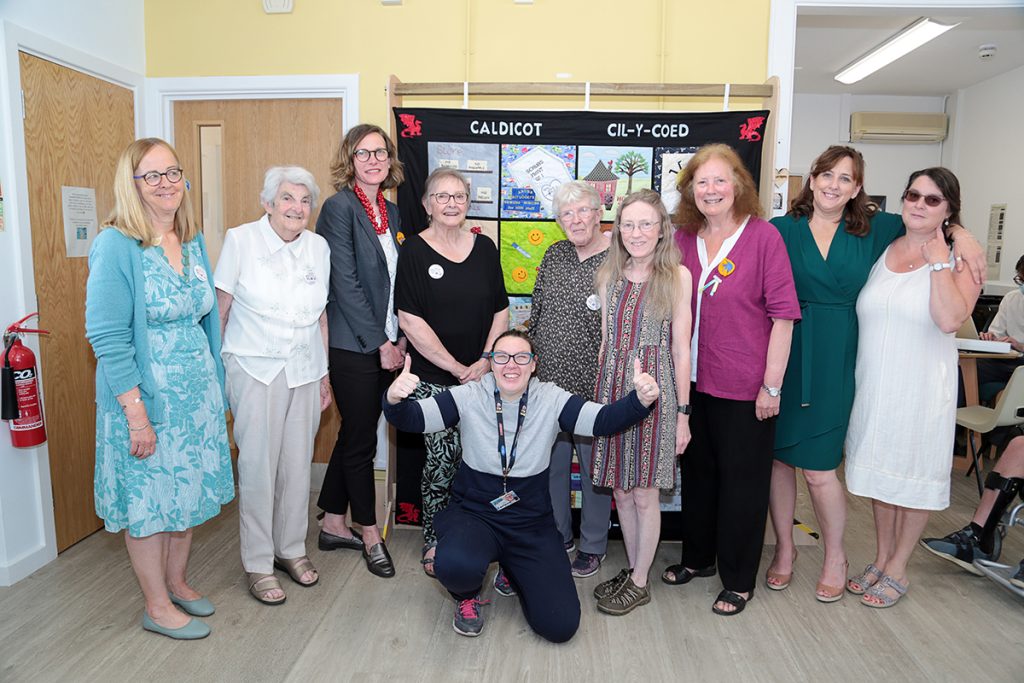 To apply for the next You Decide Monmouthshire funding, community groups with project ideas for tackling isolation should email FredWeston@monmouthshire.gov.uk or RyanColeman@monmouthshire.gov.uk in the first instance.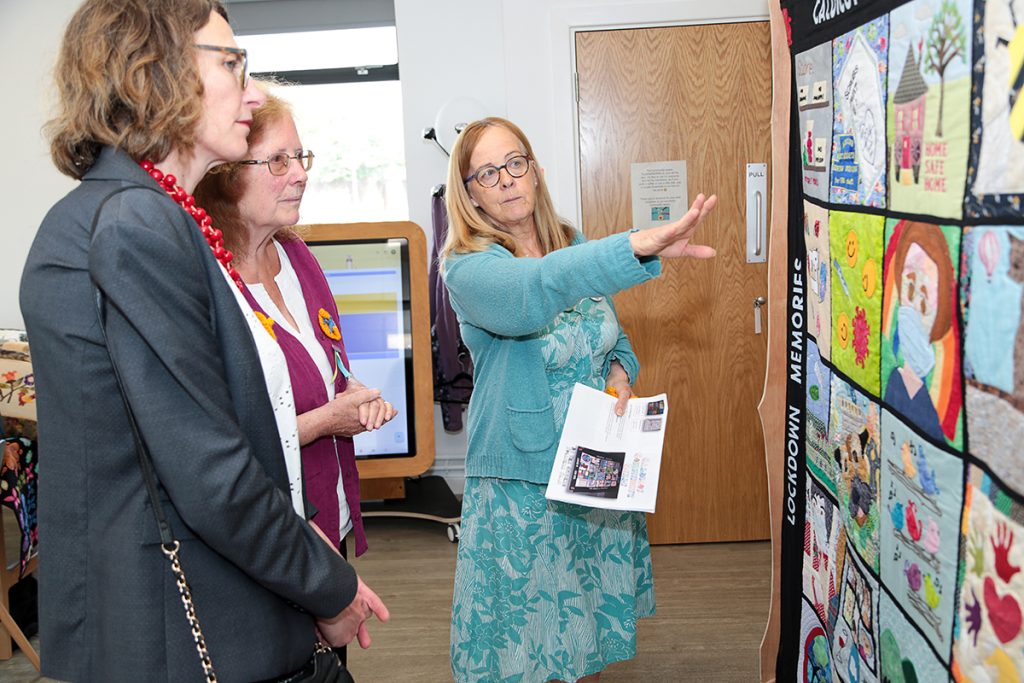 Tags:
caldicot
,
Catherine Fookes
,
deputy minister
,
ministerial
,
Monmouthshire
,
news
,
stitched together
,
TogetherWorks