Heads of Service for Social Care and Health across Gwent have issued a joint statement and appealed to residents in light of increasing pressures on health and social care services.
UPDATE – WE NEED YOUR HELP
Currently all our health and social care services in Gwent are under massive pressure due to staff absence from Covid-19, especially our domiciliary care services and care home providers. It is well reported that there is a systemic national crisis in care.
The current situation is being made worse by the pandemic which is presenting unprecedented challenges and continues to test everyone in the health and social care sector to the limits.
We're now appealing to all people in receipt of care and support to work with us and your co-operationand understanding is very much appreciated as it is highly likely you may notice changes in your current care arrangements.
Due to staff absence and the additional pressures created by the pandemic, we are having great difficulty providing support services as responsively as we would like and we also have a considerable number of people waiting for support packages across the region which has an impact on both our hospitals and those people living at home.
We must commend all our community based staff and our local care providers who have spent many months managing a very complex situation. Despite this hard work, we still have a large number of Gwent residents who still require packages of care and will continue to do so for the foreseeable future.
We are actively trying to recruit new carers but this is problematic. In addition we are considering all options to support the sector including where possible redeploying staff from other council teams. Therefore, we are grateful to the support provided by family and friends who are able to provide care and support to their loved ones during this unprecedented situation.
We are working hard with all stakeholders across our health and social care partners to minimise the impact of the limited support we can provide.
The following help and support is being requested from you as a wider community:
If you require care and this extra support can be provided by your family members or your wider network then please let us know.
Whilst we acknowledge that if we can offer you care, the offer may not be ideal, but we ask you to work with us as we have very limited resources and the offer will be all that is available.
If carers arrive at different times or request to change call times, please understand that carers are under huge pressure
If your regular care team is unable to provide care, please be flexible and support the change in provide.
If you have equipment at your home that you are not using such as zimmer frames, commodes, toilet frames etc, please contact your Local Authority to return the items so that they can be cleaned and redistributed to other people who are in need.
If you know anyone interested in becoming carers or support workers, please contact your council or visit Home | How to work in social care and child care | WeCare Wales.
Damien McCann – Corporate Director of Social Services (Blaenau Gwent CBC)
Dave Street – Corporate Director Social Services & Housing (Caerphilly CBC)
Jane Rodgers – Chief Officer – Social Care, Safeguarding and Health (Monmouthshire CC)
Sally Ann Jenkins – Director of Social Services (Newport CC)
Keith Rutherford – Chief Officer, Social Care and Housing (Torfaen CBC)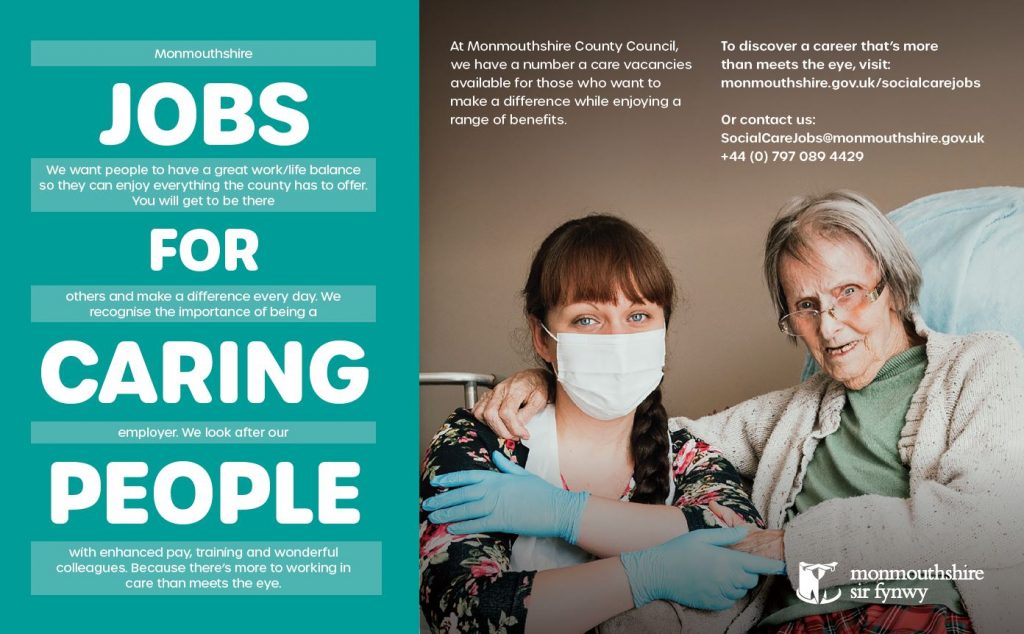 In light of these growing pressures, Monmouthshire County Council is calling on anyone who may be able to offer their skills and kindness to support our most vulnerable residents by applying for a range of opportunities via https://www.monmouthshire.gov.uk/jobs-employment/