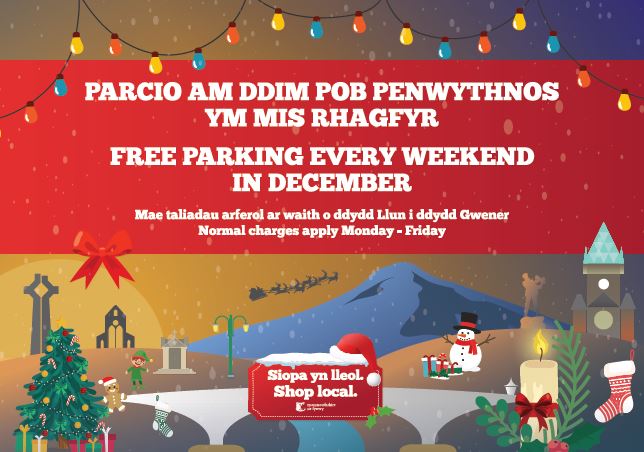 Monmouthshire shoppers are being encouraged to support their local businesses in the run up to Christmas. As part of this year's Christmas Shop Local campaign, Monmouthshire County Council has announced it will provide free weekend parking in all council-owned car parks from Saturday 4th December until, and including, Boxing Day.
The free parking available in Abergavenny, Chepstow and Monmouth is designed to encourage Monmouthshire residents to buy their seasonal gifts and produce locally, helping the county's independent business at the end of a very challenging year.
Councillor Jane Pratt, Monmouthshire's Cabinet Member for Infrastructure and Neighbourhood Services, said: "We are pleased to once again offer free weekend parking to our residents over the Christmas period. It is a great opportunity to visit local retailers and support their businesses in what has been an extremely difficult 18 months. It's also a great opportunity to support your friends and neighbours who run businesses across the county, and we hope local businesses will benefit from this as well as the supportive Monmouthshire residents."
The council will be launching its Christmas Shop Local campaign shortly which will also see local schools involved in a Shop Local poster campaign to bring festive colour to the high streets, and the Selfie Elfie that popped up in many of our towns last year is expected to be making a reappearance. For the latest information about the Shop Local campaign visit monmouthshire.gov.uk/shop-local and follow the council's official pages on Facebook, Twitter and Instagram with the #ShopLocal hashtag.