There is lots on the news at the moment about the COP26 Climate Change conference and how critical it is for countries to work together to tackle climate change.  If you are thinking "well what can I do to make a difference?" there is an exciting new free training course called Carbon Literacy coming soon to residents of Monmouthshire.
The Carbon Literacy Project is an internationally recognised training programme that promotes climate change understanding and helps individuals and organisations to make changes to reduce carbon emissions. On average, individuals who take part in the training reduce their emissions by 5-15%.
The training will be aimed at town and community councils, and also residents and community groups through Monmouthshire's Adult Education programmes.  There will also be "Train the Trainer" sessions for council staff and a small number of community champions, so that the Carbon Literacy training can be rolled out to the wider community. This training is being funded through the Welsh Government Rural Communities – Rural Development Programme 2014-2020, which is supported by the European Agricultural Fund for Rural Development and the Welsh Government.   
The training follows on from the success of delivering Carbon Literacy training to over 200 representatives from Public Service Board staff from across Gwent earlier in 2021. This training, which was funded by Natural Resources Wales, included staff and elected members from local councils, Aneurin Bevan University Health Board, Gwent Police, South Wales Fire and Rescue and others. As a result of this training, Monmouthshire County Council is now accredited as a Bronze Carbon Literate Organisation, and is now working towards Silver.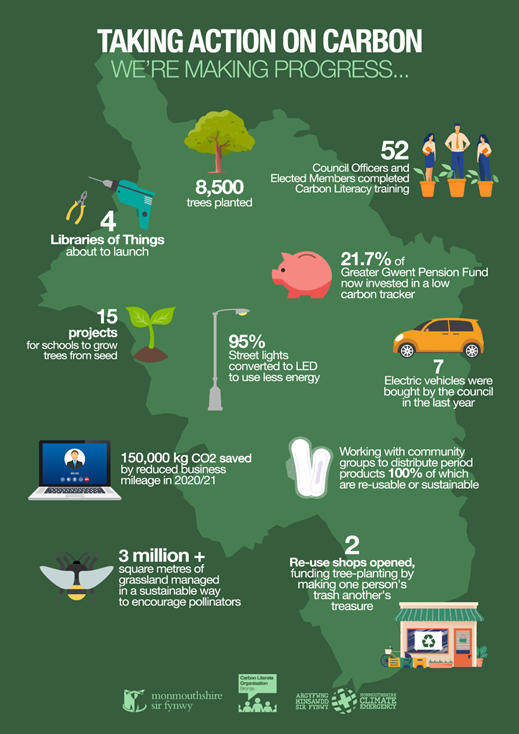 Feedback from participants showed that those who took part found it really helpful to understand practical steps they can take to reduce their carbon emissions. One participant said, "I finished my carbon literacy course this week, it was really fab, great ideas for home and work, great opportunity to network".
Councillor Jane Pratt, Cabinet Member with responsibility for Climate Change at Monmouthshire County Council, said: "During the COP26 conference, it is really important that people realise that as well as world leaders playing a critical role, individual actions also make a big difference. We are really pleased that we have got the funding to be able to offer excellent, internationally recognised, thought provoking training to local residents. As well as helping to understand the science and the scale of the problem, the Carbon Literacy training focusses on actions that individuals can take at home, in their communities and in their workplace to reduce carbon."
The delivery of Carbon Literacy training in Monmouthshire forms an important part of the council's Climate Emergency Action Plan which was approved last week. Staff from Monmouthshire County Council will be talking about their Carbon Literacy work at a local authorities showcase being organised by the Carbon Literacy Project on 11th November, to coincide with the COP theme of Cities, Regions and Built Environment for that day.
Details of the dates for the training will be published soon. If you would like to be notified directly about the training, please email rdpinfo@monmouthshire.gov.uk