The Chairman of Monmouthshire County Council, Councillor Mat Feakins, led an Armistice Day service today, at 11am on Thursday 11th November, to commemorate those who fell defending Britain in the First World War and World War Two, and the servicemen and women killed or injured in the line of duty from 1945 to the present day. The ceremony was held at County Hall in Usk, where Councillor Feakins was accompanied by Councillor the Reverend Cllr Bob Greenland acting as the Chair's Chaplain, the Leader of the Council, Councillor Richard John and a number of staff, councillors and veterans who observed two minutes of silence.
Councillor Feakins said: "It is ever important that we continue to remember the sacrifice made by all those who have gone before us, not only those commemorated here, but all those who have served their country, protecting us from danger and keeping the peace across the globe. Their memory must be treasured, else their personal sacrifice will have been in vain. We may not know them, but we must not forget them."
"We must also remember the incredible work of the Royal British Legion, in this their 100th year. Today is a day to remember, but the work of the Royal British Legion goes on throughout the year, looking after the welfare of those men and women who have served us, and their dependents, many who bear wounds both physically and mentally. It is our duty to care for them, as it was their duty to protect us."
Councillor, the Revd. Bob Greenland read The Oration to the Fallen as the eleventh hour approached. Following the two minutes silence the Leader of the Council, Cllr. Richard John, read The Kohima Epitaph, before the ceremony came to an end.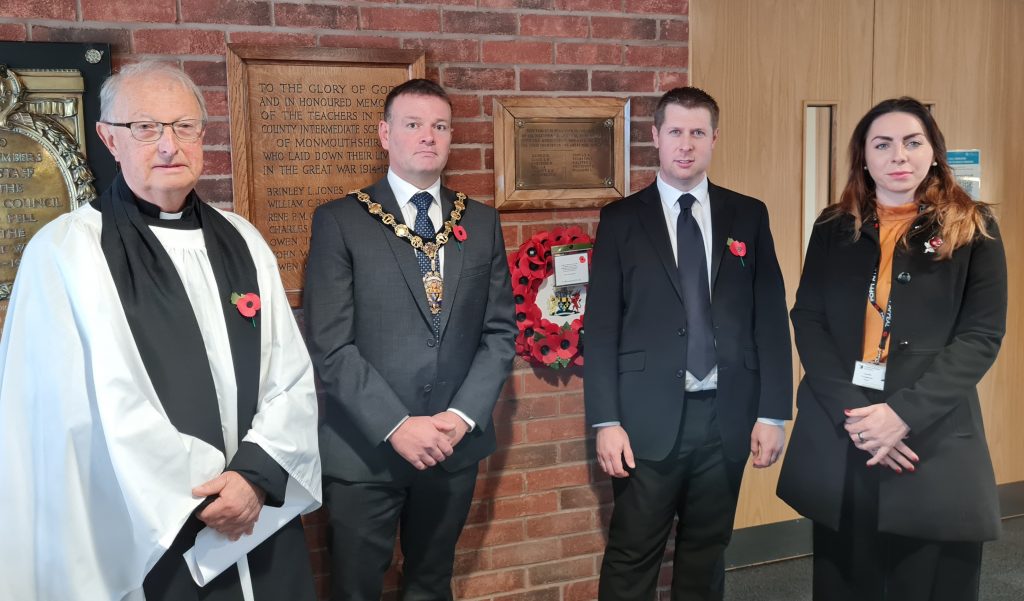 Photo: Councillor, the Revd. Bob Greenland, Chair of Monmouthshire County Council, Cllr. Mat Feakins, Council Leader Cllr. Richard John and Cllr Lisa Dymock, Monmouthshire County Council Armed Forces Champion.