From Monday 30th November, two Monmouthshire schools are taking part in a new scheme designed to help keep children safe. Goytre Fawr Primary School in Penperlleni, Pontypool, and Cantref Primary School & Nursery in Abergavenny are planning to implement an 18-month experimental pedestrian and cycle zone known as 'School Street', in order to help pupils and families maintain social distance and remain safe outside of the school gates during morning and afternoon drop off and collection times.
For Goytre Fawr Primary School, this will affect the entire length of School Lane, while Cantref Primary School will see the 'School Street' Order on the whole of Harold Road. These two schools have agreed to become the council's first pilot areas, and it is anticipated that similar arrangements could be implemented at other schools in the future, if the scheme proves successful.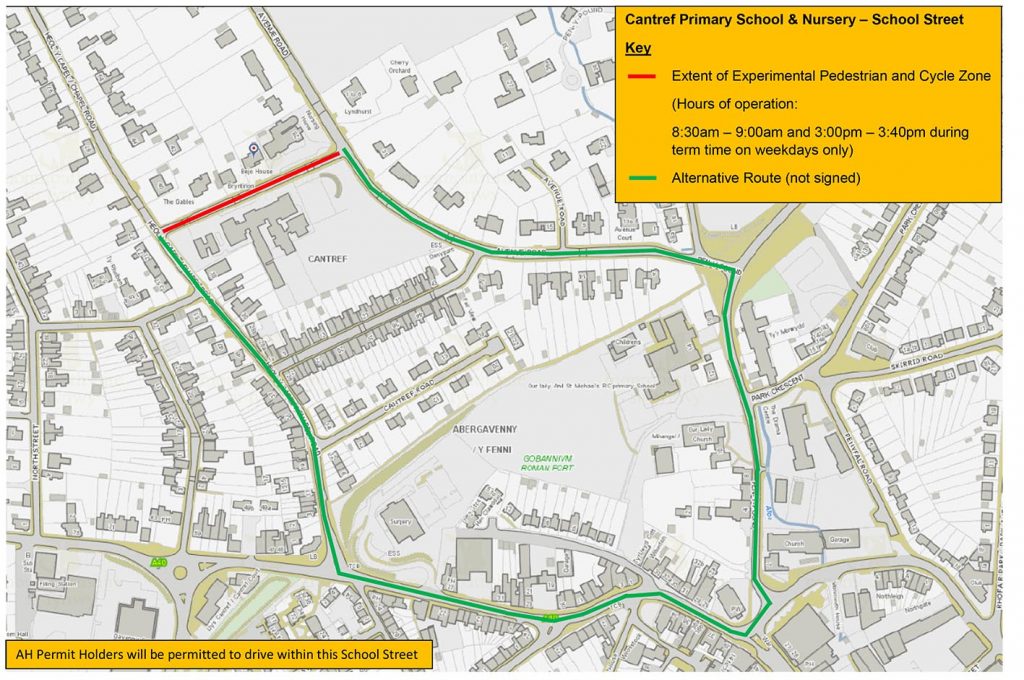 "I am pleased that both Goytre Fawr and Cantref primary schools are supporting the 'School Street' scheme. It's an important move forward in keeping children safe when being dropped off and collected from school, and it's anticipated it will also help families social distance more easily," said Councillor Richard John, Cabinet Member for Children and Young People. "If this scheme is going to be a success, we will need everyone's support and compliance to enable it to work."
Details of the proposals have been sent to residents in the streets affected. As part of this scheme, all residents and teachers will be allocated permits allowing them an exemption to drive along the streets during the closure period. Additional permits may also be requested by residents. This will also include disabled access for any persons displaying a valid blue badge. The Order will be operational during school term times only, from Monday to Friday and will take effect from Monday 30th November 2020. The hours of operation will differ depending on the school; however, Goytre Fawr will be operational between 8:50am – 9:20am and 3:10pm – 3:40pm, whilst Cantref will be between 8:30am – 9:00am and 3:00pm – 3:40pm.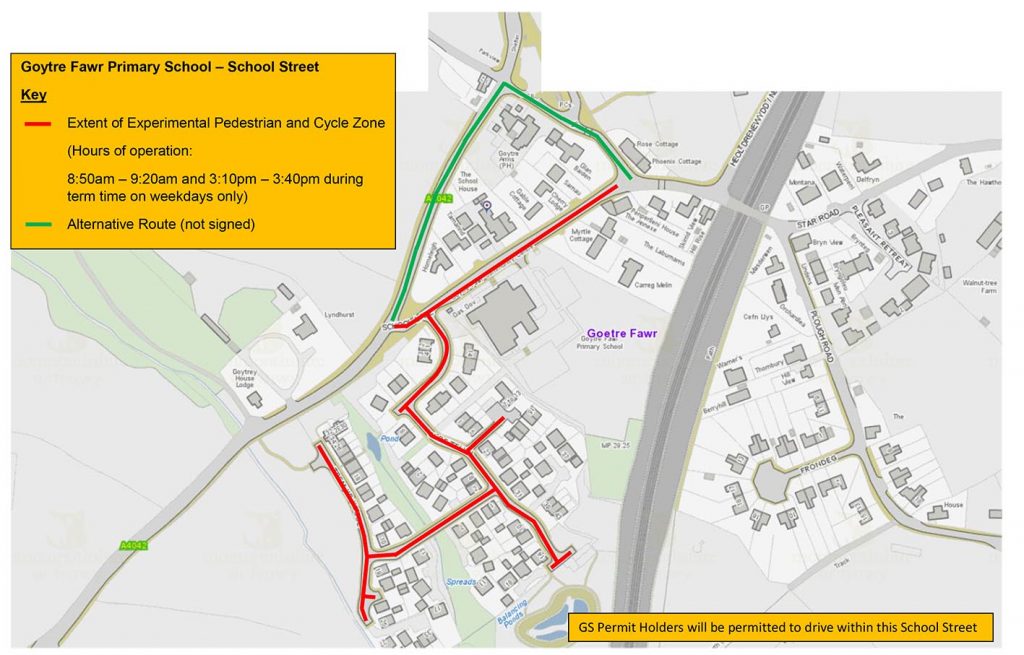 The Order will be supported initially by temporary signage and cones but will be enhanced by permanent signage in the future should the scheme be successful.
"The council is committed to promoting Active Travel across the county, not only to improve road safety for children attending the primary schools but also to encourage the use of more sustainable modes of transport such as walking, cycling and scooting," said Councillor Jane Pratt, Cabinet Member with responsibility for Infrastructure. "The 'School Street' scheme is to be initially installed on an experimental basis to enable its impact to be assessed before any permanent scheme is taken forward. The experimental Order would be in force for a maximum period of 18 months and will be monitored during that time. Any comments or objections received during the experiment will be fully considered by the Traffic team, who will consider whether any amendments are required before deciding whether the order should be made permanent or revoked. This scheme has received support from families and from the schools concerned, so we are hopeful that it will prove successful and be adopted by other schools across the county in due course."