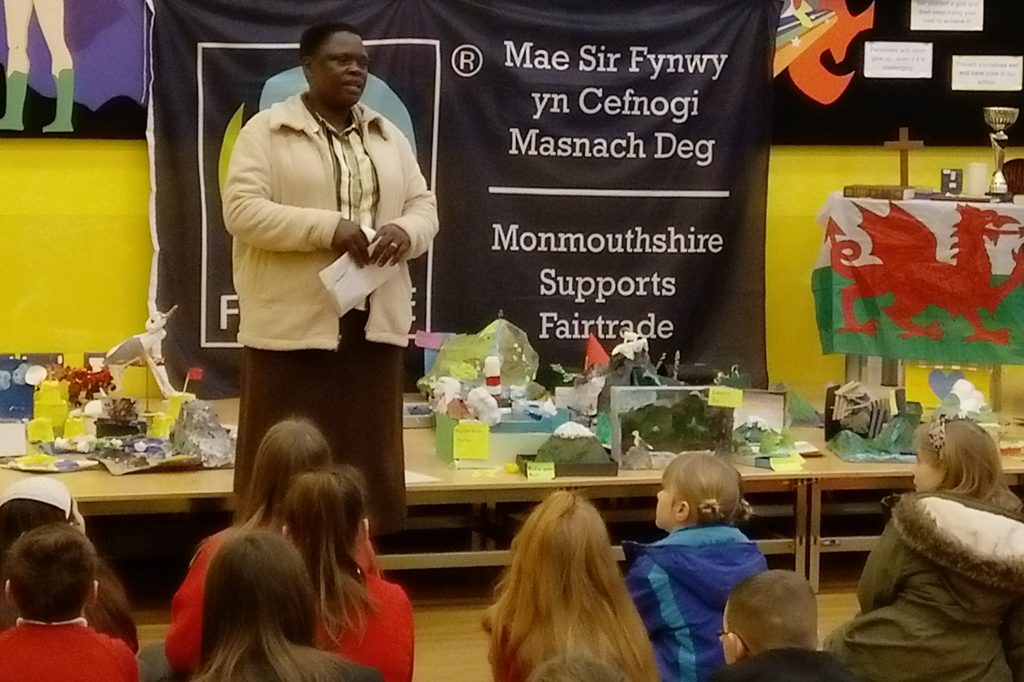 As part of Fairtrade Fortnight, 24th February-8th March, groups of children from 18 Monmouthshire schools joined forces for a conference at Raglan CiW Primary School. Learning and fun were combined in a series of workshops demonstrating the importance of knowing the origins of our food and drink, how it has been produced and its impact on our environment.
This year's Fairtrade campaign has been a continuation of its call for cocoa farmers to earn a living income, as well as being an opportunity to share stories that show the positive impact that Fairtrade has on women working on the farms.
The children enjoyed tasting some of the many products available, while learning how to spot the Fairtrade badge. There was also a workshop that explained where food comes from around the globe, as well as a look at the story behind chocolate.
Fairtrade is also supporting more women cocoa farmers to take the reins and stand tall alongside men. Fairtrade standards make sure that they have a voice in their community, are represented in decision-making and benefit from fair trade. Independent income in the hands of women brings swift and positive change to communities.
The day's special guest was a coffee farmer from Uganda, Jenipher Wettaka Sambazi, who gave a talk about the difference that the Fairtrade campaign has made to the lives of many families, including her own. As deputy chair of MEACCE (Mt Elgon Agroforestry Coffee Community Enterprise), Jenipher has been touring Wales during Fairtrade Fortnight, visiting schools, community groups and churches to share her story.
"I am a mother of six and might not have been able to afford to send all my children to school if it wasn't for Fairtrade. I have been able to take control of my family's lives and now my farm receives a fair and just price for our coffee beans." Jenipher explained. "The chance to share my story with some of the school children of Monmouthshire, showing them the role and importance of fair trade has been very rewarding."
Councillor Sara Jones, Cabinet member for Social Justice & Community Development said: "Getting our county's children questioning where produce comes from and how it has been produced is vitally important, so as adults they make informed choices. Hopefully, one day the vast majority of such goods will have been produced ethically, with the workers paid fairly for their efforts."
Notes to editors
The schools that took part were:
Ragland CiW Primary School.
Osbaston CiW School, Monmouth.
St Mary's RC Primary School, Chepstow.
Llanfoist Fawr Primary School, Abergavenny.
Llanvihangel Crucorney Primary School.
Pembroke Primary School, Chepstow.
Durand Primary School, Caldicot.
Magor CiW Primary School.
Thornwell Primary School, Chepstow.
Shirenewton Primary School.
The Dell Primary, Chepstow.
Trellech Primary School.
Cross Ash Primary School.
Chepstow School.
Usk CiW Primary School.
Gilwern Primary School.
Ysgol Y Fenni.
Goytre Fawr.
This year's Fairtrade campaign has been a continuation of its call for cocoa farmers to earn a living income, as well as the sharing of stories that show the positive impact that Fairtrade has on the women behind your chocolate bar.
About Fairtrade
Fairtrade is the only organisation to guarantee a safety net of a minimum price for farmers in times of global price decline plus a premium, an extra amount of money that goes directly to farmers to invest in business or projects of their choice in their own communities. Residents and visitors are invited to the county's Fairtrade events organised over the fortnight and look for the Fairtrade Mark to enjoy a taste of chocolate indulgence and support a move towards a living income.
@FairtradeUK #Fairtrade #SheDeserves
For more information Fairtrade.org.uk