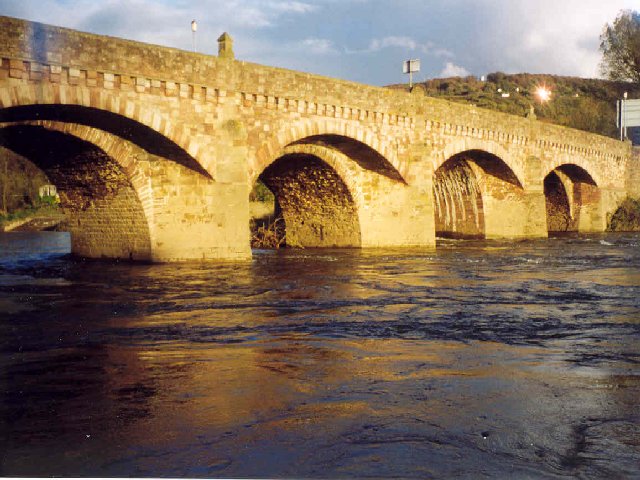 The Council has confirmed the details on the resurfacing of the Wye Bridge in Monmouth. The work has now been put out to tender and a contractor will be appointed by mid-August.
The plan is for a closure of the bridge for up to five weeks from an expected date on 16th October, 2023. The bridge will be closed to vehicular traffic for 24 hours a day to enable major resurfacing work to be undertaken.
The essential work will involve the removal of 10cm of the road surface from the bridge, which was built c.1615 and widened 1878-80. While the bridge is without this surface usual vehicular traffic will not be able to cross. This is due to the change in weight load on the structure once the old road surface is removed. If normal traffic were allowed to cross it would raise a risk of potential structural damage to the historic bridge.
Monmouthshire County Council have requested that contractors work 24 hours a day on shifts to reduce the duration of the bridge closure.
Monmouthshire County Council has already liaised with all blue light services. Monmouth Town Council, neighbouring councils, local Councillors, local schools, social care teams and community groups will be engaged with. Residents and businesses in Monmouth and Wyesham, including Hadnock Road, will receive information over the coming weeks to enable them to plan ahead.
Cllr. Catrin Maby, Monmouthshire County Council's Cabinet Member with responsibility for Highways, said: "We are working to ensure that the essential resurfacing works of the Wye Bridge are planned to minimise the unavoidable impact on local residents and businesses. We are asking the contractors who are appointed to work in shifts 24 hours a day to reduce the time the bridge is closed. Sadly as a result of the need to remove so much of the bridge surface the bridge cannot be opened for normal traffic until the work is complete. We apologise for the inevitable inconvenience but would like to assure residents and businesses that everything will be done to ensure this project is completed as a priority in good time. Access will be maintained for pedestrians and for cyclists who dismount."
WYE BRIDGE – Questions and Answers
Why are you doing the work now? The carriageway has deteriorated rapidly over the last winter, and it is beyond a patching scheme. We have utilised the budget to resurface the Bridge this year and have designed the scheme for a 20-year life.
What exactly are you doing to the bridge? We are removing the old surfacing and replacing with new Asphalt.
Why can't you just patch it up? We have patched it up too many times for it to be cost effective and the carriageway has reached the end of its lifetime.
Why is it being closed 24 hours a day? To limit the time the works will take to complete. We are asking the contractors to work all day and all night in shifts to maximise production.
Will there be work on the bridge through the night? Yes, to speed up the works we will be working on the bridge night and day
Why can't lorries and cars drive over? As the bridge is an old structure to prevent further damage we cannot have vehicles crossing the structure without the protection of the running surface.
What about emergency vehicles – police, ambulance, fire? Emergency vehicles will be allowed over the bridge, and we are working with the Emergency services and the contractor on a plan.
Can I walk over? Yes, pedestrian access will be maintained over the bridge. There may be times you may be requested to stop depending on what works are being carried out at that time.
Can I cycle over? You will need to dismount and push your bike across the bridge. There may be times when you will be requested to stop depending on what works are being carried out.
What is the diversion route? There will be a signed official diversion route that will take you via Ross on Wye (A map will up uploaded to this page shortly). It's expected that local people may seek alternative routes, but please be aware this could put unnecessary pressure on the local network of smaller 'B' roads. We are working with local Councillors to identify where there may be problems and will put out extra signing in this area.
Can I claim compensation? There is no right to claim compensation for works on the highway.
How do I get my child to school? You can walk across the bridge into Monmouth or Wyesham. If using a car, you can follow the signed diversion.
What about the school buses? We are working with school transportation to come up with alternative arrangements.
What about the usual bus services? Buses will not be allowed across the bridge, and we are working with the transport department to make alternative arrangements.
What about business deliveries? There is sufficient time until the works to make alternative delivery arrangements to your store. Access to the Hadnock Road Industrial Estate and Lidl will still be allowed from Staunton Road, Monmouth.
Can my business claim compensation? There is currently no statutory compensation for businesses affected by road works. Successive governments have taken the view that businesses should not have the right in law to any level of passing trade, and that traders must take the risk of loss due to temporary disruption of traffic flow along with all the other various risks of running a business. Therefore, there is no statutory provision for compensation by the Highway Authority (as opposed to a utility) if a business is affected by roadworks.
I live in Riverside Park – will I be able to get access? Yes, we will work with the contractors to ensure that access is maintained to the Riverside Park.
Can I park nearby to walk across – if so, where? We are looking at utilising space near the bridge and then you will be able to walk across the bridge.to Monmouth or Wyesham
What date are works due to finish? Works are programmed to finish mid-November
What happens if there is a flood? There are set protocols that must be followed. The contractor will be aware of these and will need temporarily pause work and make the site safe.
Who do I contact if I have any concerns/complaints during the works? Please fill in a My Mon form and it will be passed to the relevant department.