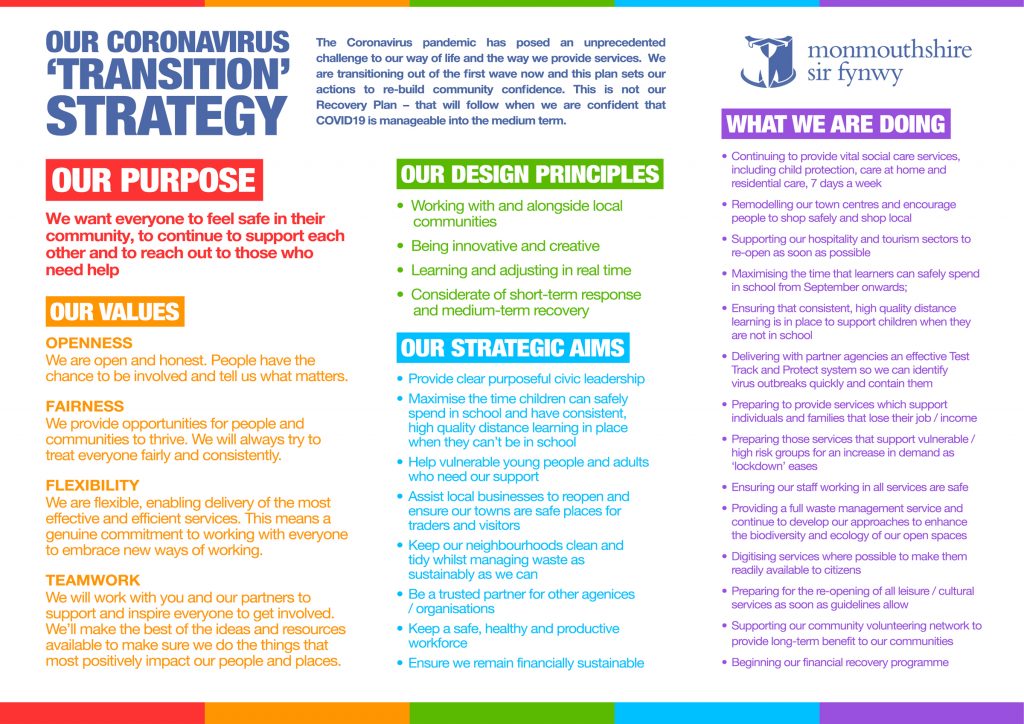 To tackle the spread of coronavirus, people in Wales must:
– always observe 2m social distancing
– wash your hands regularly
– cover your face in indoor public places
– if you meet another household, outside your extended household, stay outdoors. People must not socialise with people who are not in their household or extended household.
– work from home if you can
Important message – we need help from everyone in Gwent
From 6pm tonight (8th September 2020), the Caerphilly County Borough Council area will become an enhanced local health protection area and several new lockdown restrictions come into force.
We're aware that compliance with the basic rules has relaxed across Gwent and what started as an increase in cases in younger people is now spreading to older people. Please take responsibility for your actions and continue to follow the rules.
Wash hands – and keep washing them regularly
Cover face – over your nose and mouth where social distancing is difficult
Make space – stay at least two metres from anyone not in your household
Stay home – and get tested if you or anyone in your home has symptoms
It really is this simple.
If you've got any symptoms of coronavirus, you must get a test and your whole household must self-isolate immediately.
New continuous cough
High temperature
Loss of taste and/or smell
Book a test here https://gov.wales/apply-coronavirus-covid-19-test
If you are asked to self-isolate, you should do so to prevent further spread of the virus. Please remember to self-isolate while awaiting the results of a test.
For information which will answer a lot of questions, please visit https://gov.wales/caerphilly-county-coronavirus-lockdown
https://gov.wales/caerphilly-county-coronavirus-lockdown-frequently-asked-questions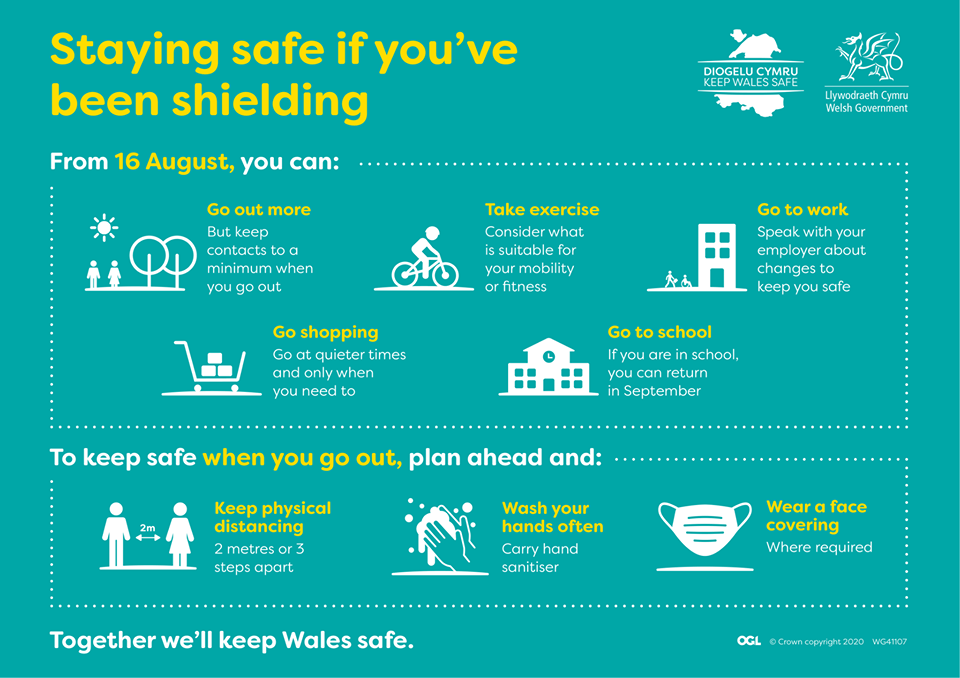 Shielding information from the Welsh Government
Following the lockdown in Caerphilly, for Monmouthshire residents who were shielding prior to 16th of August and therefore remain on the Shielding Patient List, there is no change to the advice from the Chief Medical Officer for Wales.
The Welsh Government are not reintroducing shielding at this time. They will continue to monitor this position carefully and will write directly to people on the list in Monmouthshire if this changes.
In the meantime those who were previously shielding should consider the advice they have already been given on how to keep safe;
Keep contacts outside the household to a minimum and avoid all situations either inside or outside where you are not able to maintain a physical distance of 2m from those outside your household
Utilise priority shopping slots for supermarkets or shop at quieter times of day
Wash your hands for 20 seconds with soap and water regularly and use hand sanitiser where hand washing facilities are not available
Avoid touching surfaces that have been touched by others.
For more information visit WG Guidance on shielding and protecting people and for frequently asked questions visit
https://gov.wales/people-extremely-vulnerable-covid-19-who-have-been-shielding-faqs
For more information visit WG Guidance on shielding and protecting people and for frequently asked questions visit
From Monday 6th July the 5 mile 'stay local' rule no longer applies and a 'bubble' can be formed with one other household.
From 13th July hospitality outlets and tourism businesses can re-open where they can use outdoor spaces
On Wednesday 1st July the Gwent Local Resilience Forum, including the five councils, agreed to increase the number of mourners permitted to attend funerals at cemeteries within the five local authority areas of Gwent to 20.
On Monday 29 June, pupils returned to school, under the plans previously announced by the Education Minister, to check in, catch up and prepare for summer and September.
From Monday 22 June changes were made to the regulations to enable non-essential retail businesses to re-open where they can take all reasonable measures to comply with the physical distancing duty, which will help to protect both employees and customers from coronavirus.
Click on the tiles below to find out specific information for services
Newsfeed