Monmouthshire County Council strives to keep the roads in good condition, therefore it is necessary for essential repair and road works to be carried out.

Click on the icon above to view the latest road works and closures report.
A roadworks map hosted externally to Monmouthshire County Council via the One Network website is also available.
The map is updated every few minutes showing road works across the highway network.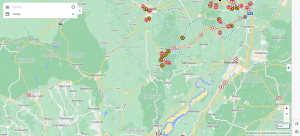 Road works data will be provided by clicking a symbol, as example below.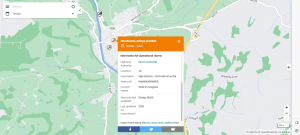 How we co-ordinate highway road works and events
Highways Network Management are responsible for co-ordinating and monitoring street works carried out on Monmouthshire's road network. As part of our responsibilities, we hold quarterly coordination meetings with utility companies (South East Wales Highways Authorities & Utilities Committee (SE WHAUC) works/events co-ordination and conflicts meeting). In the meeting we discuss major planned projects, future works and events happening that may affect the highway, together with other related issues. Information on planned road works is then compiled in to a works programme and entered on to the street works register to identify any potential conflicts. The street works register contains information on:
the company doing the work
planned start and end dates
location of the works
description of the works to be done
This information is then added to the weekly road works report.
Section 58
Section 58 is a formal, advanced notice issued by the authority informing all interested parties that substantial road works are due to be carried out. This notice is sent out approximately 3 months before works are due to commence, to enable all parties concerned to carry out any works needed. Once works have been complete the road is protected for up to a maximum of 5 years depending on the type of works. Examples of works involved:
reconstruction of a highway
resurfacing
traffic calming
new road layouts
Street Works Licence
If you or your organisation wish to place or maintain private apparatus in the public highway you must obtain a licence from the relevant Highway Authority.  Such licences are granted under Section 50 of the New Road and Street Works Act 1991.  Applications must be made by the owner of the proposed apparatus and/or the land to which the apparatus will serve.
If you wish to excavate in the public highway for any other works that do not involve apparatus then you will need to make an application under Section 171 of the Highways Act 1980.
Before an application is submitted, you are required to telephone 01633 644644 to arrange a joint site meeting with an inspector. During the meeting the inspector will give advice on any potential issues and answer any questions you may have.
Application: Section 50 Licence
Application: Section 171 Licence
Apply for booking road space
A private individual wishing to occupy the public highway (NOT EXCAVATING) for any reason, must complete a road occupancy notice.  Failure to do so may cause confliction of works.
For excavation, please follow the direction of a Street Works Licence.
Temporary Traffic Signals:
You must apply for permission to place temporary traffic signals on the public highway.
Application: Temporary Traffic Signals Application Form
If you encounter any traffic light problems you can report this using our form below.
You can report an issue anonymously, but by registering your details you can track the progress of your report and receive updates as it is processed.
If you've already registered using the My Monmouthshire app, currently available on Apple, Android and Windows devices, then you can use the same email and password to log-in.