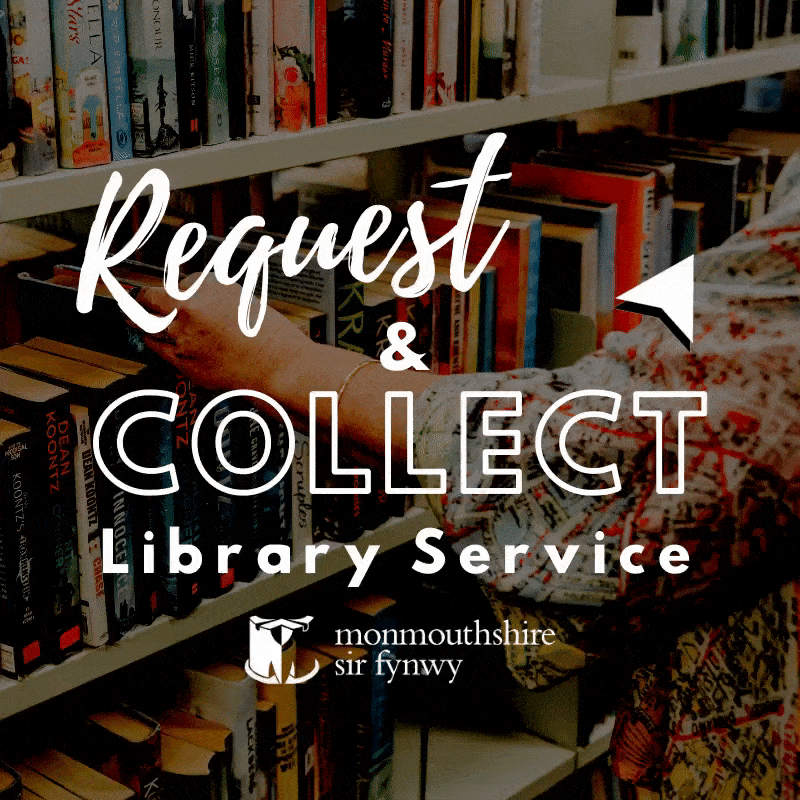 Monmouthshire County Council is introducing a
new "Request & Collect" service for library books.
Customers can browse the on-line catalogue and
then use the My Monmouthshire App to tell us the
types of books they would like and reserve a time
to collect them.
_____________________________________
Collections will initially be available from
Monmouth and Chepstow Community Hubs.
Four Steps to Accessing your Library Service:
---
1 Think about what types of books you want, you can use our online catalogue for inspiration. The form will ask you what your favourite genres are, alongside a comment box for you to request any specific books or authors. This will help us select the best books for you. (Please note due to availability we cannot guarantee any specific books). If you are booking for yourself we will choose up to 5 books for you. However, if you are booking for more than one person, each person will receive 3 books each (up to 4 people).
---
2 Choose between collecting from Chepstow Hub or Monmouth Hub. The opening hours are as follows:
Chepstow : Slots available between 10am – 4pm on Tuesdays and Thursdays.
Monmouth: Slots available between 11:30am – 6:30pm on Tuesdays and between 10am – 4pm on Fridays
---
3 Book a time slot using our online form (Linked below) or to book via the telephone please contact our contact centre on 01633 644 644
---
4 Collect your books at your allotted time and date and enjoy!
---
The booking system will be going live midday on Tuesday 23rd June.
Please select the relevant form below to make your booking – you will require your My Monmouthshire
account details to sign into the form and your library membership number. If you aren't already a library
member CLICK HERE to join before booking your slot.
---