In September 2016 Monmouthshire County Council are trialling the separate collection of glass in a recycling box. Approximately 6500 households have been included in the trial. These areas include: parts of Abergavenny, Gilwern and Govilon, Llanellen, Goytre, Little Mill and Llangybi.
If you are included in the trial area you will receive information regarding the trial before September.
Residents will be asked to put their glass into a green recycling box, use the purple bag for their plastics and cans and continue as normal with their paper and card in the red bag as shown below: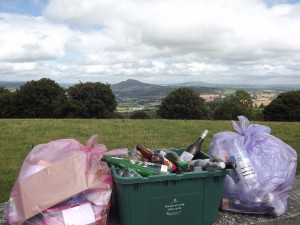 To continue to recycle all the materials we currently collect, we have to start collecting our glass in a different way. The recycling industry is changing. Separating our glass will improve the quality of our recycling. The glass can then be reprocessed locally and this will reduce the overall cost of our recycling service.
You have told us that you like the red and purple recycling bags. So, we will continue to use these together with a new recycling box for your glass bottles and jars. To help us measure the success of the trial, we will also provide you with grey bags for your household rubbish.
The new system will start on the 19th of September 2016. Your collection day will stay the same and so will the collection crew. Look out for your new recycling box in early September. We will deliver everything you need for the trial.
We are introducing the trial in one area first, to make sure we get it right for you and everyone in Monmouthshire.
Wales is one of the leading recycling countries in Europe and last year you helped Monmouthshire recycle a massive 64% of its waste.
We are doing great and this is going to make it even better!
Click here for the poster explaining what goes where
Glass Box Trial 2016 – Questions and Answers
Why do you keep changing things?
The world of recycling is constantly changing. What was once thought of as waste is now considered to be a valuable resource. Changes in legislation, population, waste composition, emerging technologies and world markets all have an impact on our local recycling and waste collection systems. When resources are re-used and recycled this contributes to the 'circular economy'.
Why do we now have to separate our glass into a recycling box?
Keeping the glass out of the recycling bags ensures that we get better quality recycling.
Separately collected, cleaner material streams are more easily recycled and are more valuable to re-processors. When our recycling materials are of good, clean quality, they can be recycled into higher value products.
Why can't we place our glass in a separate recycling bag?
The glass recycling industry has been very clear that they don't want glass presented in plastic bags as it is more expensive to split the bags open. Health and safety advice confirms that using plastic bags for glass only would substantially increase risks of injury for staff and residents.
What if I have a lot of glass, can I have more than one recycling box?
Yes, if you need a second recycling box please email us at contact@monmouthshire.gov.uk, ring us on 01633 644644 or visit your local community hub to order a box to be delivered.
Can we have boxes for the other recycling materials as well?
No, residents have told us that they like the red and purple recycling bags so we will keep them for the trial period.
What if i put glass in my purple bag?
Our crews have been told to leave any bags that contain glass and to place stickers on them explaining that the glass will contaminate the rest of the recycling.
What type of glass can I put in the recycling box?
We can collect all types of glass bottles and jars. Drinking glasses can also be put in the recycling box. We cannot collect any sheet or flat glass, Pyrex or crockery.
Where do I put broken glass?
To avoid injury, broken glass should be carefully wrapped in paper and placed in your rubbish bag.
What if a glass bottle breaks when I am filling my box?
If any glass breaks when filling the box it should left in the box for the crews to collect safely.
Do the glass containers have to be washed first?
Yes please, rinsing them first to remove any liquid or food waste, helps our collection crews and re-processors.
Do I need to remove the lids from the bottles and jars?
Yes, please remove any lids or caps and put them in your purple recycling bag.
Won't my box full up with rainwater?
The boxes have small holes in each corner so that rainwater can drain away.
What happens to the glass once it has been collected?
Our collection crews take the glass containers to our transfer stations at Llanfoist and Five Lanes where they are bulked and transported for recycling.
Can I still use my own black rubbish bags?
No, each household in the trial area has been provided with free grey rubbish bags so that we can measure the performance of the trial more easily. We found that when grey bags were introduced in 2013, fewer recyclable items were placed in the rubbish bags and recycling performance increased.
Is there still a two bag rubbish limit?
Yes, there is still a limit of two bags of rubbish per household. You have been delivered enough to last a six month period. If you have an extra allocation already agreed, please contact us to arrange more grey bags.
 How big is the trial and why was this area chosen?
The trial covers around 6,000 properties in the Abergavenny area including: Gilwern, Govilon, Llanellen, Goytre, Little Mill, Llangybi. This area was chosen because it includes a good representative sample of households throughout Monmouthshire.
How long will the trial last?
The trial is expected to last six months but if deemed successful it could continue.
What happens after the trial?
If the findings are favourable, i.e. the collection vehicles can cope with the separated materials and the quality of recycling is high, we expect to expand the scheme countywide in 2017/18.
 Will my collection days change?
No, the introduction of this trial should not affect your collection days.
Will there be changes to my assisted collection service?
No, if you are currently having an assisted collection service, our crews will pick up your glass recycling box from the same place.
I am unable to carry a box, can I arrange for an assisted collection?
For elderly or disabled residents that are unable to place their rubbish or recycling out at the kerbside, we offer assistance by collecting the bags and boxes from the door. To arrange for assistance, please telephone our Contact Centre on 01633 644644.
Can we have recycling banks at local supermarket like we used to?
No, Monmouthshire moved from the old style recycling banks to provide a full kerbside collection service which is easier for residents to use and produces higher quality recycling.