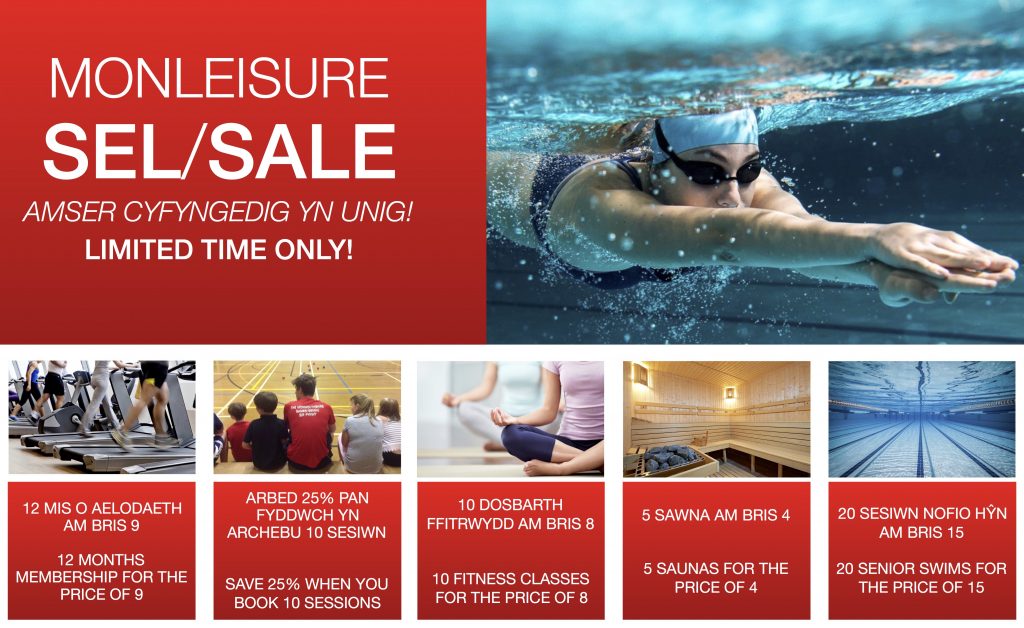 MonLeisure is offering an exclusive membership promotion during March 2018. The promotion is designed to kick-start your summer fitness resolutions preparation! Join between 1st – 31st March and get 12 months for the price of 9. This promotion will give you everything you need to exceed your health and fitness expectations.
MonLeisure provides many great activities and classes with FREE personalised fitness plans and weekly personal training sessions with every membership. With friendly and fully qualified instructors as well as easily operated state of the art equipment, our four leisure centres offer seasoned gym goers and complete beginners all they need in a welcoming environment.
Memberships provide access to over 160 fitness classes, three swimming pools (all with accessible hoists and steps), four gyms, disabled changing facilities and free parking across all sites.
Other facilities include:
o             1 floodlit FIFA approved 3G pitch at Caldicot Leisure Centre
o             6 squash courts (Abergavenny x 2, and Caldicot x 2)
o             4 full-size Astroturf pitches
o             3 four court multipurpose sports halls
o             1 multipurpose gymnasiums (Abergavenny)
o             3 four court outdoor multi-use games areas (Abergavenny, Caldicot and Chepstow)
o             1 outdoor multi-use games pitch for football, basketball, netball or tennis (Abergavenny)
o             2 saunas (Abergavenny and Chepstow)
o             3 dedicated disability changing rooms with ceiling track hoist, height (Abergavenny, Caldicot and Chepstow)
o             adjustable changing table and accessible shower
o             Various outdoor grass pitches
All three leisure centres open at early enough to allow people extra time before a busy day ahead.  The leisure centres, based at Abergavenny, Caldicot and Chepstow, provide a warm welcome with support as well as a convenient, community facility that has lots to offer at a great price.
For membership details contact your local centre:
o             Abergavenny Leisure Centre 01873 735360
o             Caldicot Leisure Centre 01291 426850
o             Chepstow Leisure Centre 01291 635745