Is the all through schools a new method?
All through schools are common in England and are becoming more common in Wales. There are currently in excess of 20 through schools in Wales with the numbers continuing to grow. For more information, please see the below report from Estyn Wales.
Why is there a need for an all through school?
Through schools improve educational outcomes, provision, leadership and management. Also, through schools improve the efficiency in the delivery of education, and minimises the impact of transition between key stages.
What are the aims of the new school?
The aims of the new school will be determined by the new Governing Body when they are appointed. However, it is anticipated that they will reflect those of the existing schools.
What is the catchment area for the new-build school in Abergavenny?
The catchment area for the new school will be the existing Deri View Primary and King Henry VIII Comprehensive Schools
Are we going to give something better, or just different?
The proposal is to deliver a school that continues the journey of the existing schools in securing better outcomes. This school will deliver continuity in learning through seamless phase-to-phase transition and a joined up strategy to learning, pastoral care and support.
Is it advantageous for pupils to be on the same site for their school years?
Evidence suggests that this can be the case. It is especially advantageous for pupils at the end of Year 6 and beginning of Year 7 where there is often a drop in attainment following transition from primary school to secondary school.
Is there provision for ALN (Additional Learning Needs)?
There will be a SNRB established at the school for primary and secondary pupils. This Base will be for pupils for Complex Neurodevelopmental Needs. The proposed new school will provide an accessible and inclusive environment for all pupils with additional learning needs, allowing children and young people with physical / medical difficulties to be more independent.
Will staff have to reapply for the new Abergavenny school?
The staffing structure will be determined by the new Governing Body however it is not expected that existing staff will have to apply for posts in the new school.
What is the effect on surrounding schools?
There should be no effect on surrounding schools, although some parents may choose to send their children to the new school if there is room.
Will there be demolition of the old site?
This will be undertaken in Phase 2 and once the new school has been built.
Will the playing field area be reduced?
The playing field area will not be reduced. Facilities maybe in different locations on the site and will most certainly be enhanced
Will the leisure centre be open at the same time as the school?
The leisure centre will remain open.
Green spaces for playing?
There will be playing fields as there are currently, shown in the plan below.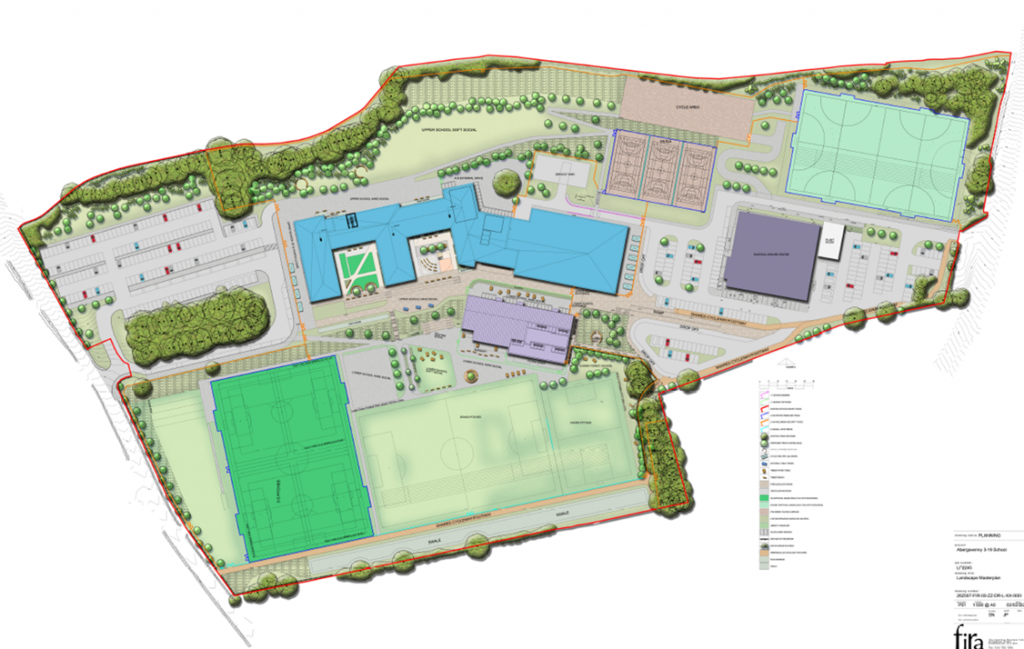 Follow us on Twitter for regular updates.