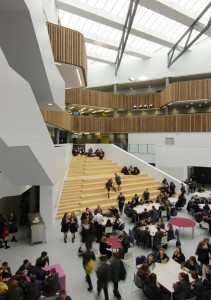 21st Century Schools Programme – Wales
What is it?
It is a major, long-term and strategic capital investment programme. Its aim is to create educational communities fit for the 21st Century in Wales.
What is it designed to deliver?
Learning environments in Wales that will enable the successful implementation of strategies for improvement and better educational outcomes.
Greater economy and a more efficient learning environment, making full use of resources.
A sustainable education system in Wales that meets national building standards and reduces the frequent costs and carbon footprint of educational buildings.
What is Monmouthshire's educational vision?
"..to transform teaching and learning throughout Monmouthshire and to encourage whole communities to reach their full potential as well as provide all with better life chances"
Why are we doing this?
To offer a more flexible and inclusive education provision that raises the aspirations and life chances of all our pupils, their families and vulnerable groups.
To ensure that education is at the core of the development of the health, wealth and welfare of all the citizens of Monmouthshire.
To map and personalise the journey of the learner throughout their educational life. – Student centred learning….
To ensure that Monmouthshire becomes an international centre of excellence for inclusive teaching and learning.
To deliver more efficient and effective education through real change management.
To be an exemplar local authority, leading the way in "best practice and delivery in 21st Century education"
This exciting programme of investment in our educational provision is aligned with the council core objectives encapsulated in the Whole Place Agenda.
Nobody is left behind
People are Confident and Capable
Our county thrives
Please email the 21st Century team for more information.
Alternatively use the links to the right of this page for further details on the schools listed, or to view our Facebook and Twitter accounts
Further information can be found on the the 21st Century Schools website at www.21stcenturyschools.org and the
Welsh Government website at www.gov.wales