UK & Welsh Government Support for Businesses
UK Government has launched a 'support finder' tool which will help businesses and self-employed people across the UK to determine what financial support is available to them during the COVID-19 pandemic.
The tool asks business owners to complete a simple online questionnaire, which will direct them to a list of the financial support they may be eligible for.
The new business support finder tool can be found at https://www.gov.uk/business-coronavirus-support-finder.
Information regarding the range of support available from Welsh Government is available on the Business Wales Coronoavirus advice page. This can be accessed here: Business Wales
Future Fund
Announced by the Chancellor on 20 April, the Future Fund issues convertible loans to innovative UK companies with good potential, that typically rely on equity investment and are currently affected by Covid-19. The scheme, will help these companies through the current period of economic disruption and the recovery, so they are able to continue their growth trajectory and reach their full economic potential. The scheme is designed by UK Government and delivered by the British Business Bank.
Further information about the scheme is available here
The scheme is open for applications until the end of September 2020.
UK Government Bounce Back Loans
Small businesses will benefit from a new fast-track loan scheme, which will launch on Monday 4th May.
The new Bounce Back Loans scheme will enable businesses to borrow between £2,000 and £50,000 and access the cash within days.
Loans will be interest free for the first 12 months and businesses can apply online through a short and simple form.
Further information about the scheme is available here
Once applications open on 4th May you will be able to apply here
Welsh Government Economic Resilience Fund
In its first week the second phase of the Economic Resilience Fund received almost 9,000 requests for support. Due to the scale of demand, Welsh Government increased the amount of funding for this phase to £300 million.
The Fund is now paused following the very large number of applications to give Welsh Government an opportunity to consider what further support businesses, charities and social enterprises need
Welsh Government Business Grants
The Welsh Government has announced that small charities within the retail, leisure and hospitality sector will receive a £10,000 business support grant to help them respond to the financial challenges of Covid-19.
This new package will support properties with a rateable value of £12,000 or below.
This includes
charity run shops
sports premises
community centres
Applications should be made via the link below on or before 30 June 2020.
Important Information: You cannot apply for this grant if you have already been awarded Covid-19 grant(s) amounting to £10k or more from any of the following:
Welsh Government Economic Resilience Fund (ERF)
Sport Wales Emergency Relief Fund
If you have any queries regarding eligibility based on any Covid-19 related grants that you may already have received e.g. if you have received a Covid-19 grant(s) amounting to less than £10k from Sport Wales and/or the ERF, please e-mail BusinessSupportGrants@monmouthshire.gov.uk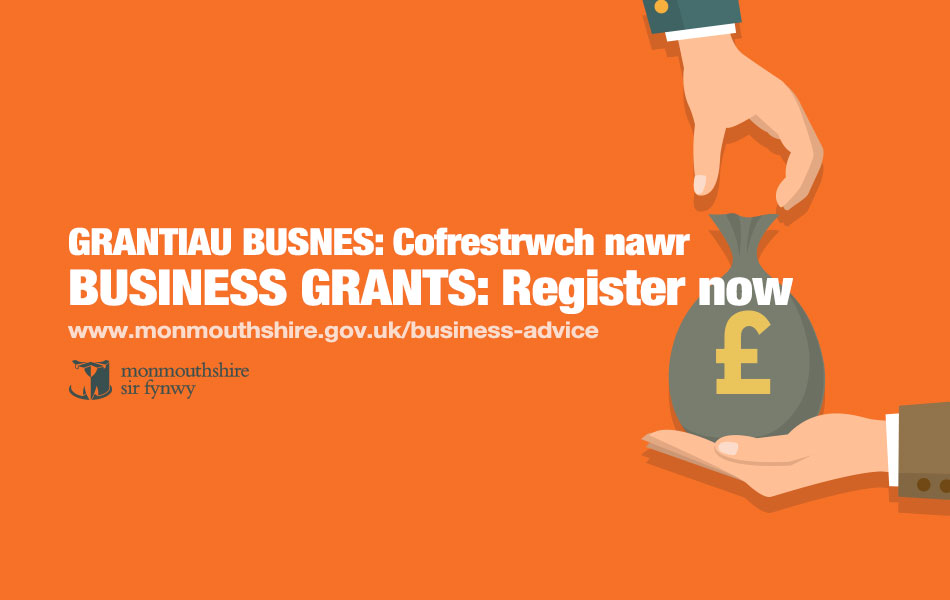 These grants will be administered by Monmouthshire County Council. We will process them as soon as possible. To check your eligibility, please visit the Business Wales COVID-19 Grants web page. To ensure we have up to date information from yourself, please complete this form. SHOULD YOU HAVE MORE THAN ONE PREMISE, PLEASE FULLY COMPLETE A FORM FOR EACH. For businesses falling under SBR with rateable value less that £12,000 you can only claim for TWO grants of £10,000.
Business Grants: Questions & Answers
By Wednesday 18th May Monmouthshire County Council had issued £19.5m worth of grants to 1400 businesses. But there could be as many as 700 businesses who have not yet registered. Here are a few of the key things you need to know, to help us, help you, get this funding into your bank account.
Q: I have a local business that should be eligible, so I assumed I would automatically get a grant.
A: Grants will NOT be issued automatically. You MUST register in the first instance using the green box above.
Q: How do I find out if my business is eligible?
A: Your first step is to visit: https://businesswales.gov.wales/coronavirus-advice/support/financial-support-and-grants/covid-19-grant
Q: What's the basic criteria for a business grant?
A: If you occupy business premises in Monmouthshire with a rateable value of £12,000 or less, or you are a retail, leisure or hospitality business with a rateable value of £12,001 to £51,000 you should be registering for a business grant NOW.
Q: But what if I don't pay business rates?
A: If you come under the Small Business Rates Relief, and you currently don't pay business rates, you are still eligible to register for the grants.
Q: My business occupies multiple properties. How many grants am I eligible for?
A: Where properties are subject to the Small Business Rates Relief scheme, the ratepayer may only receive a grant for a maximum of two properties in any local authority area.
Q: I pay my business rates to my landlord, am I still eligible for the grant?
A: If you directly pay your business rates under the Small Business Rates Scheme you may be eligible, however if your landlord entirely pays the business rates, you are not eligible. There may still be assistance available to you though – visit businesswales.gov.wales/coronavirus-advice
Q: What information do I need to have to hand?
A: You need your correct email address (please double check), business bank account details and your business rates statement, which provides your account reference number and your rateable value.
Q: What if I don't have my account reference number or rateable value?
A: This can be found on your business rates statement, which is sent to the account holder even if no business rates are payable. If you cannot access this please email counciltax@monmouthshire.gov.uk to request this information. Please provide your business name and the full address of the property you occupy in your email.
Q: How much are the grants?
A: The grants are of £10,000 (rateable value of up to £12,000) and £25,000 (rateable value of £12,001 to £51,0000. These grants will only be payable to those in the Retail, Leisure or Hospitality industries). They will be administered by Monmouthshire County Council and registrations will be processed as soon as possible, subject to checking.
Q: Is this a loan, will I have to pay it back?
A: No, these funds will not need to be repaid.
Q. Is the grant taxable?
A. Not directly, but you should consider the grant as revenue for your business. You may be liable for corporation tax on your business profits
Q. What is state aid?
A. State aid means any situation in which a public body, such as Monmouthshire County Council, provides financial support to a business which does, or may give the recipient an advantage over competitors.
Q. Do I need to worry about state aid?
A. Businesses receiving the grant will be asked to sign a declaration that they understand the rules and are eligible for payment. The following note provides further information about Stated Aid:
Q: How long will it take to process my details?
A: Monmouthshire County Council endeavour to pay 80% of all eligible grants within three weeks. In fact, many businesses have already received funds. If you haven't had a response yet, please don't submit another application – this will slow down the process as it will create more entries that will require further assessment and work due to the duplication.
Q: What if I applied over three weeks ago and have not heard anything?
A: The council has received many registrations with missing details, in particular account reference numbers. If we require additional information we will contact you. Please don't submit another registration if you have made an error or missed any details.If you need to correct any details provided in your registration, please email BusinessSupportGrants@monmouthshire.gov.uk and we will process those changes for you.
REMEMBER These grants will not automatically be paid to you. We need your details, so please register above.
Support from Local Business Networks
Monmouthshire County Council works closely with the county's local business representatives all of whom would be happy to help with any individual business queries you may have. Below are a list of contacts and the areas that they represent:
Legionella controls in hot and cold water systems during the Covid-19 pandemic.

Health and Safety at Work etc Act 1974
During these unprecedented times, and with many businesses being closed, it is essential that your hot and cold water systems are still managed effectively to prevent the growth of legionella bacteria, which could affect the health of your customers, visitors and staff in the future when you do fully reopen.
Legionnaires' disease is a potentially fatal form of pneumonia contracted by inhaling aerosols contaminated with legionella bacteria.
Hot water boilers, showers, taps, WCs and other water outlets?
Act now to manage your hot and cold water systems – don't just let them to stagnate.
If your building is going to be closed for a prolonged period:
Review your legionella risk assessment.
Make sure hot water is circulating throughout all parts of the system and flow temperature is maintained at ≥60 °C and the return on all loops is at ≥50 °C.
Hot water outlets should reach ≥ 50 °C within one minute and cold should reach ≤25 °after running the outlet (normal flow, avoid splashing) for 2 minutes.
Where there are thermostatic mixer valves ensure the pipework feeding them achieves the same temperatures.
If using a biocide already, maintain target levels throughout all of the system.
Flush gently (to reduce aerosols) all hot and cold outlets (showers and taps) at least weekly until they achieve the above temperatures.
Flush all WC cisterns (close the lid), urinals, by-passes and any other points on the network.
If you decide to close down your system, and switch off your heated water tanks, then additional control measures will be required – including disinfection – on restarting.
Please refer to the following guidance for further details:
Guidance and contact Environmental Health directly if you require any further advice or information on 01873 735420 or environmentalhealth@monmouthshire.gov.uk
HMRC Tax Help-line
If as an employer you are having difficulties with your business tax, please visit the link below for guidance issued by UK Government.
Support for businesses – new rate relief schemes

On Monday the Welsh Government announced an enhanced scheme of support for businesses affected by the ongoing coronavirus crisis. Retail, leisure and hospitality businesses will receive 100% business rates relief for the financial year 2020/21.
We will award the relief automatically. In addition, a further £100 million will be available across Wales for a new grant scheme for small businesses not covered by the enhanced retail relief scheme. Further details on this new grant scheme are to be confirmed shortly.
For further advice please contact the Council Tax team on 01633 644630 or e-mail counciltax@monmouthshire.gov.uk
Retail, Leisure and Hospitality Rates Relief
The Retail, Leisure and Hospitality Rates Relief scheme will provide 100% rates relief for occupied properties to eligible ratepayers for 2020-21. The scheme will apply to eligible properties with a rateable value of £500,000 or less.
You can find rates relief guidance from Welsh Government HERE
Diversifying your business to include takeaway and delivery?
The following businesses and venues have been asked to close:
Pubs and restaurants can no longer open for the consumption of food or alcohol. Some businesses may offer a takeaway or delivery service if they wish to keep trading. The government website provides further details https://gov.uk/government/news/government-announces-further-measures-on-social-distancing#history…
Food and drink venues for consumption on-site, such as restaurants and cafes.
Drinking establishments, including pubs, bars, nightclubs.
Entertainment venues, including cinemas, theatres, concert halls, and bingo halls.
Hotels / B&B's (unless offering accommodation to the homeless)
Museums and galleries.
Hairdressers, Barber shops, Spas, wellness centres and massage parlours.
Betting shops, Bingo Halls, Casinos.
All leisure and sports facilities, including gyms.
In these difficult times I'm sure you wish to maintain business continuity and support your community and may want to start supplying takeaway and delivering food. More information is available on our Environmental Health page here.
For a full list of closed premises –
https://assets.publishing.service.gov.uk/government/uploads/system/uploads/attachment_data/file/875263/240320_Revised_Guidance.pdf
Privacy Information:
Monmouthshire County Council will be processing and sharing your data, internally and with an authorised third party, specifically to refer and guide you the application process for the Business Support Grant. It will not be used for another purpose without your consent.