Strategic Focus
The Active Travel consultation needs to focus on the coherence of the network rather than simply identifying individual routes. This ensures that resources are targeted at routes likely to produce the shift from car to walking and cycling. The ambition of the Active Travel Act is to increase substantially the number of people who walk and cycle for everyday journeys, particularly those that are less than 2.5miles or around 10-15 minutes.
During the initial phases of planning the consultation, discussions concentrated on how to prioritise and focus debate. A number of draft strategic priorities were established in consultation with internal and external stakeholders to help inform the next stages. The strategic priorities suggested below are a guide only and the consultation exercise may change these – they are to aid debate and focus. Therefore, the proposed strategic priorities for Monmouthshire area are as follows.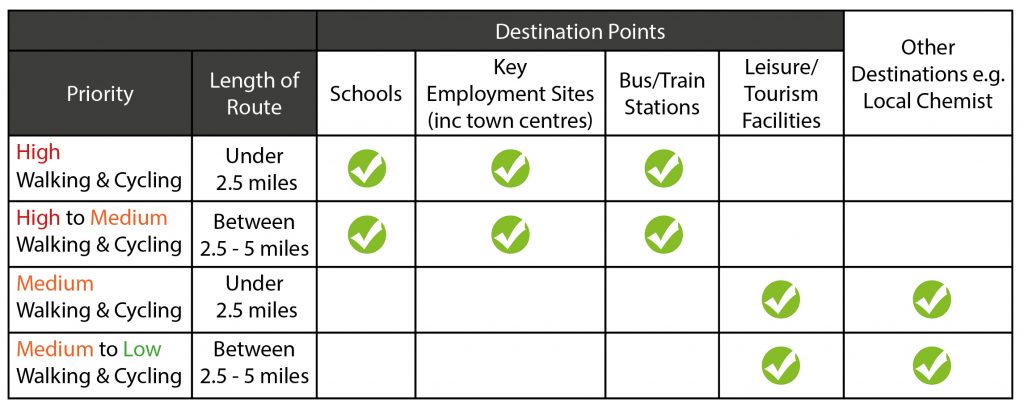 In determining priority areas, other cross cutting factors will be taken into consideration such as the impact on air quality, traffic congestion and safety. Practical considerations such as funding, deliverability, links to the Local Development Plan and other projects / leisure resources will be taken into consideration.
Contact Us: activetravel@monmouthshire.gov.uk
Internal Links
External Links
Reports
Welsh Government detailed ERM Maps for Monmouthshire
MCC AT ERM 2016 – Abergavenny cycling
MCC AT ERM 2016 – Abergavenny walking
MCC AT ERM 2016 – Caldicot cycling
MCC AT ERM 2016 – Caldicot walking
MCC AT ERM 2016 – Chepstow cycling
MCC AT ERM 2016 – Chepstow walking
MCC AT ERM 2016 – Gilwern cycling
MCC AT ERM 2016 – Gilwern walking
MCC AT ERM 2016 – Monmouth cycling
MCC AT ERM 2016 – Monmouth walking