The work to raise awareness of the importance of picking up your dog's waste is continuing by Monmouthshire County Council. It's been working in partnership with Town and Community Councils across the county, along with Keep Wales Tidy to try and reduce the amount of dog waste that's left on the ground.
Teams were out in Severnside, Caldicot and Rogiet on Thursday 10th November, meeting responsible pet owners to discuss the importance of cleaning up after pets in public.
Complaints about dog fouling in public areas usually increase when the clocks change when the mornings and evenings are darker, so with this in mind, the Environmental Health team wanted to make sure the right message was being received by dog owners in residential areas.
Work on raising awareness of the importance of picking up your dog's waste began in Portskewett last Thursday with a walk around the village and down to Sudbrook along the coastal path where the worst dog fouling of the day was seen. The team were joined by Portskewett Community Councillor, Carol Carne, and Monmouthshire County Councillor Lisa Dymock.
The next port of call was Caldicot where new campaign signs were put up at Cas Troggi Park and King George V Playing Fields. All dog owners were carrying poo bags, ready to clean up after their pets.
The group went on to Rogiet Countryside Park, and then around Magor's parks, where there have been many complaints about dog fouling on the community's green areas. Signs were put up and images were stencilled on pavements to remind dog owners to do the right and responsible thing.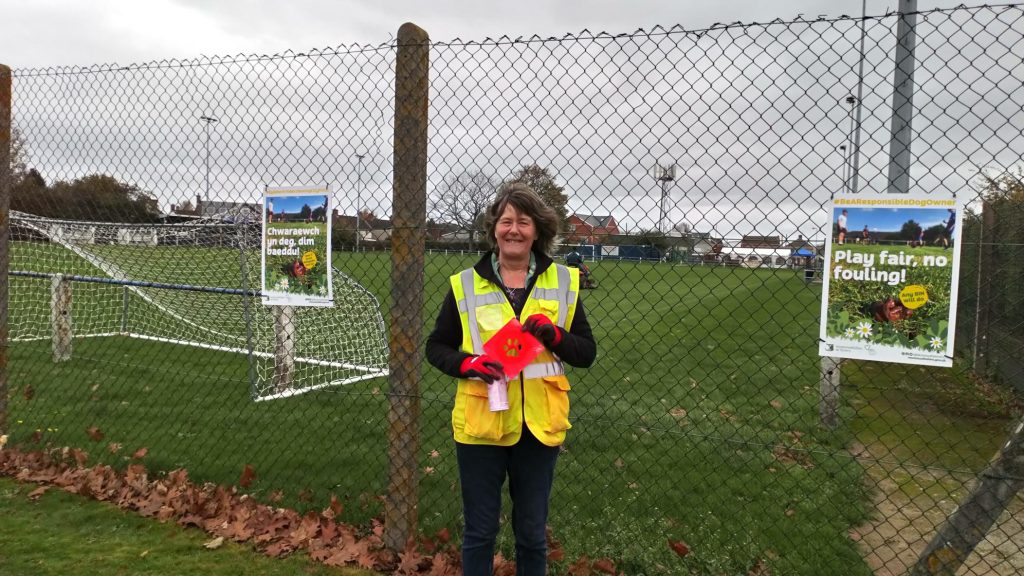 Although nine out of ten dog owners act responsibly and clean up after their pets in public areas, the one out of ten who don't have a negative impact on green spaces and parks. Dog fouling continues to be one of the most frequently reported and contentious environmental issues, with the focus on sports pitches and areas where children play. These are areas where children, young people and adults can most easily come into contact with dog faeces left on the ground, and it is imperative that people pick up dog mess to prevent it becoming a public health problem. Dog waste bags can be disposed of in litter or dog bins when walking your pet or at home in your general black bag waste.
Monmouthshire's Cabinet Member with responsibility for environmental health, Deputy Leader, Councillor Paul Griffiths said: "While most dog owners are responsible, it only takes a few who don't pick up after their pet to create a problem. There's no excuse not to carry poo bags and, as the signs say 'any bin will do'. If all dog owners do this, it will help keep those who use our green spaces and sports pitches – many of whom are children – safe. I'd particularly like to thank all the responsible dog owners who already pick up after their pets."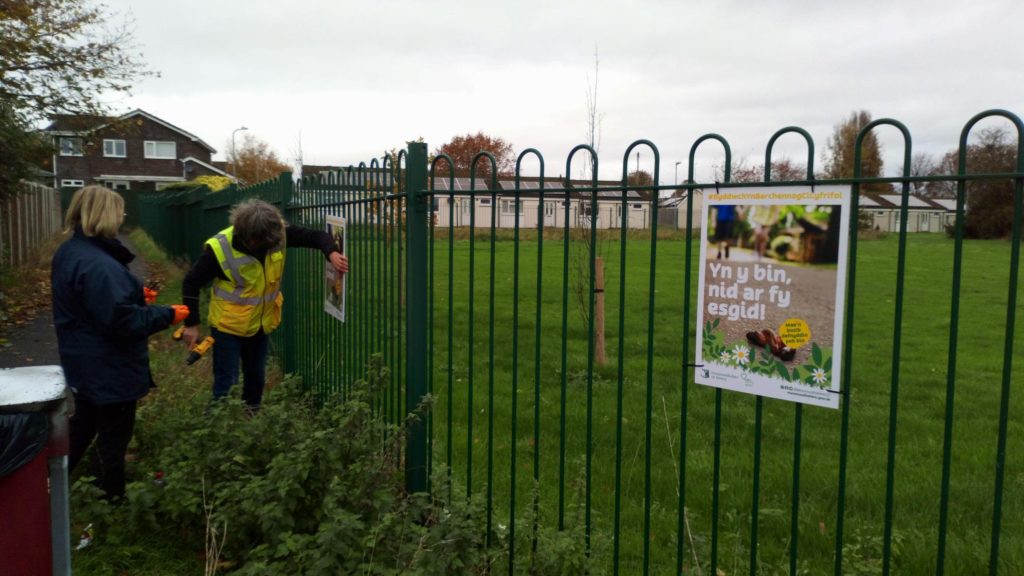 Local authorities and Gwent Police are empowered to issue fixed penalty notices and owners failing to pick up their pet's excrement face a £75 on the spot fine. If the person refuses to pay, and the case is taken to court, the offender may be fined up to £1,000.
You can report dog fouling incidents via the My Monmouthshire app, and the County Council will follow it up. Dog owners failing to pick up can be easily reported to the council via: www.monmouthshire.gov.uk/home/streets-parking-and-transport/recycling-and-waste/dogfouling/