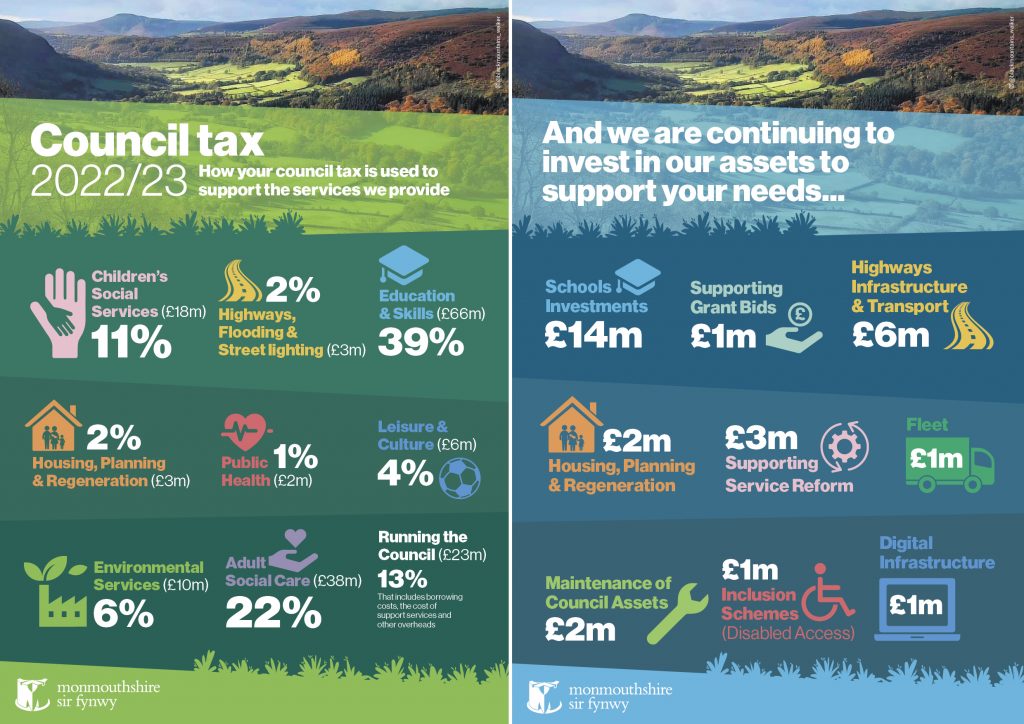 Monmouthshire County Council has set out its budget for the year ahead in the most challenging of circumstances. The pandemic has had a far reaching impact on all aspects of society, with inflation running ahead of itself for the first time in a decade, most people are worried about the price of food and fuel, and now conflict is raging in Europe and in other parts of the world. The gaps between those with more than they need and those with too little to live a decent life are growing. Whilst Monmouthshire is a tiny place when viewed through these national and international optics, it is the place we all call home and this budget is important; it really matters.
Cllr Richard John, Leader of Monmouthshire County Council said: "In setting the budget for 2022/23 we have chosen to invest in the things that matter most to the public. We want the best for your children, we want the best for those that are frail and vulnerable, we want the best for those that don't have a place to call home and we must do more to tackle climate change if we are to have a planet at all. There never has been and never will be enough money to do everything we would like to do so we can but do our best on your behalf."
The budget put into place includes a wide range of investment with £1.6m more into our schools; £1.8m more into children in the care system; £2m to ensure nobody has to sleep outdoors; £2.2m into the care of older members of our community; £0.8m into making sure the county is as clean as it can be and £1.8m into the maintenance of roads, pavements and other highways infrastructure.
This year's budget delivers a new 3-19 school for Abergavenny and increases Welsh medium provision for primary children across Monmouthshire. It will also help the county move towards 70% of all the waste that is produced being reused or recycled. It also commits to ensuring everyone that the council employs directly continue to be paid at least the real living wage and this commitment will extend to every social care setting that the council commissions services from.
Cllr. Phil Murphy, cabinet member for Resources added: "This budget embeds a commitment to use our purchasing power in an ethical way with goods sourced within or as close to Monmouthshire as possible. It will see us continuing to support apprentice placements and provide opportunities in the coming year, see us strengthen our public protection teams so we can play a more prominent role in safeguarding public health and pave the way for the introduction of free school meals for all primary children. These are our headlines but there is more in the detail. These things cost money and we are asking residents to accept a council tax increase of 2.95%. This is our lowest increase for nine years and is well below the rate of inflation. If we could have responsibly gone lower, we would have done so but our judgement is that it could compromise the level of service we need to provide and give those that follow us after the May elections an unfair challenge.
"We have produced a balanced budget every year for the last decade, we have always delivered within it. Our proposals for the year ahead continue this theme. We are making important investments to keep your community strong at a time of national and international instability," said Cllr. Murphy.