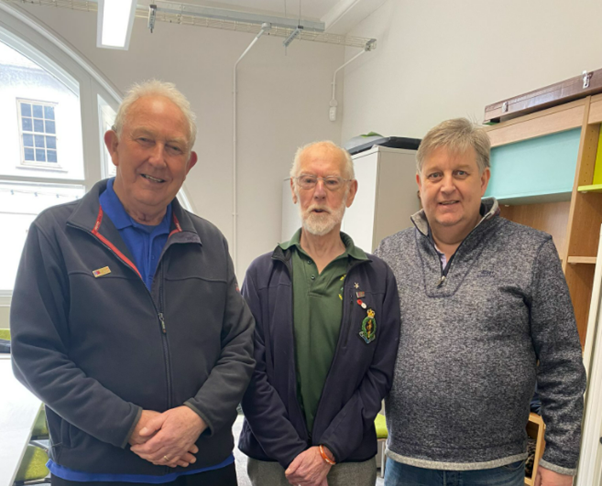 Abergavenny is the latest town in Gwent to see a Veterans' Support Hub available to all former and current military personnel, providing advice, guidance and support regarding some of life's challenges.
Monmouthshire Veterans' Support Hub was launched in March 2022, with the aim of delivering high quality, person-centred support to veterans from the military and ex-military community. The Hub aims to empower veterans, and those in transition, from military to civilian life, integrating into local communities. Monmouthshire Veterans' Support hub is designed to:
Develop a greater awareness of the support and services available to service and ex-service personnel and their families in their local community.
Provide individual veterans and service personnel with the confidence, knowledge and skills to access the help they need, where and when they need it.
Reinforce self-reliance, confidence, esteem and self-empowerment after leaving the services and improve the long-term health and well-being of the ex-services community.
Be a place where Veterans feel they belong.
Offer opportunities to engage with the local community and undertake activities.
Additionally, access to training on issues such as stress management, panic and anxiety, managing difficult thoughts and mindfulness is available to the armed forces community.
Lisa Rawlings, Regional Armed Forces Covenant Liaison Officer, said: "As the Regional Armed Forces Officer for the 5 local authorities of Gwent, and a veteran myself, it is important to widen the access to services and information for the armed forces community. Having opened a successful hub in Caerphilly in June 2021, I wanted to strive for a Hub in each local authority on different days of the week. Therefore, a veteran on any given day in Gwent could access support."
The sessions are held in the heart of Abergavenny which is easily accessible by car, train and bus routes. If you are a veteran of the armed forces, Monmouthshire Veterans' Support Hub in Abergavenny can provide you with advice, guidance, and support on topics such as housing, benefits, debt and health and wellbeing.
Equally, if you are anxious about the future, or struggling to adjust, just talking to other veterans may help you through your journey. Every Monday from 10am – 12pm, you can join other Veterans in Monmouthshire at Abergavenny Hub, Town Hall, NP7 5HD.
For any more information, please visit Monmouthshire County Council's armed forces webpage: The Armed Forces – Monmouthshire