With just over a week until one of the most prestigious agricultural shows in south east Wales makes its return, Monmouthshire County Council is gearing up to host a day full of family activities.
The council is getting ready to welcome visitors to the annual Usk Show which is Wales' only major public agricultural show going ahead this year on Saturday 11th September. At Usk Showground, the council's marquee is the first port of call for a wide range of fun, free activities and information from a diverse range of services and organisations.
This year's show has been designed to ensure the safety of visitors and COVID safe measures are in place. To add to the safety measures across the showground, the MCC marquee will have hand sanitising stations, a one way system and the sides have been removed from the tent to ensure good ventilation throughout the day. The layout has also been carefully thought through to ensure groups cannot congregate around particular areas at any given time. Mask wearing will also be encouraged for those venturing into the tent.
The Gwent Public Service Board is joining to ask people for their ideas about what's good about the Gwent community and how it can develop in the future, so residents are encouraged to stop by the MCC marquee and fill in the survey. Colleagues from planning will be discussing the replacement local development plan. There will be an opportunity to hear about a 5G project in Raglan and The Borough Theatreteamwill be sharing their theatre plans and giving people the opportunity to 'name a seat'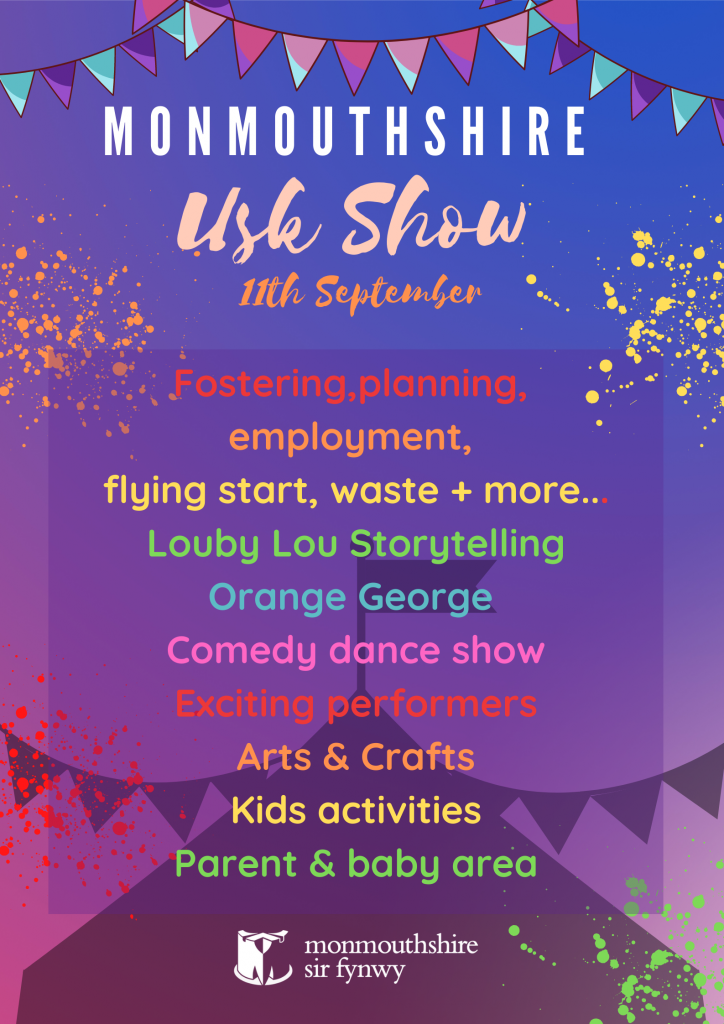 Monmouthshire's Home Care team will be on hand to speak to people about the range of rewarding roles available with the council, as well as giving live demonstrations and training on how to use a defibrillator. This year's theme centres around 'Jobs for Caring People' with plenty of roles available for those wanting to start their caring journey and offer support to the residents who need it the most. The team will be joined by Foster Wales Monmouthshire who will be providing information on how people can help give loving homes to some of the county's most vulnerable children and young people.
There will also be representatives from Planning, Tourism, Flying Start, Recycling and Waste, Connect Monmouthshire, My Mates, Usk Community Support Network and Gwent Association for Voluntary Organisations. With many colleagues on hand, residents and visitors are invited to pop down to the marquee to engage and ask questions. Monmouthshire's Employment and Skills team will also be available to speak to prospective job hunters about developing skills, training and accessing a range of fantastic opportunities.
In front of the marquee, to acknowledge the council's pollinator friendly selective mowing regime, a grass maze has been created where the grass has been left grow. The specialised mower will be there on the day so people can 'meet the mower' and have a selfie taken. A balance bike track, has been created in the cut grass maze and MCC'sReuse shops have donated balance bikes so little ones can cycle on the tracks that have been made. A 'pop up' Reuse shopwill be there on the day so people can browse and shop.
The MonLife team are joining with rowing machines so people can have a go and be inspired to join the gym to kick off the autumn. Visit Monmouthshirewill be asking for help to shape the way tourism is developed, managed and promoted in Monmouthshire in future, as well as sharing great ideas for wonderful experiences across the county all year round. Look out for free crazy golf and a chance to take a selfie with Neris the Dragonsounds fun too.
Looking to learn something new? Macramé sessions will be provided by the Community Learning team, who will be sharing the amazing courses available. Usk Community Hubwill be sharing all the hub has to offer and getting crafty with an opportunity to decorate Elmer. Usk Primarywill be providing some gorgeous arts and crafts activities. For the first time, the Monmouthshire marquee will also house a special designated family zone, where parents can come to change their babies or to breastfeed in a comfortable area.
Various acts have been booked to create a 'festival feel' as part of the 'summer of fun'. Louby Lou's Storytelling gang will capture the imaginations of younger generations through bright and lively performances. The quirks of the brilliant George Orange – the Man in the Moon will be on display where guests will be entertained by tricks and stunts. Throughout the day, there will also be the chance to see the fantastic Kitsch & Synch, 'Topiary Trauma' show – a comedy dance theatre show about three glamorous 1950s neighbours and their competitive gardening. The Road Safety team will be hosting a balance bike course, which is not only fun for little ones but offers important road safety tips. In addition, families will get to try their hand at a crazy golf course and their will also be the opportunity to take a snap with MonLife mascot, Nerys the dragon. There will also be an array of different arts and crafts activities to help children get their creative juices flowing.
Excitement for the return of this brilliant agricultural show is building and the teams at Monmouthshire County Council have been working tirelessly to make the return of the show one to remember. Unfortunately, the show was cancelled last year due to the ongoing pandemic but this year the organisers and MCC colleagues are making up for lost time with a whole host of fantastic performances and activities for all ages to engage in.
Council Leader Richard John said: "What a fabulous way to celebrate all Monmouthshire has to offer in a fun, engaging space. I would like to congratulate the Usk Show team and volunteers on the massive efforts they have gone to, to deliver this event during the most challenging of times. I'll be there on the day and look forward to meeting residents from across the county and listening to their views."
Event Manager and Show Secretary, Nia Osborne added: "We are so pleased that we are able to welcome guests back to Usk Show again this year. A year without shows last year hit us all hard, not least of all the traders so we are happy to welcome so many of them back again this year.  Each of our 11 show sections have been working hard to put on fabulous displays for everyone and we really do have something for everyone to enjoy! Tickets are still available through our website www.uskshow.co.uk  All tickets need to be bought in advance this year, there will not be any tickets available to purchase on the gates.  Come & join us at Usk Show 2021 for a fabulous day out!"
Usk Show takes place at Usk Showground, Llandenny NP15 1DD.