Monmouth's Bridges Centre has launched the first Cycling Without Age scheme in Wales, which allows the opportunity for elderly and less-abled residents of Monmouth to be chauffeured in trishaw bikes by generous, local volunteers.
Bridges Centre is an independent Monmouth-based charity whose aim has always been to enhance the wellbeing of the local community. Their recent Cycling Without Age scheme aims to offer the opportunity for older people, or those with mobility difficulties, the chance to get out of their homes, meet new people, reconnect with their community and nature and have some fun. The scheme runs with 5 guiding principles:
Generosity: Cycling Without Age is based on generosity and kindness. It starts with the obvious generous act of taking one or two elderly or less-abled people out on a bike ride. It's a simple act that everyone can do.
Slowness: Slowness allows riders to sense the environment, be present in the moment and it allows people the rider can meet along the way to be curious and gain knowledge about Cycling Without Age because you will make time to stop and talk.
Storytelling: Older adults have so many stories that will be forgotten if we don't reach out and listen to them. The Cycling Without Age scheme aims to give elderly and less-abled people someone to talk to, especially following a particularly lonely period throughout lockdown. The volunteers are also encouraged to tell stories as well as listen to them, being the catalyst for potential friendships too.
Relationships: Cycling Without Age is about creating a multitude of new relationships between generations, among older adults, between pilots and passengers, care home employees and family members. Relationships build trust, happiness and quality of life.
Without Age: Life unfolds at all ages, young and old, and can be thrilling, fun, sad, beautiful and meaningful. Cycling Without Age is about letting people age in a positive context – fully aware of the opportunities that lie ahead when interacting in their local community.
The Cycling Without Age scheme was originally set up in 2012 in Copenhagen, Denmark, when local entrepreneur Ole Kassow saw that many local older people wanted to get back into cycling but with limited mobility, an ordinary bike was unsuitable. For many people, having been stuck at home for an extended period of time, this is the chance to meet new people and see parts of their community they would never had had access to, being the highlight of their week.
The scheme also has partnerships with three local businesses to make trips even more enjoyable. If the bike stops at Monmouth coffee shop "Quench", volunteers and passengers can have a free tea, coffee or ice-cream. Similarly, if a stop is made at "MonTeas" both passenger and pilot will receive a free sample of tea, and if they stop at "Wye Weight" they will receive a small bag of dried fruit or nuts to snack on during the remainder of the trip.
The Lord Lieutenant of Gwent, Brigadier Robert Aitken, attended the Cycling Without Age launch, and said: "I'm so please to be involved, in the smallest way, in this project. It was lovely meeting such a delightful bunch of people, all inspired by this project, and all willing to contribute their time and effort in making this scheme work. Thank you to the local businesses, including MonTeas, Quench and Wye Weight who have made a generous offer that if you stop at their shops whilst on the Trishaw bike, you will receive free samples, which will hopefully encourage the other businesses in Monmouth to do the same as it is a wonderful exemplar of what community spirit is all about."
There are plans to expand this scheme to other towns in Monmouthshire with bikes being ordered for Caldicot and Abergavenny later in the year to enable more people across the county to have the opportunity of being a part of this rewarding scheme, as a volunteer or passenger.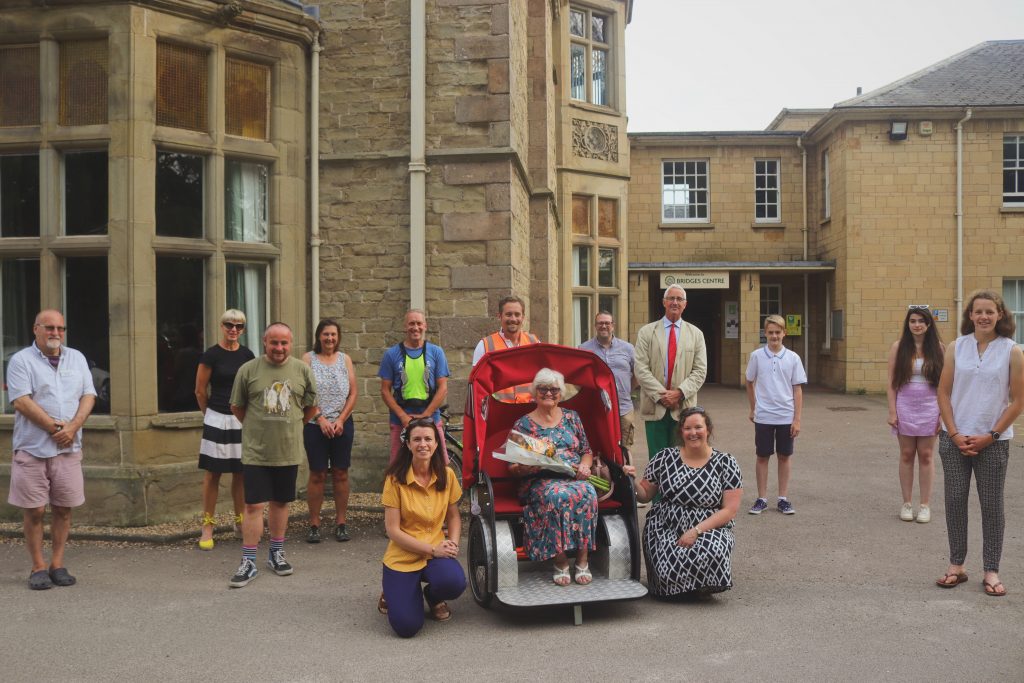 Bridges Centre is always looking for a team of warm, friendly volunteers over the age of 18 to become 'pilots' and 'co-pilots' with a basic level of fitness, although the bikes are battery operated to help navigate through Monmouthshire's hills.
If residents are interested in volunteering for this rewarding scheme, or want to gain more information on becoming a passenger, please contact Marianne Piper at Marianne.piper@bridgescentre.org.uk.