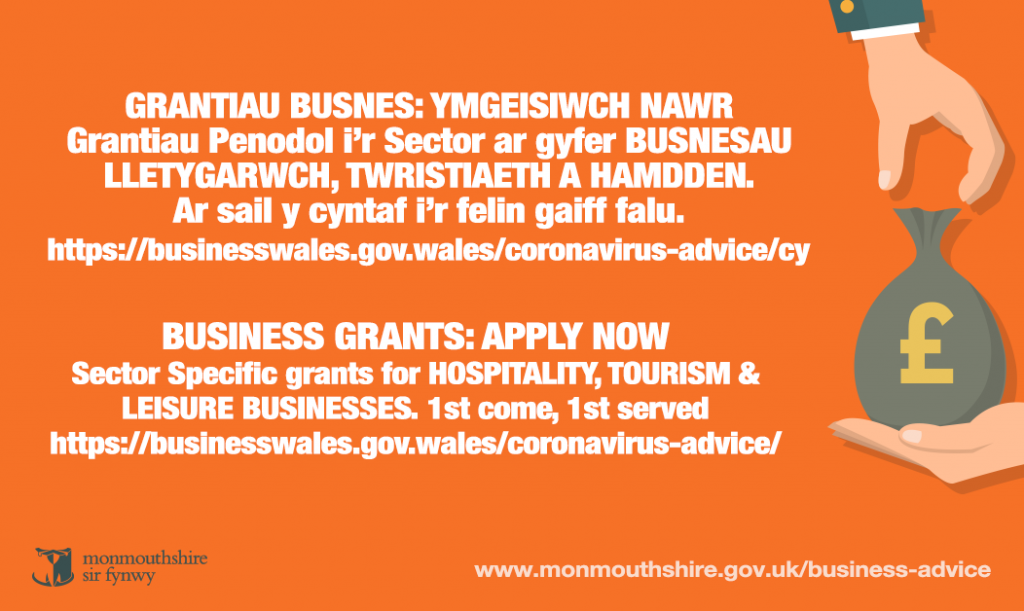 The Welsh Government has recently announced the launch of the Economic Resilience Fund (ERF) Sector Specific Support (operating cost) package. Applications for this scheme opened at midday on 13th January 2021 and will remain open for two weeks or until funds are fully committed.
This latest funding stream is specifically aimed at businesses in the hospitality, tourism and leisure sectors, including businesses supplying those sectors that are experiencing a reduction of 60% or more of their turnover as a result of the restrictions introduced on 4th December 2020, until 22nd January 2021.
The ERF Sector Specific Support fund complements other COVID-19 response measures to support businesses, social enterprises and charitable organisations in Wales – including the NDR (Non-Domestic Rates) grants that are also available.
Deputy Leader of Monmouthshire County Council, Councillor Bob Greenland said: "I would encourage all Monmouthshire businesses that fall into the remit of this scheme – hospitality, leisure and tourism sectors – to apply immediately. It's anticipated that a high number of businesses will apply and there is a finite amount of money within this scheme, so time is of the essence – apply now. Thankfully, this latest grant does not preclude eligible businesses in this hard-hit sector also applying for the Restrictions Fund NDR grants. Local businesses are struggling more than ever before, having had to close down at what was, for many, the busiest time of year. I cannot stress strongly enough the importance of getting online and registering. These grants could provide a lifeline, certainly for the immediate future."
Businesses eligible for the Restrictions Fund NDR grant (excluding the Discretionary grant) can also apply for the ERF Sector Specific grant. More information about the COVID-19 ERF Sector Specific grant and its eligibility checker can be found at: https://fundchecker.businesswales.gov.wales/sectorspecificgrant/
The scheme, unlike many of the other grants, is being administered by Welsh Government. It is recommended that businesses applying for this latest grant should also consider the Job Retention Scheme (also known as the Furlough Scheme) which now covers more employees and has been extended to April 2021.