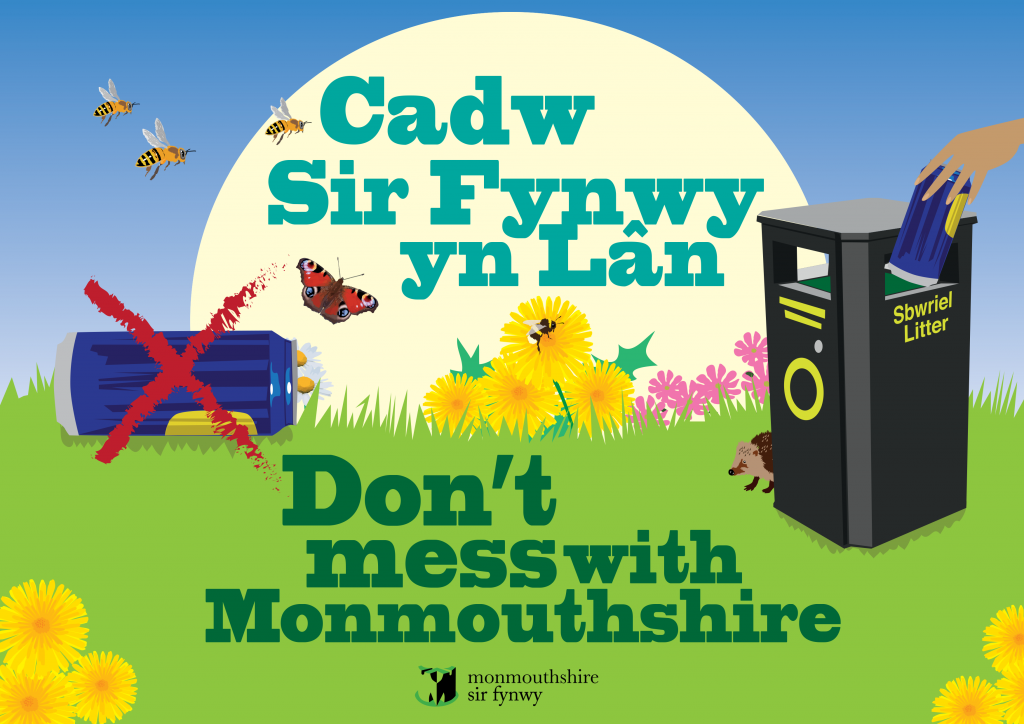 This month Monmouthshire County Council is launching a campaign to raise awareness of littering and to encourage everyone to take their litter home. It is timed to coincide with Keep Wales Tidy's Autumn Clean Cymru, which runs from 11th September until the 27th, and appeals for communities to come forward and volunteer for a seasonal litter picking exercise.
Sadly, Monmouthshire has many known 'grotspots' where littering is particularly common. While many of these are grass verges and laybys near main roads, such as the A449, the A40 and the A465, some are at popular locations for picnics and country walks, such as Usk Island and near Vauxhall Fields in Monmouth, and their nearby car parks.
Councillor Jane Pratt, cabinet member with responsibility for Climate Emergency, has recently taken part in a campaign video, filmed at Usk Island, which can be seen on social media and via this link:
https://www.youtube.com/watch?v=au3di7noi0Q Its message is #Don'tMessWithMonmouthshire and asks everyone to put their rubbish in the bin or to take litter home, where it can be recycled. As part of the campaign, stickers have been applied to bins to remind people to dispose of their litter responsibly and to value the environment more highly.
As the campaign launched, Councillor Pratt said: "Littering is a problem that just won't go away and it is going to take all of us, as a community, to tackle it once and for all. The council spends in the region of £150,000 a year on collecting litter from the county's 'A' roads alone. That's money that could be spent on looking after vulnerable elderly and young people, or measures to protect our environment and wildlife.
"We've increased the emptying of bins in open spaces, but when the weather's good and visitors flock to enjoy the outdoors these bins can fill up. We're asking everyone, if the bins are full to please take their litter home. Many won't realise that we do not have the facilities to recycle litter waste, so it's especially important for cans, bottles and boxes to go into the home recycling bags and containers.
"The message is simple – whatever you take to a beauty spot, please take home again afterwards and help preserve the beauty of Monmouthshire for residents and for visitors.
"We are also incredibly grateful to the volunteer Litter Champions who regularly go out litter picking across the county. said Councillor Pratt. "They play a vital role in helping us tackle this most anti-social of problems. We are always grateful for volunteers and would encourage anyone interested to get involved."
Littering is damaging to the environment and anyone caught will face a fine of up to £2,500. Litter can be washed into waterways and eventually out to sea where it is virtually impossible to remove. The RSPCA deals with an average of 14 calls a day about wildlife that has become trapped or injured by discarded waste. The cost of dealing with litter across the UK is in the region of £850million a year.
For more information about Keep Wales Tidy's Autumn Clean Cymru visit www.keepwalestidy.cymru
To become a Litter Champion, please register your interest via the MyMonmouthshire app at www.monmouthshire.gov.uk