Did you know that Monmouthshire County Council and Abergavenny Town Council are participating in the AGRI – URBAN programme.
What is Agri Urban ?
Agri Urban is a two year project (2016 – 2018) and  tackles the challenge of innovation and new business models in agri-food systems, developing an alternative way of understanding the link between urban and rural spaces, through an integrated urban focus and putting the target in employment
It also looks at promoting quality of life and wellness; strengthening sense of place in the local communities and creating jobs in the food sector;
The members of the network have been sharing best practice and innovative project ideas and each partner has produced an integrated action plan.

The project works by sharing of ideas and information between towns on specific food-related activities.
Who is involved ?
The programme  is part funded by the European Union under the URBACT III programme and
Monmouthshire County Council together with Abergavenny Town Council and local volunteers

MUNICIPALITY OF MUNICIPALITY OF BAENA – Spain (Lead Partner

MUNICIPALITY OF FUNDÃO -Portugal

MUNICIPALITY OF PYLI – Greece

LAG "PAYS DES CONDRUSES"  -Belgium

MUNICIPALITY OF SÖDERTÄLJE – Sweden

MUNICIPALITY OF CESENA – Italy

MUNICIPALITY OF JELGAVA – Latvia

MUNICIPALITY OF MOLLET DEL VALLÈS – Spain

MUNICIPALITY OF PETRINJA –Croatia

MUNICIPALITY OF MOUANS-SARTOUX – France

The towns and cities participating in the partnership of AGRI-URBAN  are now looking to develop actions which will have a lasting benefit to the agricultural landscape in their own areas ; In our case Abergavenny and surrounding areas.
What have we been discussing?
Land access, shortening the supply chain for  production and consumption , education and  training ,  improved capabilities in farming, creation of productive and employment spaces, land use and protection of agricultural areas ,Developing infrastructure. Identity and image for local brands, promoting organic farming and good practices, as well as environmental soil preservation, avoiding urban occupation of fertile land, and incorporating agriculture in appropriate urban spaces and in the urban-rural areas,  Creation of jobs in the agriculture.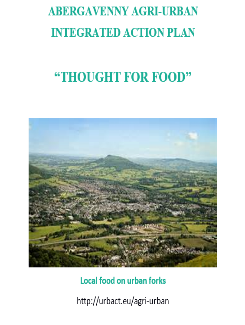 An action plan has been produced